Elba Island: in the footsteps of the Etruscans
A journey through the history and culture of an ancient and mysterious civilization
Long before the Romans took over the peninsula, there existed a mysterious and vast civilization: the Etruscans. Many traces remain today of these ancient people, especially along the stretch of coastline dubbed the "Etruscan Coast" and in the Maremma, but did you know that they even made their way to the Isola d'Elba? Fewer signs remain of their time on the island compared to the mainland, but there are still some things to see if you know where to look.
Rio nell'Elba and the Mineral District Archeological Museum
One of the primary activities carried out by Etruscans on the Isola d'Elba was mining, since the island is a gold mine (pun intended!) of underground mineral resources. Iron extraction was particularly vibrant during the Etruscan era, connecting the civilization with the other surrounding islands and the mainland. The Mineral District Archeological Museum conserves ceramics, bronze crockery from Elban tombs and grave goods from the Buraccio necropolis that attest to the Etruscan's presence on the island during the early Iron Age.
Mineral Park of Elba Island in Rio Marina
Iron mining has long been a key trade throughout the Isola d'Elba, including in Rio Marina, where this kind of production is on show at the Mineral Park. After visiting the science museum housed inside Palazzo del Burò, home to one of the most important mineral collections on Elba and a reconstruction of a mine, visitors can tour the mines with an expert guide on foot or aboard the park's "little red train", exploring the main mines in the area, some of which were used as far back as the Etruscan era.
Info: parcominelba.it
The Civic Archeological Museum in Marciana
Marciana, on the north-western side of the island, is one of Elba's oldest settlements. The town's archeological museum showcases this millennia-old history with tools and artefacts found throughout the island. There is an entire section dedicated to Etruscan history and includes artefacts from various ancient settlements, including brooches and kylikes (cups) from Monte Giove, and the Etruscan fort of Monte Castello off the coast of Procchio, including amphorae and black-glazed vases.
Info: infoelba.com
Hellenistic-era necropolis in Capoliveri
For an outdoor excursion, head to the outskirts of Capoliveri to explore the Hellenistic-era necropolis that was discovered in 1816. A variety of objects were found at the burial site, including wine jugs, ceramics and jewellery. The artefacts have since been moved to the Archeological Museum in Portoferraio, so we recommend bringing your tour of Etruscan history on Elba to an end in the island's northern city.
info: infoelba.it
You might also be interested in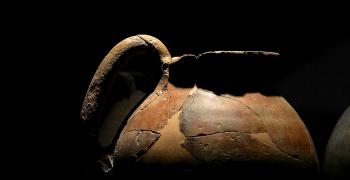 trip_origin
Learn more
Etruscans
Mistery, history and arts: exploring Tuscany in the footsteps of the Etruscans means getting in touch with an ancient, fascinating and enigmatic
continue...