Desserts
Schiaccia briaca from the Isola d'Elba
Preparation
A few minutes
Summer is getting closer and we can't help but think about the most beautiful beaches in Tuscany. The coves of the Isola d'Elba obviously make the top 10. But besides the beautiful sea and almost "wild" nature, there are many other reasons to go there. The food and wine, for example.
So now we tell you a bit of history and share the recipe for an exquisite dessert, which not everyone knows.
The history of the schiaccia briaca: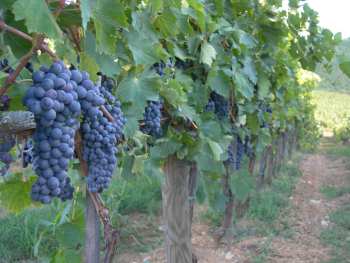 The Schiaccia Briaca is a typical soft and round cake that would be found in bakeries on Elba. It is in fact a legacy left by the Barbary pirates who regularly pillaged Portoferraio in the 13th and 16th centuries.
Originally the schiaccia (which contains typical elements of mid-western cooking like raisings and pine nuts) was "teetotal" given that it follows the words of the Qur'an, subsequently it was revisited and other ingredients were added.
The Aleatico wine, an indispensable component of the current version, is actually a 19th-century addition, as are walnuts, even though they aren't produced on the island. The new version uses island honey instead of the rare and expensive sugar. The result, without yeast of eggs, could be preserved for a long time and was therefore suitable for nomads and sailors.
Even today some bakeries and patisseries on Elba Island use the old recipe. You can try it in the municipalities of Portoferraio, Poro Azzurro, Capolivieri, Marina di Campo and Rio Marina. The schiaccia briaca is always prominent in seasonal food festivals on Elba Island where they are presented alongside other typical local products.
1kg flour
400g sugar
250g walnuts
150g raisins
150g pine nuts
150g almonds
2 cups oil
1 cup Aleatico (and if you want alchermes to dye it red and give it the aroma you get in bakeries on Elba, you can replace this with a cup of dry liqueur).
Combine all of the ingredients and mix them with the Aleatico to obtain a homogenous and compact mixture. Fill the buttered and floured pans with the dough and bake it at 180 degrees for 30-40 minutes. Halfway through the cooking sprinkle the schiaccia with sugar and pour the alchermes or liqueur over it.
If you're curious and want to discover other excellent foods from Elba, click here!
You might also be interested in
Social & Web
Find out what they say about us, and tell us about your Tuscany!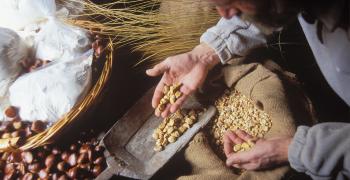 Learn more
Food and Wine
Olive oil, wine, truffle and other culinary delights make up the excellence of Tuscan gastronomy.
continue...