Cycling the Eremo Mountain Pass
Explore the lesser-known areas of the Mugello
The Eremo Mountain Pass is a lesser-known uphill climb despite being a truly fascinating cycling route. Travelling through some of the Tuscan-Emilian Apennines' most beautiful areas, it allows cyclists to admire and enjoy this territory's unspoilt and wild nature.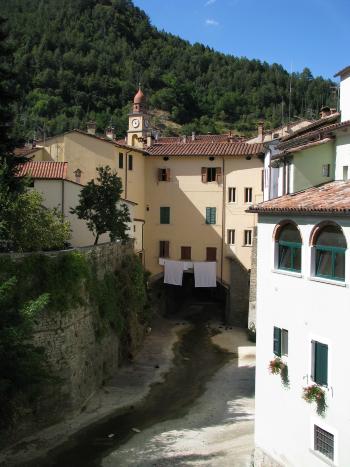 Depart from the town of Marradi, the native city of famed poet Dino Campana. Follow the signs to the Colla Pass; just outside of the town, after about 300 meters, turn left toward San Benedetto in Alpe, and ascend to Rio del Salto.

In the beginning, the inclination is modest but after one or so kilometres the road becomes more difficult over the next 8m; the ascent then evens out a little, allowing cyclists to admire the beautiful "Badia del Borgo" Abbey (at 2.4km) on the right.
After this trajectory, the road is characterized by high and low inclinations, however it is after the rest stop (at 4.2km) that the route becomes much more difficult. Over the next 6km the inclination remains constant (at circa 5%) and in some parts it surpasses 8%.
Luckily, the asphalt is in very good condition and there are several shaded areas. Car traffic is next to nil.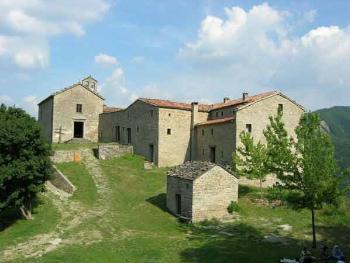 After the 7km mark, the road widens and a series of hairpin bends begin, which lead to the small town of Trebbo (7.7km; 720m above sea level) and then to Val della Meta (8.7km; 790m above sea level). Here, cyclists will find the only easy section of the route - 300m long of easy counterslope - but at the 9km mark the road starts to sharply climb uphill and there are several hairpin bends with inclinations that surpass 7%. The beautiful panorama overlooks these valleys and help cyclists' morale during this difficult trajectory, which is the last harsh section of the itinerary, because at the 10.7 mark you will reach the Eremo Pass at 921m above sea level. After circa 400m, you'll find a path that leads to the hermitage of Gamogna (which gives its name to the pass).

To return to Marradi on a different road, cyclists have two possibilities: one is described in Route 5 (circa 100km; Variant 2); the second route, instead, is after the descent toward San Benedetto in Alpe and continues toward Portico di Romagna. From here, you can return to Marradi - and Tuscany - by travelling through the towns of Tredozio, Lutirano and Sant'Adriano (70km).
You might also be interested in