From San Godenzo to the Upper Mugello, among history and legend in the footsteps of the poet, in search of the places and characters mentioned in the Divine Comedy
Dante's places in Mugello
After he was sentenced to exile and to death by fire, Dante headed north of Florence, and on June 8, 1302, he signed an agreement in the Abbey of San Godenzo, with which, together with sixteen other Florentines, it was promised to compensate the Ubaldini, the powerful feudal lords of Mugello, for any damage that might result from what was foreseen to be a future war against Florence.
From San Godenzo to Acquacheta waterfalls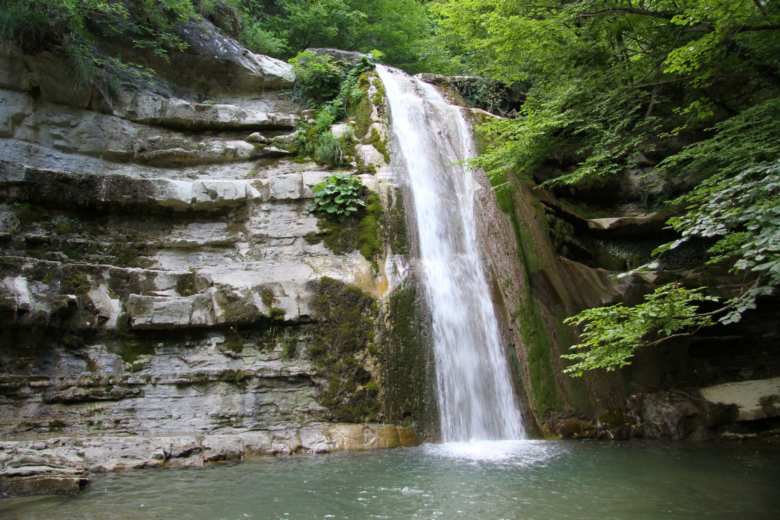 The Abbey of San Godenzo is a magnificent example of Romanesque architecture, located in a scenic position in the center of San Godenzo. It was built at the request of the Bishop of Fiesole, Jacopo il Bavaro, in 1028, and has an interior similar to the cathedrals in Fiesole and in San Miniato al Monte. Among the works of art in the church, we find a Dantesque mosaic in the apse that was realized on the occasion of the celebrations for the last century.
Walking from San Godenzo, in just a short distance we come across the fascinating Acquacheta waterfalls, compared with the infernal river Phlegethon:
"Even as that stream which holds its own course
The first from Monte Veso towards the East,
Upon the left-hand slope of Apennine,

Which is above called Acquacheta, ere
It down descendeth into its low bed,
And at Forli is vacant of that name,

Reverberates there above San Benedetto
From Alps, by falling at a single leap,
Where for a thousand there were room enough;

Thus downward from a bank precipitate,
We found resounding that dark-tinted water,
So that it soon the ear would have offended."
(Inf. XVI, 94-105)
The Ubaldini in the Divine Comedy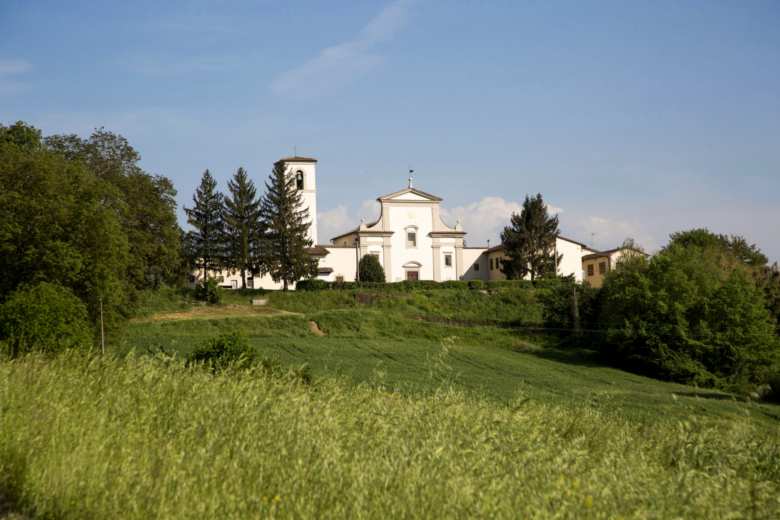 The Ubaldini are mentioned both in Hell and in Purgatory; one of them, the Archbishop Ruggieri, is the protagonist of one of the most famous verses, together with Count Ugolino della Gherardesca:
"His mouth lifted now from that horrible dish,
the sinner wiped clean each lip on hair that covered
the mess he'd left his head in
[….] You need to know: I was Count Ugolino.
This one is Ruggieri, the archbishop.
Now I'll tell you why we two are so close."
(Inf. XXXIII, 1-3, 13-15)
The powerful Cardinal Ottaviano, buried in the parish church of Fagna near Scarperia, was a Ghibelline and an unscrupulous man who was condemned for eternity among the Epicureans, together with the Emperor Frederick II of Swabia:
"He answered, 'I lie with a thousand more.
Within here is the second Frederick.
Cardinal Octavian, too. Of the rest, I keep silent."
(Inf. X, 118-120)
In the 14th Canto of Purgatory, lighter penalties are given to Ugolino di Azzo, identifiable with Ugolino son of Azzo from Montaccianico or Ugolino from Senni, who married Beatrice of Galvano Lancia and died in 1293.
"Don't be astonished, Tuscan, if you see me weep
when I remember, with Guido da Prata,
Ugolin d'Azzo who once lived with us"
( Purg. XIV, 103-105)
In the same canto, Ubaldino della Pila makes an appearance. The head of the coterie was the elder brother of Cardinal Ottaviano and the father of Archbishop Ruggieri, who was known for his gluttony:
"I saw there, for hunger bite on empty air,
Ubaldin dalla Pila and Boniface
who pastured many with his castled crook."
(Purg. XXIV, 28-30)
Ubaldino della Pila, the influential Ghibelline leader, was Podestà of Borgo San Lorenzo (1238, 1239, 1281). After the battle of Montaperti in 1260, he was among those who, at Empoli, proposed to destroy Florence. In the summer of 1273, he hosted Pope Gregory X along with his court at the castle of Montaccianico for some months. The Archaeological Museum of Sant'Agata houses a papal seal found during excavations, and a reconstruction model of the castle itself, where Dante was likely a guest.
Between Toscana and Romagna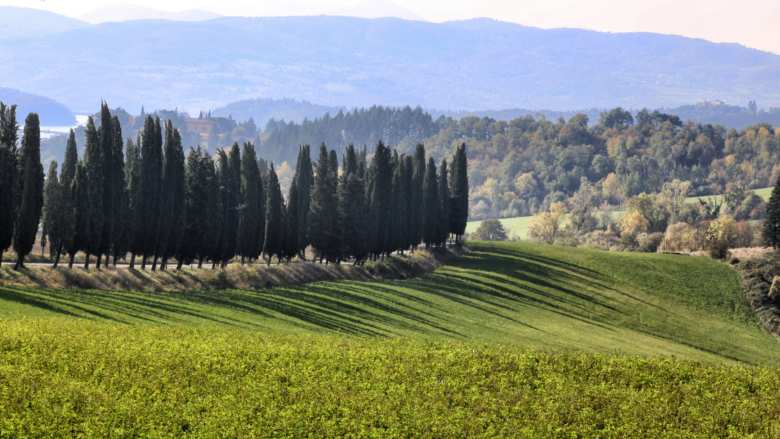 In these early years of exile in which he does not stray too far because he hopes to return to Florence, the poet moves between Tuscany and Romagna, and is a guest of Scarpetta Ordelaffi in Forlì, who in March 1303 departed from the castle of Montaccianico at the head of an armed expedition of Ghibellines and White Guelphs, to the castle of Pulicciano (Borgo San Lorenzo), where a violent battle against Florence and the Black Guelphs took place, under the command of Podestà Fulcieri da Calboli, described in Purgatory by Dante as a "hunter" of human flesh.
"I now behold your grandson become
a hunter of those wolf packs upon the bank
of that wild stream, and he confounds them all.
He sells their flesh it being yet alive,
then slays them like mere cattle past their prime.
many of life, himself of praise he deprives.
Blood-stained he emerges from that dismal wood,
and leaves it so, a thousand years from now,
it won't rewood and reach its primal state."
(Purg. XIV, 58-66)
The church is what remains of the ancient castle, on whose facade a plaque commemorates the event.
From Pulicciano the road climbs towards Upper Mugello and the domains of the other great feudatory, Maghinardo Pagani, Lord of the Senio and Santerno valleys, with whom Dante took part in the ranks of the Guelph army at the famous Battle of Campaldino on June 11, 1289. For his unscrupulous political conduct, "Guelph in Tuscany and Ghibelline in Romagna", the poet reserves a place in Hell for him among the bad advisers, and mentions him in Purgatory:
"The cities of Lamone and Santerno
Governs the Lioncel of the white lair,
who changes sides between summer-time and winter."
(Inf. XXVII, 49-51)
"The Pagani clan will do quite well,
once their demon's gone, but not so well that pure
account of them will ever now remain."
(Purg. XIV 118-120)
A visit to the centuries-old domains is recommended: Palazzuolo sul Senio, one of the most beautiful villages in Italy, and Marradi, where you can still visit one of its many castles and the austere Rocca di Castiglionchio, which still dominates the valley of the river Lamone.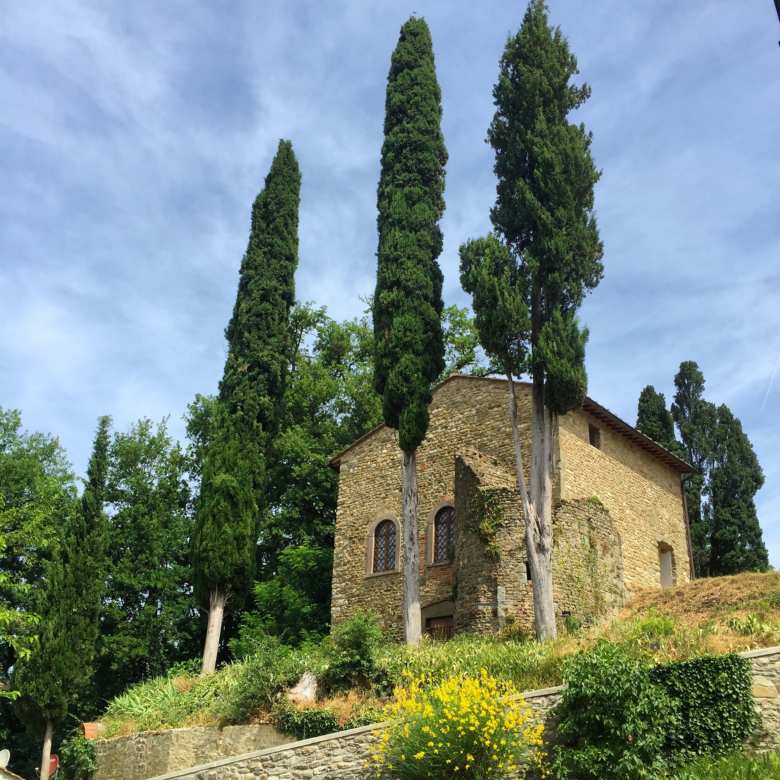 On the other hand, Dante dedicates words of praise to Giotto (1267-1337), the great artist born in Mugello in Vespignano (Vicchio). According to tradition, they shared great mutual esteem and were close friends:
"Once, as a painter, Cimabue thought
he took the prize. Now "Giotto" is on all lips
and Cimabue's fame is quite eclipsed."
(Purg. XI, 94-96)
Discover Dante-themed events in Mugello
To discover all the events in Mugello organized to pay tribute to Dante on the 700th anniversary of his death, we invite you to visit the mugellotoscana.it website.
You might also be interested in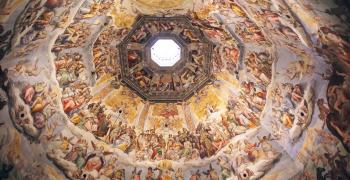 Learn more
Art and Culture
Tuscany is the cradle of the Renaissance and known all over the world for its immense artistic and cultural heritage.
continue...