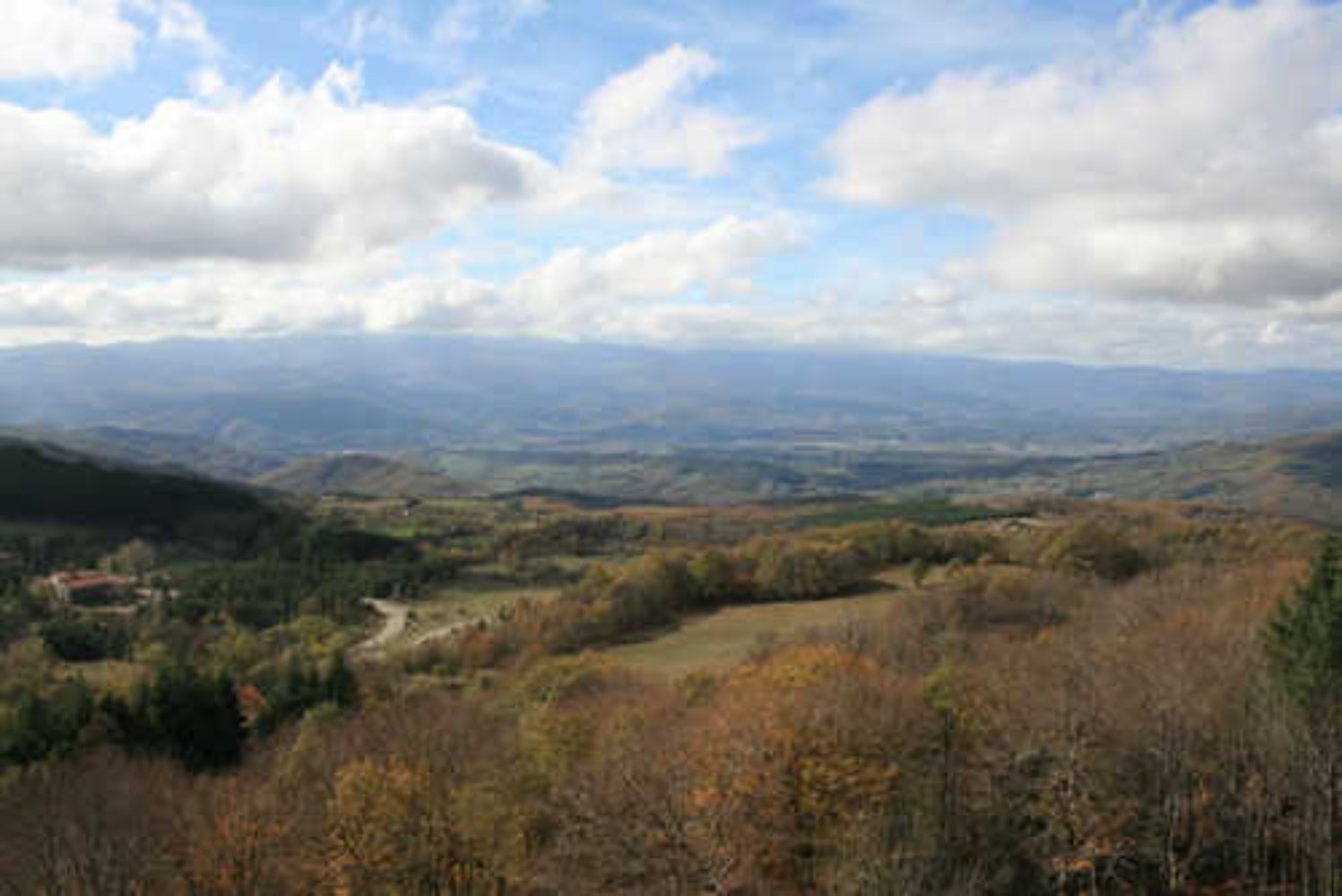 The colours and shapes of the Valdarno landscape
Nature and the landscape to discover
This is why we suggest an itinerary through the varied natural landscape of the parks and reserves, each with its own specific features. The naturalistic itinerary starts a few kilometres from San Giovanni Valdarno, in the park of Cavriglia. Extending over a surface area of 600 hectares, surrounded by chestnut and beech woods; mouflon sheep, fallow deer, roebuck and other animals roam free in the area traversed by numerous footpaths to be discovered by foot, on horseback or by bicycle. Continuing towards Castelnuovo dei Sabbioni, having passed San Giovanni Valdarno we follow the signs for Castelfranco di Sopra and in a moment we are in the heart of a landscape which is sure to take our breath away: the extraordinary scenery of the Balze.

This area of 2372 hectares extends through the Valdarno territory of Pratomagno, taking in the municipalities of Terranuova Bracciolini, Pian di Scò, Castelfranco di Sopra and Loro Ciuffenna. The character of the terrain, made up of ravines and gullies, has carved out a landscape of extraordinary fascination and great environmental importance. Travelling along this itinerary also gives us the chance to rediscover some of the landscapes painted by Leonardo da Vinci in the backgrounds to his works. Moving southwards, just a few more kilometres and we find ourselves inside another park: the Nature Reserve of the Valle dell'Inferno e di Bandella. This area extends over about 526 hectares and takes in the municipalities of Terranuova Bracciolini, Pergine Valdarno, Laterina and Montevarchi, comprising a highly varied vegetation: woods of turkey oak and broad-leafed oak alternate with willows, Lombardy poplars, downy oaks and holm oaks.

From the bridges spanning the various watercourses visitors can spot numerous species of birds including herons and ducks.The naturalistic itinerary ends at the gates of Arezzo, inside the Nature Reserve of Ponte Buriano e Penna. This covers an area of about 665 hectares, and takes in the municipalities of Arezzo, Civitella in Valdichiana and Laterina. Both vegetation and fauna are highly varied. Willows, Lombardy poplars and Dutch elms are just some of the trees to be found along the river banks.
You might also be interested in
Valdarno
The Valdarno – Arezzo area is, as its name suggests, the valley crossed by the Arno River situated between Arezzo and the Florence area. This touristy area is filled with traditions, history and a significant industrial vivacity. ...
Scopri Valdarnokeyboard_backspace