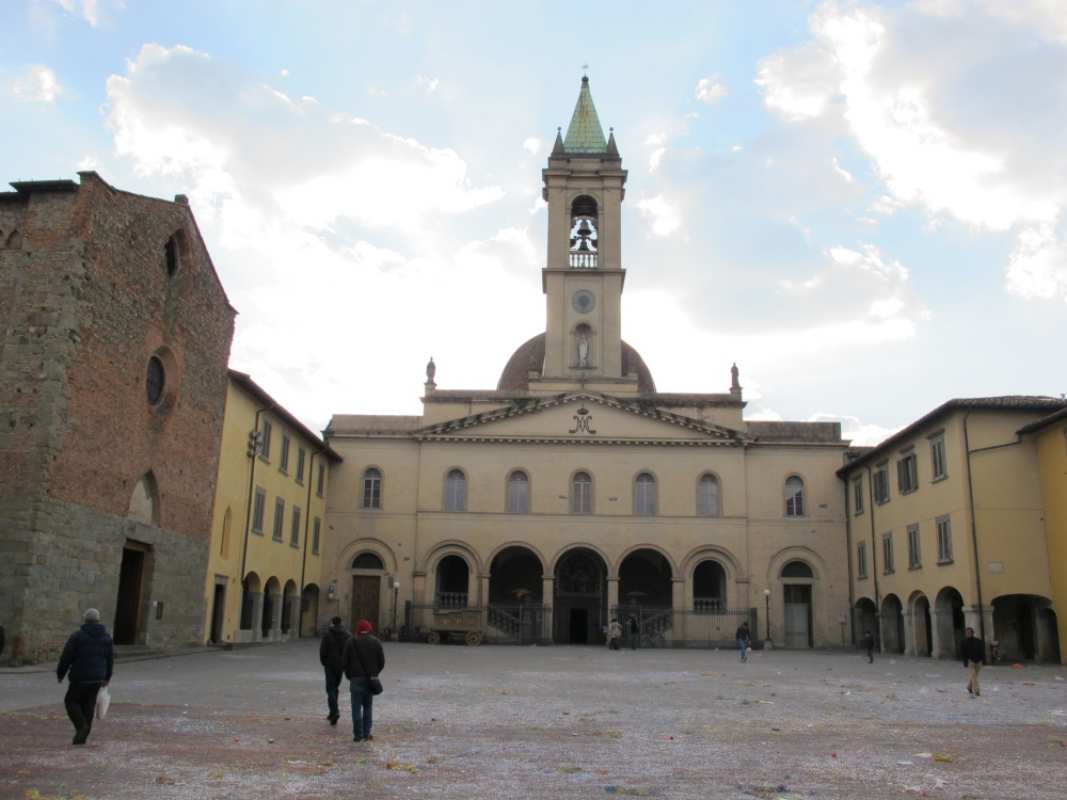 Places of worship
Basilica of Santa Maria delle Grazie in San Giovanni Valdarno
Basilica of Santa Maria delle Grazie in San Giovanni Valdarno
The Basilica of Santa Maria delle Grazie in San Giovanni Valdarno dates back to the late 15th century, but over the years it has grown and been changed many times, such as after a serious fire in 156 and after World War II bombings. The construction of the church dates back to 1484, following the miracle of "Monna Tancia".
The architectural structure is enhanced by the portico and the series of arched windows on the first floor, and culminates in the triangular gable, on which four statues lie (of the saints Augustinus, John the Baptist, Lawrence and Francis) and in the bell tower above. In the centre of the bottom wall of the hall, between the two staircases, there is a large polychrome terracotta by Giovanni della Robbia (1513) depicting the Assumption.
The basilica is arranged in three naves, separated by aisles resting on monolithic columns, Corinthian capitals and lowered arches. The domed vaults were frescoed at the end of the 17th century by Giuseppe Nasini and Vincenzo Ferrati. The upper altar (behind which is a 14th-century Madonna and Child from Florence) was rebuilt after 1596 based of the designs of Bernardo Buontalenti. To the left of the altar, three moments from the miracle of Monna Tancia are frescoed. According to Vasari, these were painted by a student of Perugino.
Info: basilicadellegrazie.it
San Giovanni Valdarno
A village in the Arezzo area with a wealth of artistic heritage
San Giovanni Valdarno is one of the main towns in the Arezzo region and is located halfway between Arezzo and Florence. Surrounded by hills and mountains, San Giovanni Valdarno has maintained its medieval appearance, with the typical urban shape of the so-called "new lands": at the centre is a large piazza, and all around are shaded porticoes defining the streets. ...
Morekeyboard_backspace