Gardens and lakes of the Apuane Alps
The trails, botanical gardens and lakes of Massa Carrara
The northern part of Tuscany, on the border with Liguria and Emilia Romagna, is home to open skies and wide stretching landscapes. The slopes of the Apuane Alps are scattered with villages, castles, medieval churches and many other natural treasures. Waterways, woods and open spaces mean the Massa Carrara province is fascinating, especially in springtime.
The Orto dei Frignoli gardens and the many lakes dotted throughout the area are worth a visit.
The Frignoli Botanical Gardens in Fivizzano are near the Passo del Cerreto at 850 meters above sea level. The gardens were created in 1990 during the transformation of a State Forest Service greenhouse which was built in 1932. This is why the park boasts exotic conifer trees like the Atlantic cedar, Black pine, Douglas firs and White oaks; all native species of the Tuscan Apennines that have been artificially planted here. Some of these trees have grown to incredible proportions even though they are not even a century old.
The spontaneous vegetation still found in the area is typical of the traditional wooded areas of the mountainous region - maples, hazel, alders and more, including chestnut trees which had disappeared during the ice age before being reintroduced by humans for food purposes and becoming the most popular kind of mountain environment tree. The wooded areas boast more than one hundred varieties of tree and shrub species. There are several small reconstructed areas that are home to particularly specialized flora. A number of fruit species are also present including local apple varieties, strawberries, raspberries, blackcurrants, gooseberries and more.
Apennine Lakes and Peat Bog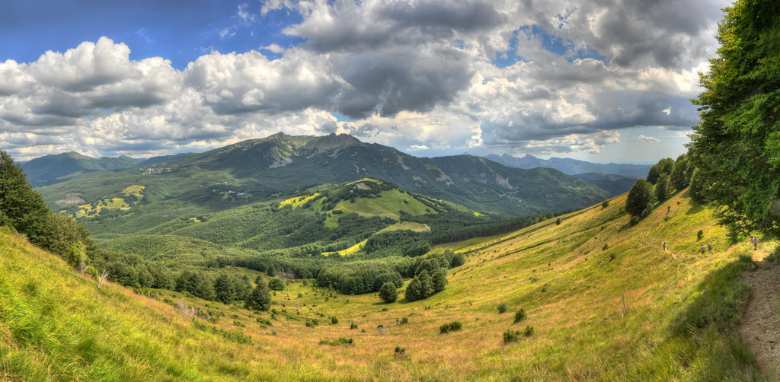 Squincio Lake is located on the border between Tuscany and Emilia Romagna, near the Passo del Lagastrello that's not to be confused with the big artificial lake, Paduli. Though the area boasts few plant species due to the relatively small size of the humid area, there are some that are interesting and rare - in particular a type of buttercup and the bulbous reed. The most beautiful flowers are the kingcup, the three-leafed fibrin, the veronica and the water mint.
There are other small lakes located around the Passo del Cerreto: the Lungo and the Padule. Of the two, the first has a less prestigious flora and is characterized by common plant species in the reed family. The nearby Padule lake is larger and has a more diverse flora, including species present at the Squincio Lake as well as many others. There are several willow species and interesting sphagnum that host a rare insect-eating plant called a sundew.
You might also be interested in
nature_people
Learn more
Outdoors
Tuscany is not only the region of art towns and hamlets: there's another face of Tuscany that is genuine and wild, waiting for you to discover and
continue...