One day in Oltrarno: discover the other side of Florence
7 places you shouldn't miss
Like Paris, even Florence has its "rive gauche": it is called the Oltrarno, which literally means "on the other side of the Arno". Tourists generally visit the central part of Florence corresponding to Piazza della Signoria, the Uffizi museum, Piazza della Repubblica, via dei Calzaiuoli and Piazza Duomo, with its outstanding Cathedral and Baptistery. Of course, all these pieces of art and history deserve an accurate visit, but to be original and discover something different go beyond the tourist trail! Cross the Ponte Vecchio and reach the south side of the river: there you'll find plenty of bars, churches, museums, parks and workshops. In addition to its extraordinary historical treasures, the Oltrarno has another advantage: it stands apart from Florence's busy central and eastern quarters. This means it is a calmer, more authentic and professional area, full of studios of artisans continuing centuries-old traditions, handcrafts and managing antiques stores, friendly bars and small, family-run restaurants.
The Oltrarno includes three areas of Florence: Santo Spirito, San Niccolò and San Frediano. Below, you'll find a one-day itinerary. If you decide to follow us step by step, you won't be disappointed!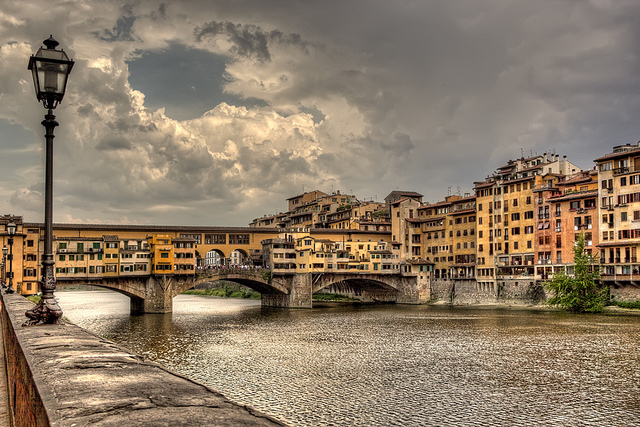 1. Ponte Vecchio
Our itinerary begins at Ponte Vecchio (that is to say, in english, the "Old Bridge"), with its gold and jewelery shops. The bridge we see today dates back to 1345 and has proved to be very resistant! A little curiosity: during World War II, in August 1944, the retreating German army destroyed all of the bridges of Florence, except the Ponte Vecchio. Discover more about Ponte Vecchio in our article "5 things you didn't know about Ponte Vecchio".
2. Cappella Brancacci
The second step of our itinerary goes straight to the famous Cappella Brancacci and Masaccio and Masolino's Renaissance frescoes. They are conserved in the Church of Santa Maria del Carmine, which was almost completely rebuilt after a fire in 18th century. To reach it from the Ponte Vecchio, turn at the second right and go down Via di Santo Spirito and Borgo San Frediano: Piazza del Carmine is at your left.
3. Palazzo Pitti and Boboli Garden
You can't visit Oltrarno area without seeing Palazzo Pitti, which was formerly the residence of the Grand Dukes of Tuscany, and later of the King of Italy. Today, Palazzo Pitti houses several museums and galleries, whose collections range from porcelain to modern art. The Boboli Garden is located right behind Pitti Palace and it really deserves a visit: it is among the largest parks in Florence and is home to a collection of sculptures, dating from the 16th through the 18th centuries, with some Roman antiquities. To reach Piazza Pitti, walk along Sant'Agostino street and Via Mazzetta.
4. Church of Santa Felicita
Next stop is the Church of Santa Felicita, set in the square with the same name. It is the oldest church of Oltrarno and is known for the Deposition by Pontormo, an altarpiece representing the Deposition of Christ, completed in 1528. Santa Felicita is also characterized by the Vasari Corridor running across its façade. It's easy to reach the Church of Santa Felicita by walking north out of the Piazza Pitti on Via de' Guicciardini.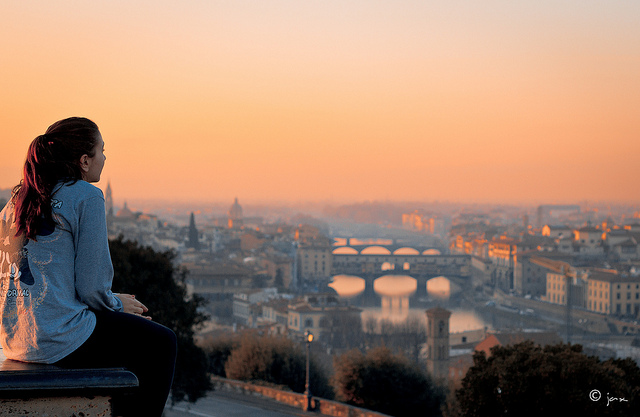 5. Forte Belvedere and Villa Bardini
Our walk continues on Costa San Giorgio. At this point, you will appreciate the fact that you are wearing comfortable shoes: the road is steep and quite tiring! A little curiosity: the great scientist Galileo Galilei lived in this street at number 19. The aim of this effort is to reach Forte Belvedere, which is a great spot to appreciate a view of Florence from up high (usually open from May to the beginning of October). While climbing Costa San Giorgio, you will encounter the beautiful Villa Bardini, home to both temporary and permanent exhibitions and that also boasts a beautiful garden with a view over Florence.
6. San Miniato al Monte
Do not let yourself be caught by fatigue and continue walking to San Miniato al Monte, the most important example of Florentine Romanesque architecture. The interior is also worth a visit. The church is located on the hill behind Piazzale Michelangelo, another quite famous panoramic spot that is not-to-be-missed in Florence. Look for the perfect shot here!
7. Museo Bardini
The last stop in our walking tour through the Oltrarno is the Museo Bardini. It is part of the Musei Civici Fiorentini and is named after its creator Stefano Bardini, one of the most authoritative Italian antiquarians of previous century. The museum is home to 3,600 pieces of art, including paintings, marble statues, bronze and wood sculptures, pottery, coins, musical instruments, ancient oriental carpets and furniture from the Etruscan and Roman civilizations to the Baroque period. The Museo Bardini is in Piazza de' Mozzi.
You might also be interested in