Accommodation in Tuscany: tips for choosing a villa
Definitions, destinations and what to know before you go
Blame it on Frances Mayes: owning a Tuscan villa—best if it's a fixer-upper—is the pipedream of many enamored travelers. Realistically, though, most of us can't shell out for a mansion in the Sienese countryside or a top-tier piece of real estate on the Tyrhennian Coast. However, a holiday in a villa rental is more attainable—and often affordable—than you might think. Here are some tips and tricks for choosing a dimora (historic home) wisely, depending on what type of vacationer you are and what sort of arrangement you're seeking.
Get clear on what villa can mean
The word "villa" calls up visuals of upper-crust society, shade trees and scenic overlooks, imposing facades and sprawling spaces. But the meaning can vary widely, although a country home that belongs or once belonged to a prominent, well-heeled family is generally part of the picture. How does this translate to modern-day travel experiences? It means that when you see "villa" in the name of a potential lodging place, it could be any number of things: a whole rustic home, all to yourself; a similar structure that's been converted into an active bed and breakfast; a winery or farming business with a staffed or unstaffed on-site residence now open to visitors; and so forth. Be sure to carefully read websites and listings to avoid any surprises and make sure the setup aligns with what you want.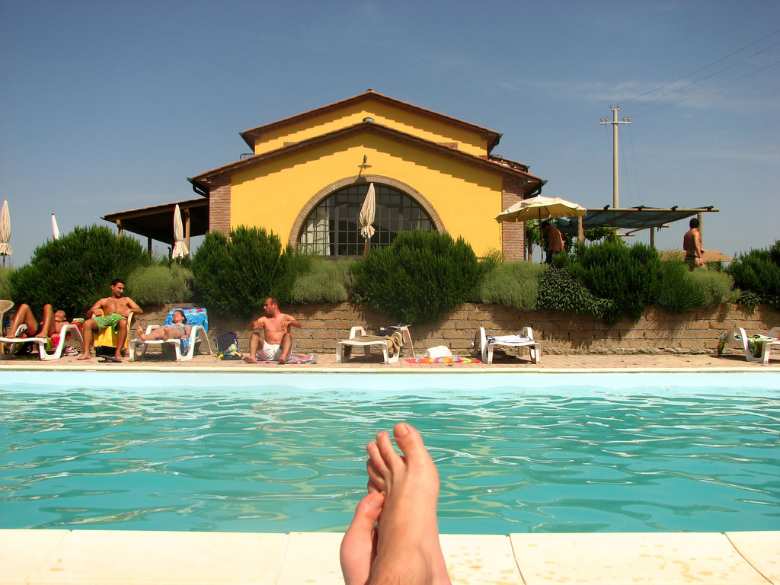 Let's talk practicalities: finding the perfect villa for your travel needs, even in a remote location, shouldn't need to feel like an archaeological excavation (though, since this is Tuscany, plenty of those have probably taken place around the space you'll be staying in!) Begin by browsing through the Historic Houses category in our Accommodation section; there, you'll be just a few clicks away from your Tuscan dream home. (Just don't attempt any Mayes-inspired restorations until you purchase the place!)
Keep your "divided house" happy
Overwhelmed by listings and not sure what distinguishes one dimora from another? Perhaps your travel party is split in two: urban-loving types who crave the cosmopolitan offerings of a city and happy country mice who love nothing more than a cozy cabin-like setting. If this sounds like your situation (or your own travel personality is split), you'll want to look at location above all else when making your decision. The greater metropolitan area of Florence is dotted with historic homes, from the modest to the more opulent. Consider concentrating your search in off-the-beaten track, quiet destinations that are still an easy, speedy train or bus ride from Florence, such as San Casciano in Val di Pesa, which connects to the city via SITA bus; Scandicci, a super-short and inexpensive tram ride from the main city; or Sesto Fiorentino, which has a substantial commuter community and is barely 20 minutes from Florence by regional train.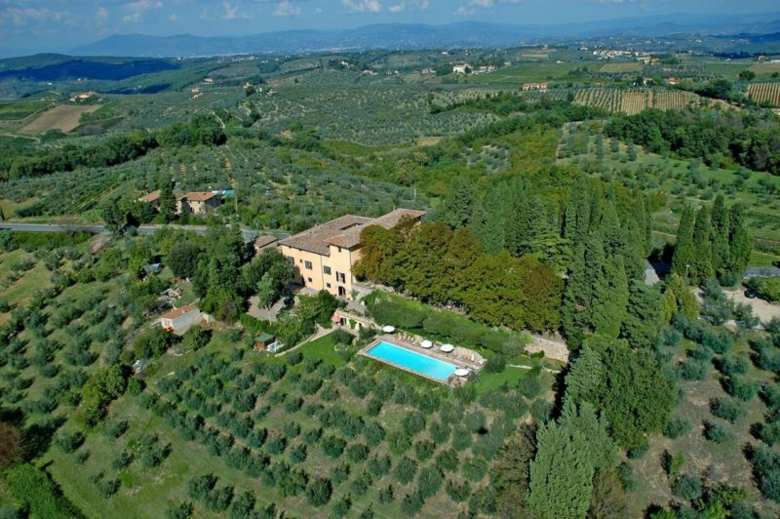 Maybe you're one of said "country mice" and your mantra is "the more remote, the better!" Still, you'll want to make sure you have a baseline mental roadmap of the area you're going to, a list of emergency contacts and an idea of the amenities (not just the tennis courts, pools and WiFi of glitzier spots, but perhaps practicalities like the location of the hot water heater, whether you can do laundry on site, and such). Also, think about your interests: a countryside sabbatical is a treat but your experience could be greatly enriched by choosing to stay in a villa that's part of a larger complex—such as an olive oil production business or winery—where you can perhaps organize a tasting or even participate in some of the on-site work at harvest time, getting your hands dirty and your heart in line with the land.
Besides the obvious reasons to rent a villa in Tuscany—storybook scenery, escaping from your everyday routine—there are numerous benefits to choosing this type of accommodation over a traditional hotel or an apartment rental by owner. If you opt for an independent home rental, privacy, freedom and flexibility are three of the top perks; you can give a big bacio (kiss) goodbye to crowded hotel breakfast spaces, lobbies and common areas. Plus, if you're traveling with kids (or partying friends who make the same amount of noise), you can rest assured that you won't be disturbing anyone else—except perhaps the wild boar in the woods nearby!

Additionally, you'll be able to both save money and experience culinary culture the way real Tuscans do by doing your own cooking in your own kitchen rather than dining out daily at restaurants or ordering room service.

If the idea of staying (mostly) alone in the countryside worries you, many larger villas have discreetly staffed services on-site, making the experience slightly more like a traditional hotel, but with a less frenzied atmosphere.

Finally, if you're going on a group vacation with multiple families or a big contingent of friends, or if your budget is too tight to rent a whole home for yourself, a sizeable number of Tuscan villas have restructured their spaces into individual apartments so you can absorb the homey atmosphere at a fraction of the cost.
You might also be interested in
nature_people
Learn more
Outdoors
Tuscany is not only the region of art towns and hamlets: there's another face of Tuscany that is genuine and wild, waiting for you to discover and
continue...