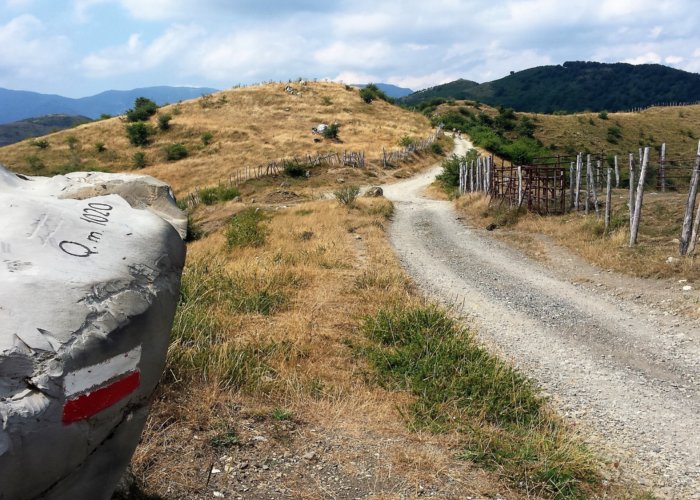 A challenging mountain bike itinerary that circles the entire Lunigiana area.
An adventurous bikepacking-style route in stages, suitable for MTBs and E-MTBs, which runs clockwise through the Lunigiana area.
The Lunigiana Trail stays at the highest altitudes of the Lunigiana territory where nature is still intact and rich in forests, ridges, and high-altitude pastures. In the northern part of the territory we will pedal at the base of the Tuscan-Emilian Apennines on a continuous crossing of valleys, streams, and medieval villages; arriving in the southernmost part, it will be the Apuan Alps that will excite us, with their sharp peaks that will accompany us until we reach the Ligurian Apennines and its gentle ridge, all of which can be pedalled. From here, airy views of the Tyrrhenian Sea and the Gulf of La Spezia.
This will be the scenario we will encounter, on a 230 km-long adventure that will lead us to discover this beautiful and unexpected corner of Tuscany.
The Lunigiana Trail is mainly on dirt roads with a smooth surface but there are also parts with a rougher surface and parts on trails. There are no stretches of portage (this means with the bike on your back) but only a few short technical sections that might force to push the bike for no more than 100 metres. Where it was not possible to use dirt roads suitable for the Trial, we will find asphalt with low vehicular traffic. There are no trail sign on the route and it is therefore necessary to download the GPX track.
Some stage proposals:
> Trail in 2 days:
Pontremoli > Equi Terme: 110 km x 3470 m disl+
Equi Terme > Pontremoli: 120 km x 3230 m disl+
> Trail in 3 days:
Pontremoli > Fivizzano: 80 km x 2720 m disl+
Fivizzano > Aulla: 70 km x 1750 m disl+
Aulla > Pontremoli: 80 km x 2230 m disl+
> Trail in 4 days:
Pontremoli > Apella: 52 km x 1970 m disl+
Apella > Equi Terme: 56 km x 1480 m disl+
Equi Terme > Passo Casoni: 68 km x 1950 m disl+
Passo Casoni > Pontremoli: 54 km x 1300 m disl+
>Trail in 5 days:
Pontremoli > Bagnone: 42 x 1380 m disl+
Bagnone > Fivizzano: 40 x 1360 m disl+
Fivizzano > Aulla: 65 x 1600 m disl+
Aulla > Zeri: 42 x 1360 m disl+
Zeri > Pontremoli: 41 x 1000 m disl+
Explore
Discover something of interest near this itinerary
[]