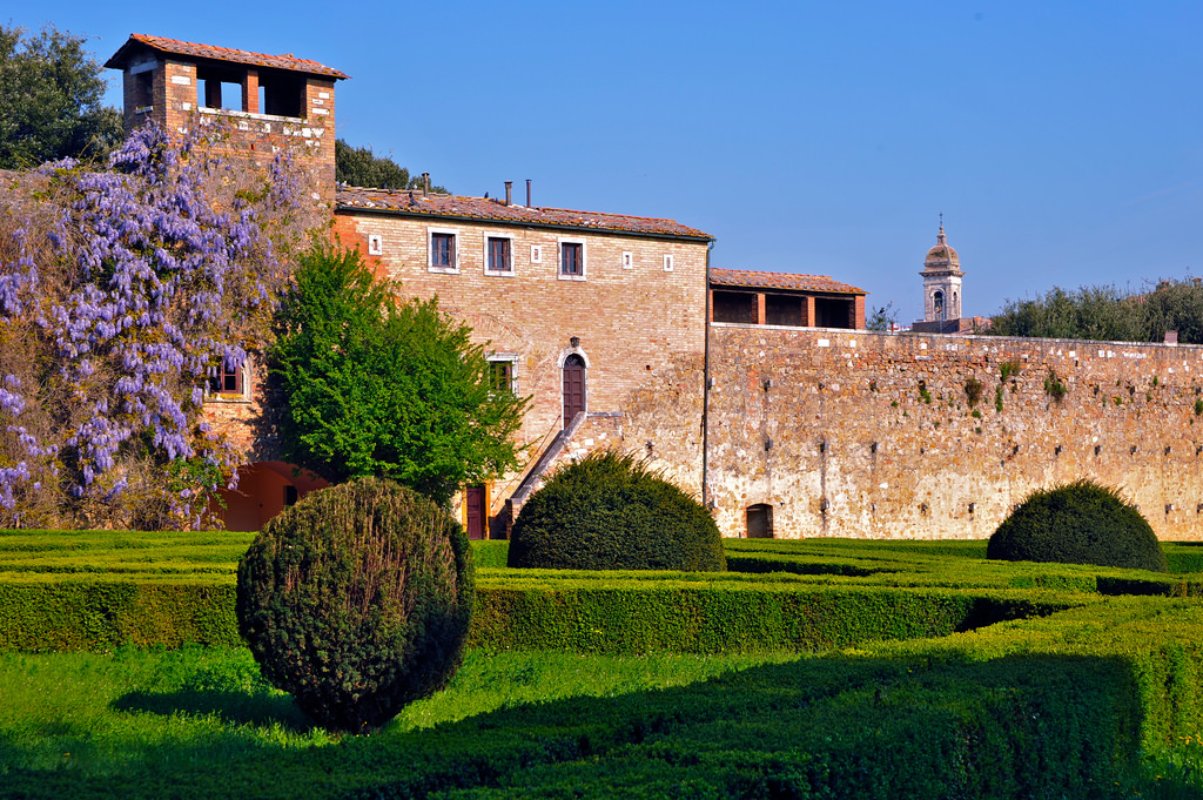 San Quirico d'Orcia
The council of San Quirico d'Orcia, of Etruscan origins, is in the province of Siena
Read the story of San Quirico d'Orcia on

San Quirico d'Orcia
A Searching for a fiefdom... dreaming of becoming Pope
Cardinal Flavio Chigi speaks of San Quirico d'Orcia

Read the story of
The first documented mention of San Quirico concerns a heated dispute, started in 712 AD, between the Dioceses of Siena and Arezzo. The two bishops claimed possession of some parishes and among these a parish of San Quirico in Osenna. The place name "Osenna", of probable Etruscan origin or in any case pre-Roman, kept great favour until the XVII century. It is supposedly in reference to a river, by now disappeared, that lapped the land of the village in the Early Middle Ages.

From the XI century onwards the effects of the proximity to the Via Francigena, ancient Roman-Longobard route followed by pilgrims on their way to Rome from Northern Europe, determined a rapid growth of the village, often visited by famous exponents of the political and ecclesiastical panorama of medieval Europe. For example, in 1154 Emperor Frederick I camped at San Quirico on his way to Rome to receive the crown from the hands of the pontiff Adriano IV. On the very outskirts of the town the King met the Pope's ambassadors.

In 1180 San Quirico finished under Siennese jurisdiction, to then become an important Vicariate in a short time. The village's history as a place of important meetings was enriched by an episode in 1205 when at San Quirico a meeting of the Tuscan League was held, with the aim of reaching agreements on the policies to be taken regarding the hostile Montepulciano. In 1552 San Quirico was one of the passing points for Charles V's troops, having invaded Tuscany with the aim of blocking and taking control of the Siennese Republic. The commander Don Garzia chose the village as a base for his raids in Val d'Orcia.

With the fall of the Siennese Republic, San Quirico was annexed to the dominion of the Medicean Grand Duchy. And so it became a fief once more, by order of Grand Duke Cosimo III who in 1677 gave it to the Cardinal Flavio Chigi. The council of San Quirico, in the Val d'Orcia which today is considered one of the most beautiful valleys in the world, is an artistic park in the heart of Tuscany. Among the main tourist attractions you can admire the 12th-century Collegiate Church and the Church of St. Francis which still keeps the statue of the Madonna of Vitaleta by Andrea delle Robbia.
2
TOP ATTRACTIONS IN San Quirico d'Orcia
people
What's the buzz about?
Spectacular scenery among castles and fortresses
In the heart of Terre di Siena the scenery is stripped bare, accompanied by hills and crevices, the winding river, cypresses that crown hills in isolation or that follow the roads in tidy rows. ...
Morekeyboard_backspace
Other towns and cities in Val D'Orcia