Meat and fish
PDO Cinta Senese
A unique product of historic origins
Consortium
Consorzio di tutela della Cinta Senese
The presence of the Cinta Senese DOP in Tuscany dates back centuries. Among the most famous of this is the painting The Allegory of Good and Bad Government (1338-40) by Ambrogio Lorenzetti, in Siena's Town Hall. The fresco cycle in the Casanuova of Ama Chapel (1596), in Gaiole in Chianti, also shows a frescoed specimen at the foot of S. Antonio Abate.
The meats, salami and fat of this animal have notably contributed to bettering the quality of life in this area of Italy. In fact, there are examples of Cinta Senese drawn in a 14th-century medical handbook: fatty deposits were probably precious in the preparation of unguents and creams as well as being a foodstuff. The breeding of this pig has overcome myriad historical and cultural events, from the start of the Modern Era to the end of sharecropping, and even in the post-Second World War period.
The quality of the Cinta Senese meat, thanks to the system of extensive breeding that reinforces the testimony of the ancient tradition of pig breeding in the region of Tuscany, has allowed the farmers, grouped together as the Cinta Senese Protection Consortium, to obtain the Denominazione di Origine Protetta, DOP.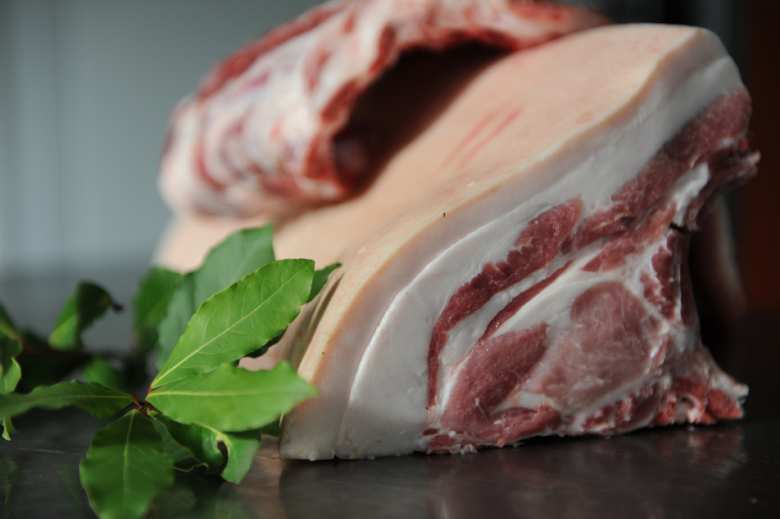 The Cinta Senese DOP breed is medium sized, with black skin and a characteristic white stripe (a sort of belt, hence the name in Italian) that ties the chest to the shoulders.
Cinta Senese meat boast a large amount of marbling fat, which means low liquid loss when cooked. When made into cured meats and sausages, the products stand out for their aromas and flavours that make them a true excellence of Tuscan tradition. Cinta Senese meat is particularly savoury, tender and succulent, bright pink or red in colour.
The Consortium's label is displayed on all processed products, accompanied by the wording "product obtained from meat of the Cinta Senese D.O.P." and the progressive numbering serves as a tool for traceability.
The origins of the Cinta Senese DOP are in the Montemaggio area and later Chianti and the rest of Tuscany. The diverse forests, especially those with oak and acorn, are ideal habitats for this breed.
The geographical area of the production of the Cinta Senese DOP meat is represented by the administrative territory of the Tuscan region up to an altitude of 1,200 metres above sea level. A higher altitude would be unfavourable for breeding.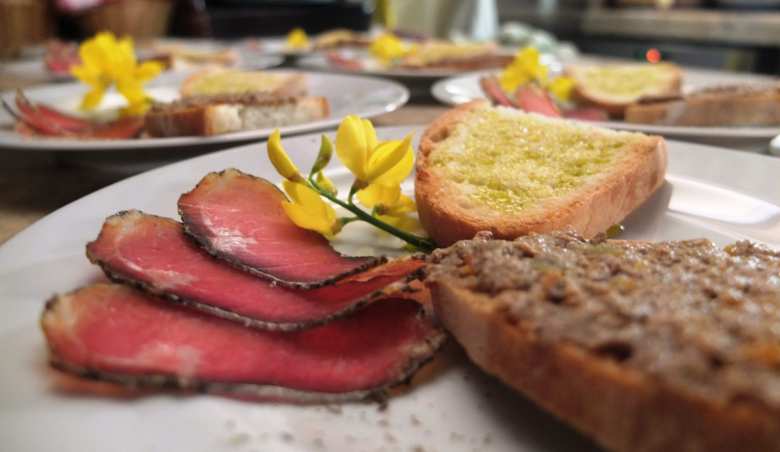 The Cinta Senese DOP meat is appreciated in sauces and roasts, but it finds its main purpose in traditional Tuscan cured meats such as prosciutto, capocollo, salami, rigatino and guanciale.
Info: cintasenese.org
You might also be interested in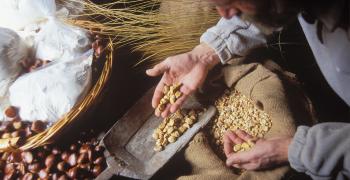 Learn more
Food and Wine
Olive oil, wine, truffle and other culinary delights make up the excellence of Tuscan gastronomy.
continue...