spaRelax and wellness
Hotel Adler Thermal Baths in Bagno Vignoni
From the Grotta Salina to the thermal baths, you can kick back and relax at Bagno Vignoni
Since ancient times, people knew that thermal baths were the best way to relax and rejuvenate your body. Hotel Adler Thermal Baths is one of only three places in the Val d'Orcia where you can benefit from the cleansing waters of Bagno Vignoni.
The hot springs in Bagno Vignoni are naturally rich in minerals and are 1,000 meters deep, where it meets hot strata full of volcanic activity. The underground heat reaches the surface, raising the temperature to 50° C. This water flows into the pools of the Adler Thermae spa resort, which maintain a constant temperature around 36°.
The Healing Power of the Thermal Baths
The thermal baths heal your body in many ways, including: helping to manage osteoarthritis, rheumatism, cellulite, alterations in venous circulation and other gynecological and dermatological conditions. These great results are thanks to the heat and a combination of sulfur, bicarbonate, and sulfates in the water.
The water's heat helps with respiratory functions and diuresis, as well as oxygenates tissues and relaxes tense muscles.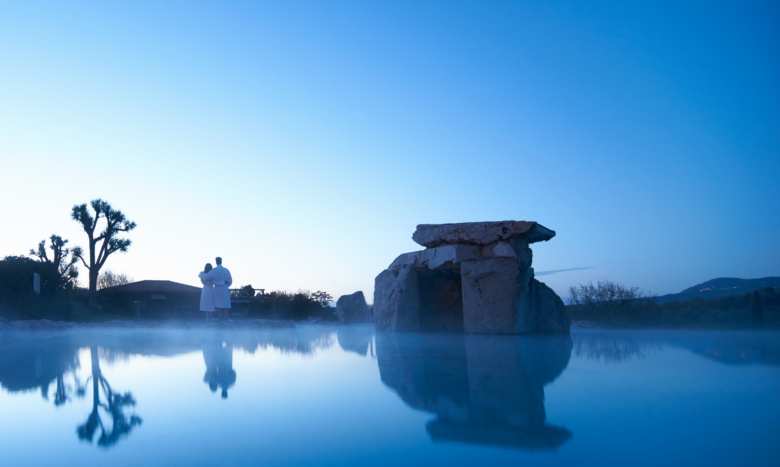 For a moment of pure relaxation and total rejuvenation, we suggest guests head over to the evocative Grotta Salina.
This area has a soothing atmosphere, with soft lighting and calming white noise. The water is heated to 38° and enriched with the healing salts of the Dead Sea, helping to naturally cleanse the skin and improve circulation. The Grotta Salina is open to guests by reservation.
For more information: adler-thermae.com
San Quirico d'Orcia
A historic village in the heart of Valdorcia along the Via Francigena
At the very heart of Val d'Orcia, nestled in the swirling hills is the incredibly historic village with (probable) Etruscan origins, immersed in olive groves, vineyards and oak woods. San Quirico d'Orcia, with its medieval parish churches, is an absolute must-visit. Find yourself in this enchanting scenery, famous for its beautiful countryside and harmonious atmosphere.
Morekeyboard_backspace