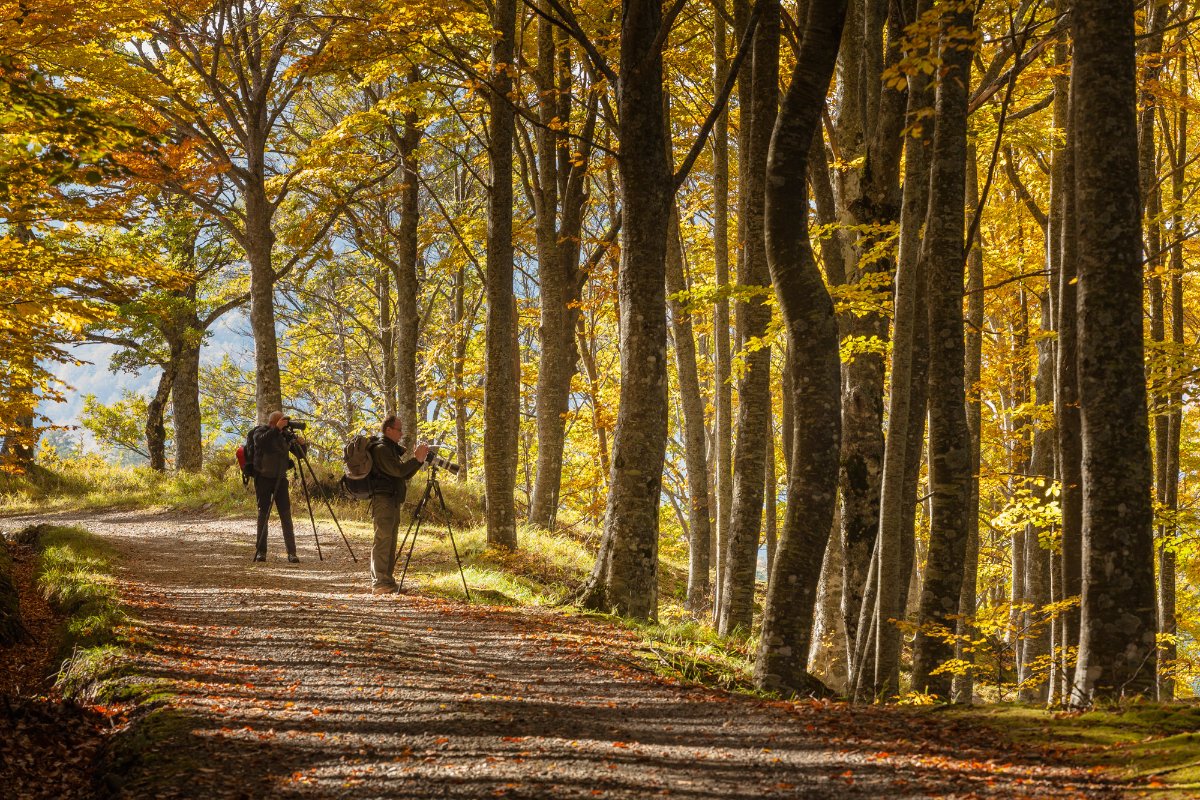 Ride through nature, villages and hot baths
Bagno Vignoni to San Casciano dei Bagni
This scenic itinerary from the
Val di Chiana
leads right to the heart of the Val d'Orcia and climbs up to the summit of
Monte Amiata
, through lush, green woodland, rising and undulating hills and a myriad of villages steeped in history. There are numerous opportunities to stop along the way at the
natural spas of the area
, for a few pleasant hours of relaxation and pampering
amidst the thermal waters.
The itinerary starts in the area of the
thermal springs of Bagno Vignoni
. On departing from Bagno Vignoni the route continues along the Cassia (SS2). Turning right in the direction of Abbadia San Salvatore on the SP61 the route then follows the SP18 towards the summit of Monte Amiata. After 26 Km you arrive at Abbadia San Salvatore, the principal settlement of Monte Amiata. This small town has a
history of mining
where, until the 1970s, they extracted mercury.
Today, the mines have been transformed into important museums
where it is possible for visitors to descend into the underground tunnels and even travel in the carriages of the small mining trains (accompanied by expert miners). The real hidden gem of
Abbadia however is the 7th Century Abbey,
with its magnificent crypt. Monte Amiata, rising 1,738 metres above sea level, is Italy's highest inactive volcano and a targeted destination for winter sport enthusiasts and nature trail lovers.
On leaving
Abbadia San Salvatore
the route follows along the SP61 and then onto the Cassia (SS2), eventually turning left onto the SP321 towards San Casciano dei Bagni. The road leads past the small
village of Celle sul Rigo
, through an almost lunar landscape characterized by ravines ('calanchi') caused by the deep cracks in the clay soil. To the left, perched in the rock on top of one of the hills, you will be able to glimpse the town of Radicofani, with its medieval fortress, once the
refuge of Ghino Tacco
, the bandit of the Val d'Orcia.
After 30km the route arrives at
San Casciano dei Bagni.
Here, as is the case with
Bagno Vignoni
, records tell us that the warm thermal water of this area has been renowned since Etruscan times. It wasn't until 1600 however, when the Grand Duke Ferdinando I built the elegant arcades of what is today the
Fonteverde
spa resort
, that the trend of natural spa resort holidays started in earnest. The old town of San Casciano is, in actual fact, a complete reconstruction and
the castle
is an example of the popular reconstructions of the era spanning the 19th and 20th centuries.
You might also be interested in