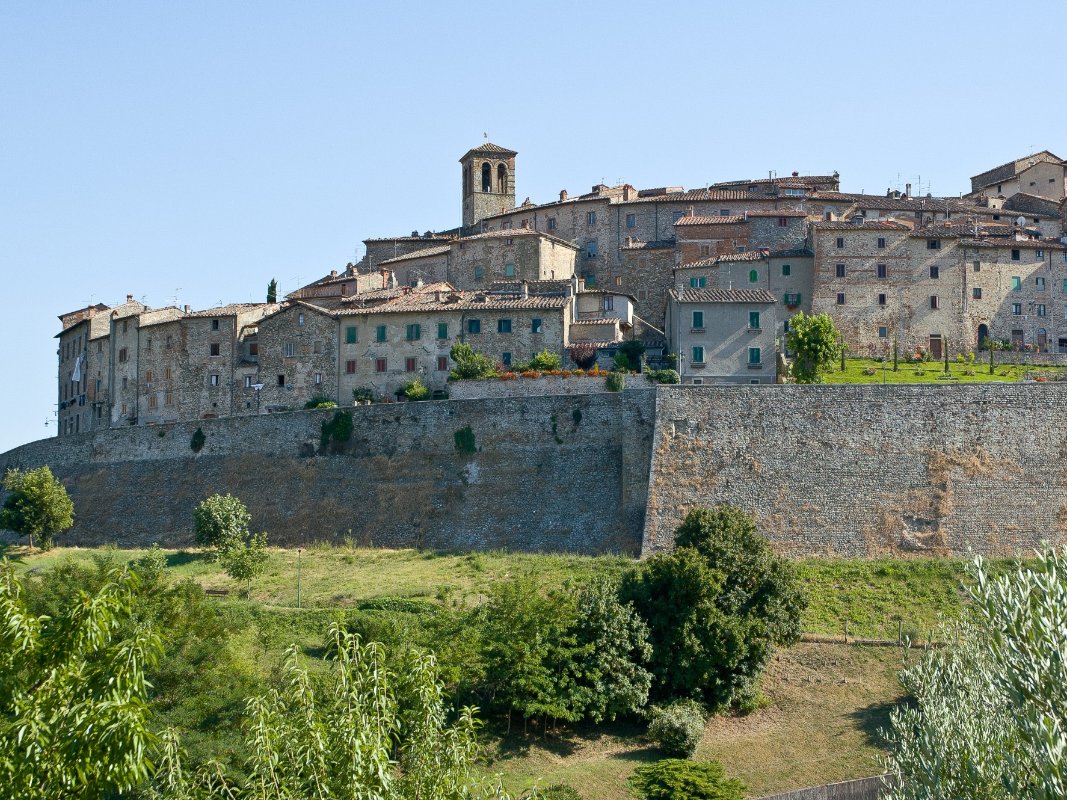 Anghiari
A striking medieval town nestled in the quietude of the Tiber Valley
Read the story of Anghiari on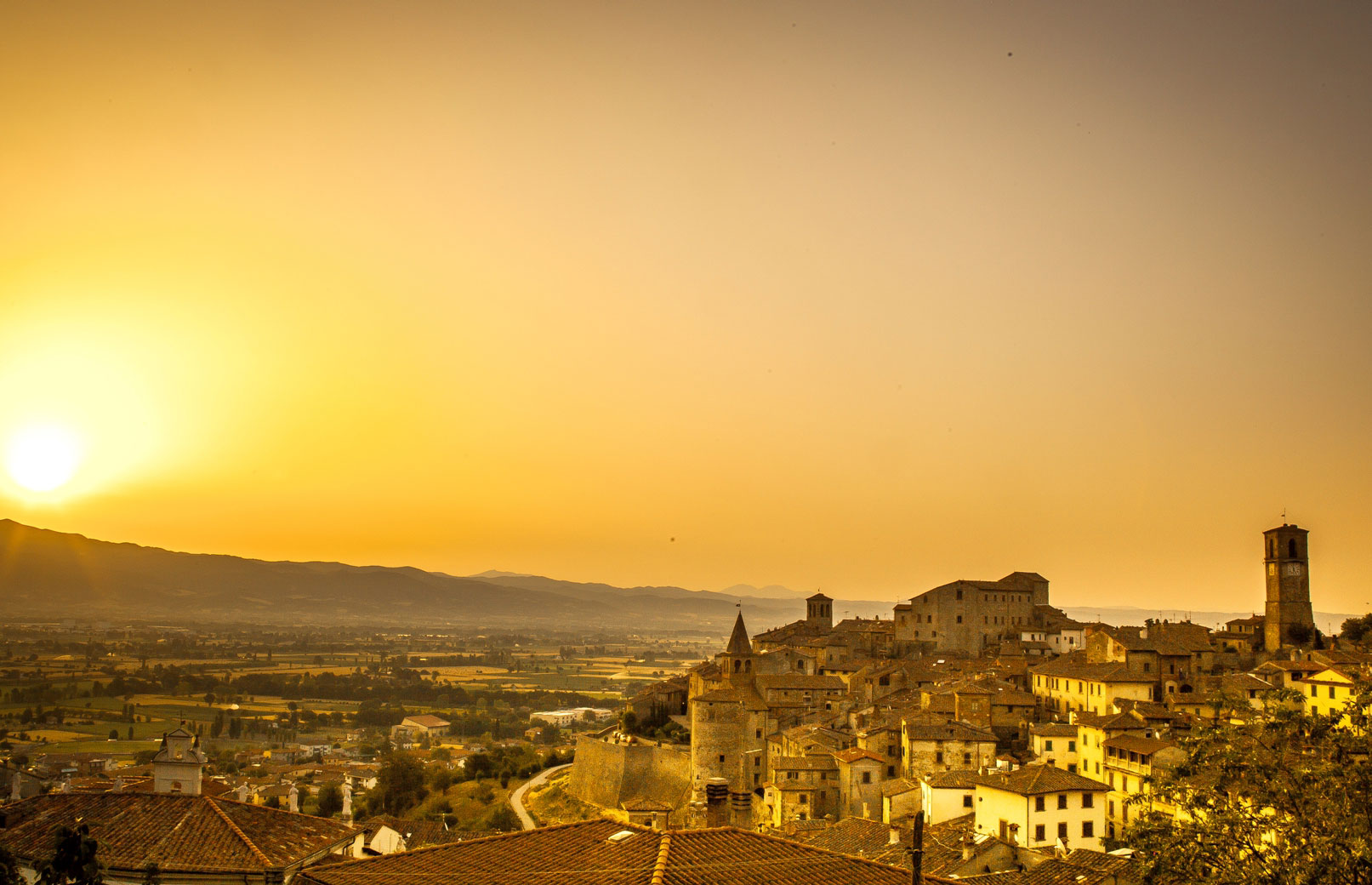 Anghiari
And the streets of the Renaissance
Anghiari's streets make up a labyrinth that takes you through history: like lines that give shape to the RenaissanceRead the story
Anghiari is a little medieval town buried deep in the magnificent Tuscan countryside. It was the Battle of Anghiari on 29 June 1440 that cemented Tuscany's borders, with the Florentines triumphing over the Milanese; and it was with a painting of this battle, now sadly lost somewhere behind the walls of the Palazzo Vecchio in Florence, that Leonardo da Vinci cemented its fame.
Anghiari is one of the most beautiful medieval towns in Italy, and deservingly wears the Italian Touring Club's prestigious Orange Flag. The town unfolds along its steep and unmistakeable "ruga", a long, parabolic street that runs through it for miles, making for a unique view.
Arriving in the town from the plain the first thing that the visitor claps eyes on is the Borghetto, the oldest medieval nucleus of the town, whose majestic surrounding walls were erected in the sixteenth century. The impressive medieval tower, the Campano, catches the attention, its massive bulk serving almost as a lighthouse to travellers. Also in the old town centre, it's worth stopping by the tumbled-down, centuries-old abbey church, established by Camaldolese monks around the year 1000.
Palazzo Taglieschi stands in the historic town centre, and is home to the town museum. This latter contains some precious artworks, such as a colourful wooden Madonna by Jacopo della Quercia, certain terracottas in the Della Robbian style, and a sixteenth-century positive table organ that still works today). Other museums worth seeing are the Museo della Battaglia e di Anghiari, which is found in Palazzo Marzocco and which introduces visitors the history of the famous battle that links Leonardo to this town, thanks to his choice of it as a subject for a painting. The Museo della Misericordia retraces the history of Anghiari's Confraternita della Misericordia through documents and unusual objects.
Anghiari is vibrant all year round, thanks to a full calendar of events that includes fairs, displays, exhibitions and special events which unite art, folk traditions and the superlative local cuisine. The Mostra Mercato dell'Artigianato della Valtiberina Toscana is a perfect occasion to visit Anghiari: a traditional craft fair, in spring it brings the town's narrow streets and workshops to life, filling them with connoisseurs and the curious.
Very close to the town, nature lovers can explore the unique geological make-up of the Monti Rognosi Nature Reserve, while those who are more interested in the Middle Ages will love the ancient Sorci Castle.
&
TOP ATTRACTIONS IN Anghiari
Social & Web
Find out what they say about us, and tell us about your Tuscany!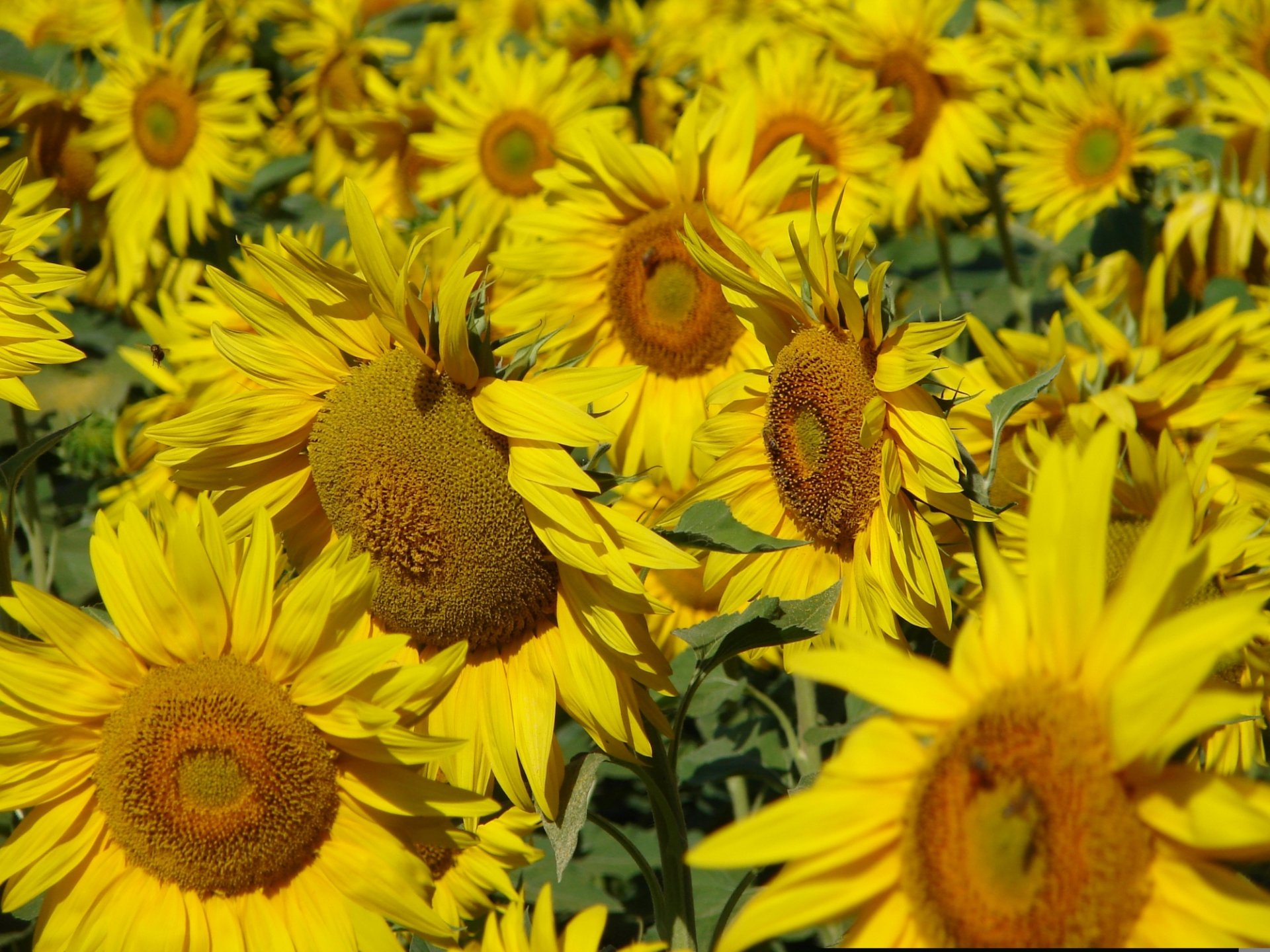 Homeland of Renaissance masters, from Michelangelo to Piero della Francesca
The Tuscan Valtiberina is the easternmost stretch of the region and takes its name from the river that crosses through it, all the way down to the border of Umbria, the Tiber. ...
Morekeyboard_backspace