A bike ride through nature in the Amiata forests
An easy route on two wheels
A short and not particularly difficult route. The only challenging parts are some uphill stretches early on. Half of the route is on asphalt and half on dirt tracks, and it winds through woods without signposts.
Place of departure and arrival: Abbadia San Salvatore
Difficulty: Medium
Length: 17.1 km
Total climb: 330 m
Road surface: mixed
Type of bike: mountain bike
Leaving from the centre of Abbadia San Salvatore in via Roma (at the Trekking & Bike stand), head towards via Cavour, following signs for 'Vetta Amiata'. Continue uphill and, just outside the centre, cross the bridge over the Miniera river. Shortly after, when the road flattens out, take the first dirt road on the left, following the sign for the trails.

Follow the main trail and you will reach the old powder store. From here, take the road on the right and, after an uphill stretch, you will reach a fork where you should turn left. After a short downhill you will arrive at Mercuri. Continue uphill until the Cipriana farm where you should carry straight on. At the end of the descent go past the road to the left and continue uphill until a fork in the road. Here you should keep right along the gravel path (passing by the next road on the right) until the farm of Pozzaroni and the asphalt road.

Back on the tarmac, turn left downhill until you reach a junction at Quaranta. Follow the main road downhill, and, at the first fork, turn left. After 200m turn left again along a dirt track beside some houses and the Cerro del Tasca. After an uphill stretch you will arrive at Crocetta (with a cross on the right of the road). From here the road heads downhill towards Abbadia San Salvatore, where it becomes asphalt once more. At the first junction, turn left and continue until the tennis courts on your right. Pass the swimming pool and a lake, and at the next junction turn right. At the Esso garage turn left and after 400m you will be back where you started.

For more details contact the specialist guides in Abbadia San Salvatore.
You might also be interested in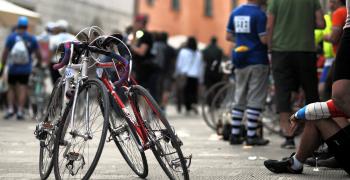 directions_bike
Learn more
Cycling
Cycling is the best way to delve deep into the soul of a territory. It allows you to reach the most beautiful places by taking the less-travelled
continue...