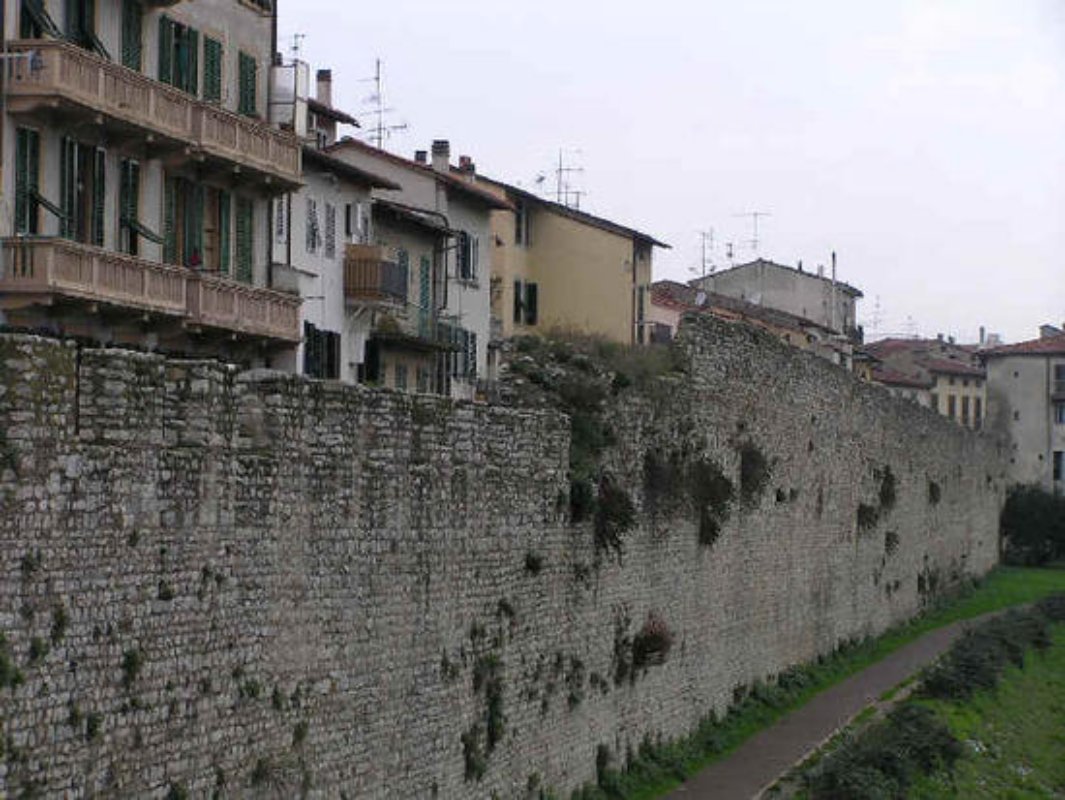 Prato city walls and neighbourhoods
Once unified as a city, the walls were built to protect and defend the new town
The first city walls, erected between 1175-1196, were built in square blocks of pietra alberese with regularly placed towers and eight city gates: Porta San Giovanni, Porta Capo di Ponte, Porta Corte, Porta Santa Trinita, Porta Fuia, Porta Gualdimare and Porta Travaglio.
Drawbridges near each of the city gates could be lowered over the moat to assure easy passage way to and from the city.
The first set of city walls were constructed on a quadrangular plan. As was common in the Middle Ages, construction started with the creation of the city gates at strategic intervals along the moat. Drawbridges were added, and stretches of wall were erected connecting the gates, forming a unified and protective "ring" around the city
THE 14TH CENTURY
As the city expanded, suburbs began to crop up outside the first set of city walls, and it was necessary to create a new fortification system which extended the walls to include the Mercatale. This second set of walls, finished in 1332, reached Porta Gualdimare.
Between 1338-1351 the walls between Porta Gualdimare, Porta Santa Trinita and the so-called "Cassero" were built.
After the Black Death of 1348 the City of Prato halted, and did not recommence building until 1382 when the city received orders to do so from Florence of which they had become subjects.
THE CASSERO
The Cassero, originally known as the Corridor of the "Cassero" (Pratese dialect for "Castello," or castle), was created at the request of the Florentines immediately after Prato became a subject-city of Florence. It was designed to offer a protected passageway between the Florentine's small fortress next to the city walls and entry to the Castle.
The tall wall is pierced by small, rectangular windows which light the passage which was created by a series of barrel vaults inside the massive city wall. An open, unprotected passageway runs along the top of the Cassero.
PRATO'S NEIGHBOURHOODS
Prato was originally divided into eight neighbourhoods, each one aligned with one of the city's eight city gates.
This division into eighths ("ottavi") was unusual in Tuscany. In fact, other Tuscan towns are split into thirds (Siena, Volterra and Pisa), sixths (Florence in the 13th and 14th centuries) and quarters (Pistoia and Arezzo.)
In the end, the local administration decided to follow the example of Pistoia and Arezzo, uniting the eighths to create quarters. The new quarters of Prato became: the Quarter of Santo Stefano (uniting Porta San Giovanni and Porta al Travaglio); the Quarter of Santa Maria (united Porta Gualdimare and Porta Fuia); the Quarter of Santa Trinita (united Porta Santa Trinita and Porta a Corte) and the Quarter of San Marco (Porta Capo di Ponte and Porta Tiezi).
Source: Prato APT
You might also be interested in
Valle del Bisenzio
The Bisenzio valley lies between Mount Calvana and the Apennine forest. It is a territory rich in tradition thanks to its settlement by the ancient Romans. ...
Scopri Valle del Bisenziokeyboard_backspace