location_cityHistorical Buildings
Palazzo Datini in Prato
A glimpse at medieval commerce
Francesco Datini was one of the richest merchants of his time. Thanks to his commercial activities—selling weapons, jewels and spices—he was able to widen his trading potential and make use of primary trade routes, expanding his markets to include wool and textiles from Prato. His company, dedicated to textiles and financing, had branches in Italy and abroad, including the entire Mediterranean region and Egypt.
Palazzo Datini, located near 'Porta Fuia', was the merchant's main headquarters and it hosted many illustrious figures such as members of the Gonzaga Dynasty and the King of Sicily, Luigi II d'Angio.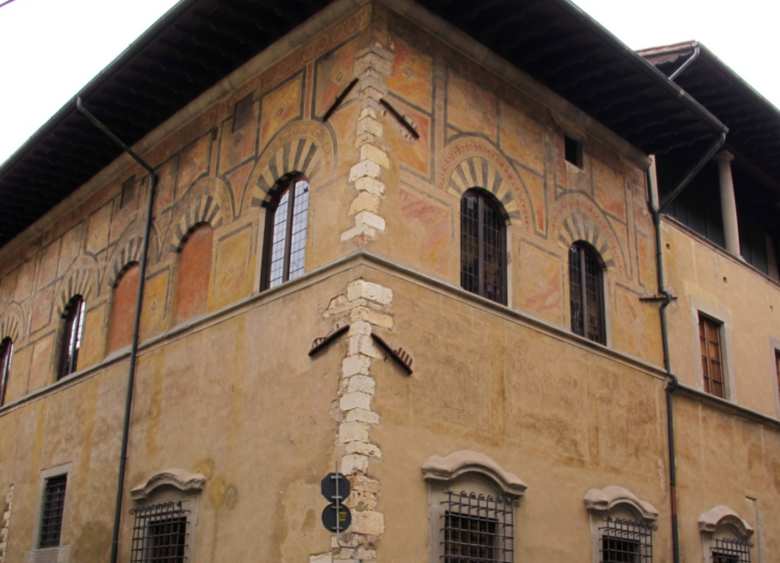 Purchased in 1354, the palace's decoration was entrusted to painter Niccolò di Pietro Gerini and his workshop in 1390. It is to him that we owe the palace's famed 'Saint Christopher' and the fresco cycles that grace its court. In the other rooms, you'll find works by other painters like Agnolo Gaddi, Niccolò Gerini, Bartolomeo di Bertozzo and Tommaso del Mazza.
From the main door, you'll reach a corridor that leads to the palace's Hearing Room. Its courtyard hosts a well and a portico with two naves. The palace's second portal leads to the State Archives where Datini's correspondence and mercantile registers are currently preserved. After the merchant's death, all of his documents—including textile samples—were hidden inside the palace walls, only to be rediscovered in the XIX century.

Palazzo Datini still remains the headquarter of the charity association. It provides a rare example of late gothic architecture and was frescoed after Datini's death. Visitors will enjoy the Francesco Datini Home-museum on the ground floor where they can admire splendid paintings commissioned by the famed merchant. Part of the building hosts the State Archives which stores documents and records from 1361 to 1411; Datini's collection includes a total of 150,000 letters. This unique series of documents showcases mercantile, industrial and banking activities in the fourteenth century. Datini was particularly inspired by the Friars of Saint Francis and it is not by chance that his tomb, created by Niccolò di Pietro Lamberti, can be found in their local church.
Info: museocasadatini.it
Prato
Explore culture from the middle ages through to contemporary art in one city
Prato is a city that never ceases to amaze and is perfect for those in search of less touristy destinations. The capital of the provincial territory of the Prato area is also the third largest city in central Italy. The city combines the ancient charm of its historic centre with the modern business and contemporary art district, in an itinerary that ranges from the Middle Ages to Avant-garde. ...
Morekeyboard_backspace