Taste the local breads of Prato
So good it doesn't need salt
Prato's pride is in its bakeries which can be found throughout the town and the surrounding countryside. The bread of this town was already being sold in the Florentine markets of the 16th century as a prestigious brand.
The bread is baked in the pre-dawn hours in a variety of forms which adapt themselves to every need: the cazzottino is for hearty breakfasts and snacks, perfect with a few slices of Pratese mortadella; the filone seems made to be sliced and slathered with flavourful marmalades, or drizzled in local olive oil and sprinkled with salt to make the famous pan con l'olio,which they used to give to kids when they stopped by home before one game and the next.
In those brief moments there wasn't time to toast the bread to make the traditional fettunta (toasted, rubbed with garlic and seasoned with olive oil, salt and pepper) which was reserved for the dinner table. But the queen of the table is the bozza, which goes well with everything and is even great stale when it can be used for panzanella, bread soup, pappa al pomodoro and lots of other tasty dishes.
You might also be interested in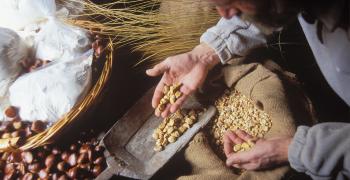 Learn more
Food and Wine
Olive oil, wine, truffle and other culinary delights make up the excellence of Tuscan gastronomy.
continue...