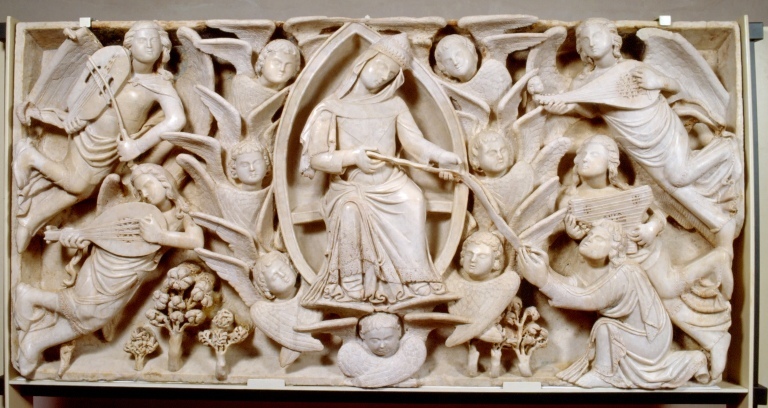 account_balanceMuseums
Cathedral Museum of Prato
The splendid marble Pulpit by Donatello is part of the collection
The Cathedral Museum of Prato is located just to the left of the cathedral, inside the Bishop's Palace, and houses works of art from the entire diocese: paintings, sculptures and sacred vestments from the 12th to 19th centuries. Here visitors can admire masterpieces like the marble parapet of Donatello's pulpit (1433-38), which until 1970 was located on the exterior corner of the cathedral's façade and later restored: there are seven panels depicting dancing angels.
The Room of the Sacred Belt is dedicated to the relic venerated in Prato since the 12th century, which is depicted in a splendid marble high--relief of the fourteenth century, sculpted by the Sienese Niccolò di Cecco del Mercia, where we see the Virgin assumed into heaven who gives the belt to St. Thomas.
Among the artworks housed in the museum, there are also the large altarpiece by Filippo Lippi depicting the funeral of St. Jerome, the Crucifix by Sandro Botticelli and the 13th-century Enthroned Madonna by Giroldo da Como.
The museum itinerary leads visitors through evocative spaces, like the splendid Romanesque cloister and the Vaults, a large room located under the cathedral's transept built in the fourteenth century.
Combined ticket with the Frescoes by Filippo Lippi in the Cathedral of Santo Stefano.
Info: diocesiprato.it
Prato
Explore culture from the middle ages through to contemporary art in one city
Prato is a city that never ceases to amaze and is perfect for those in search of less touristy destinations. The capital of the provincial territory of the Prato area is also the third largest city in central Italy. The city combines the ancient charm of its historic centre with the modern business and contemporary art district, in an itinerary that ranges from the Middle Ages to Avant-garde. ...
Morekeyboard_backspace