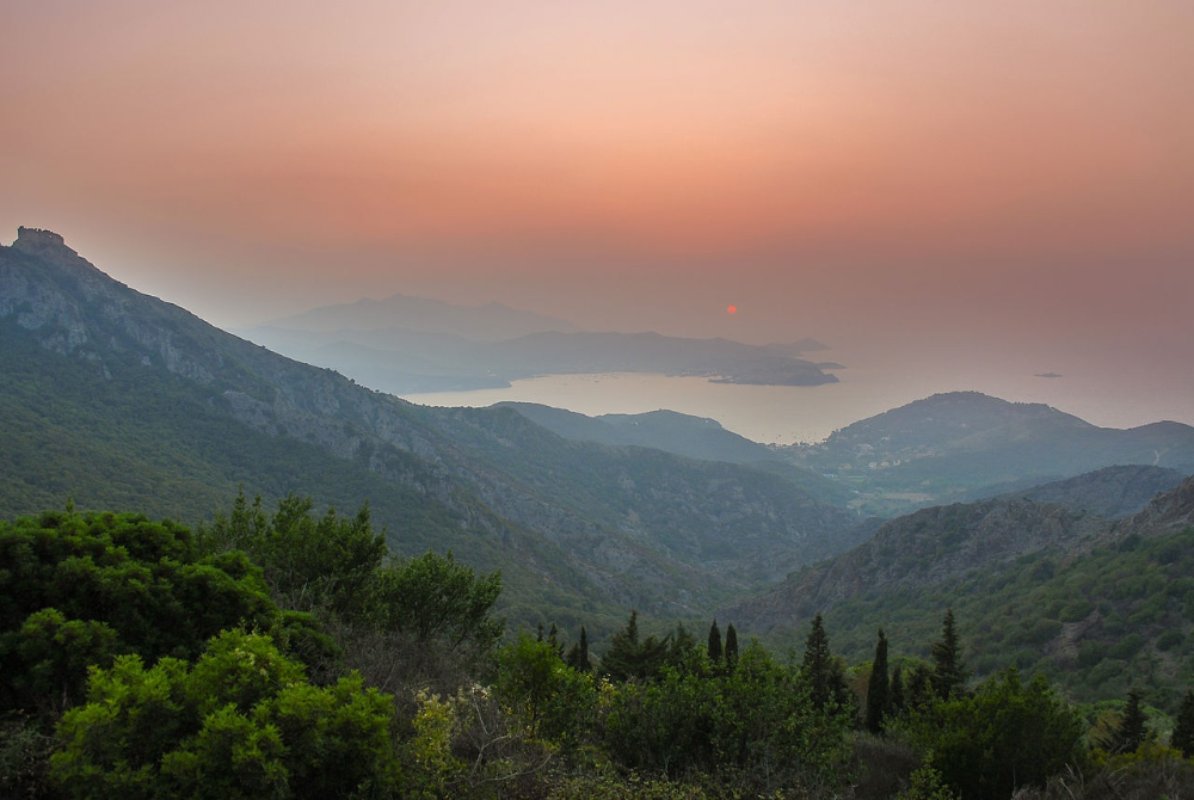 Hiking on Elba Island
Scenic walking routes from sea to mountains
Elba Island is not just a great place for your summer holidays, it's also perfect for relaxing breaks far away from mass tourism. One of the loveliest activities that the island has to offer comprises of the countless walking routes for beginners and the more advanced, which will take you through breathtaking panoramas. Here are some of the main hiking routes on Elba Island.

S. Lucia - San Martino
km 2.2 – 1.30 h - easy
The route begins at Santa Lucia chapel, built where the ruined Luceri fortress once stood. The fortress used to control the Gulf of Portoferraio. Cross the meadows and cork woods, walking through an area of age-old terraced agriculture that nature is now taking back into control. In Colle Reciso, climb up towards Poggio del Mulino a Vento, where high-ground woods begin. Take a detour to the Napoleonic villa of San Martino.

San Felo - Ortano
km 4.6 - 2 h - medium
The trail leads through the island's mining area, now practically in disuse, as well as through the Mediterranean bushland. You soon reach Monte Arco, one of the highest peaks in the area, which offers fantastic views. Having crossed the mining area you reach Ortano, where, in the middle of a modern tourism complex, you can see the signs of the mining activity. Farther north, the pellegrin falcon nests on the still wild cliffs.

La Parata - Volterraio
km 4.3 - 2 h - challenging
This route leads up to the eastern ridge, looking out to sea to the east and west. Cross the oak forests and bushland with the scent of curry plants and spring-flowering cistus in the air. From time to time you'll see the trademark slow flight of flacons or the jerky flight path of imperial crows. Take a detour to the Santa Caterina hermitage with its interesting botanical garden or to the hard-to-get-to Volterraio summit, home to the unconquered castle of the same name.

San Piero - Monte Maolo
km 6 – 3.30 h - medium
The trail begins in the "gariga", a bushland of cistus, curry plants and broom. Head into the high-altitude pine woods to reach the chestnut groves of Monte Capanne. In the open area, closest to the sea, you can hear the cawing of the colourful bee eaters and the more melodic little goldfinches. In these areas, populated since prehistoric times, you can also see age-old granite menhirs. From the top of Monte Maolo, you can see as far as Giglio Island.
You might also be interested in
Tuscan Archipelago
Crystalline waters, Mediterranean shrubbery, pine groves overlooking steep cliffs, hidden coves and sprawling soft sandy beaches: the Tuscan Archipelago is an mesmerizing set of Tuscan islands with wild nature and magical sea beds worth ...
Scopri Tuscan Archipelagokeyboard_backspace