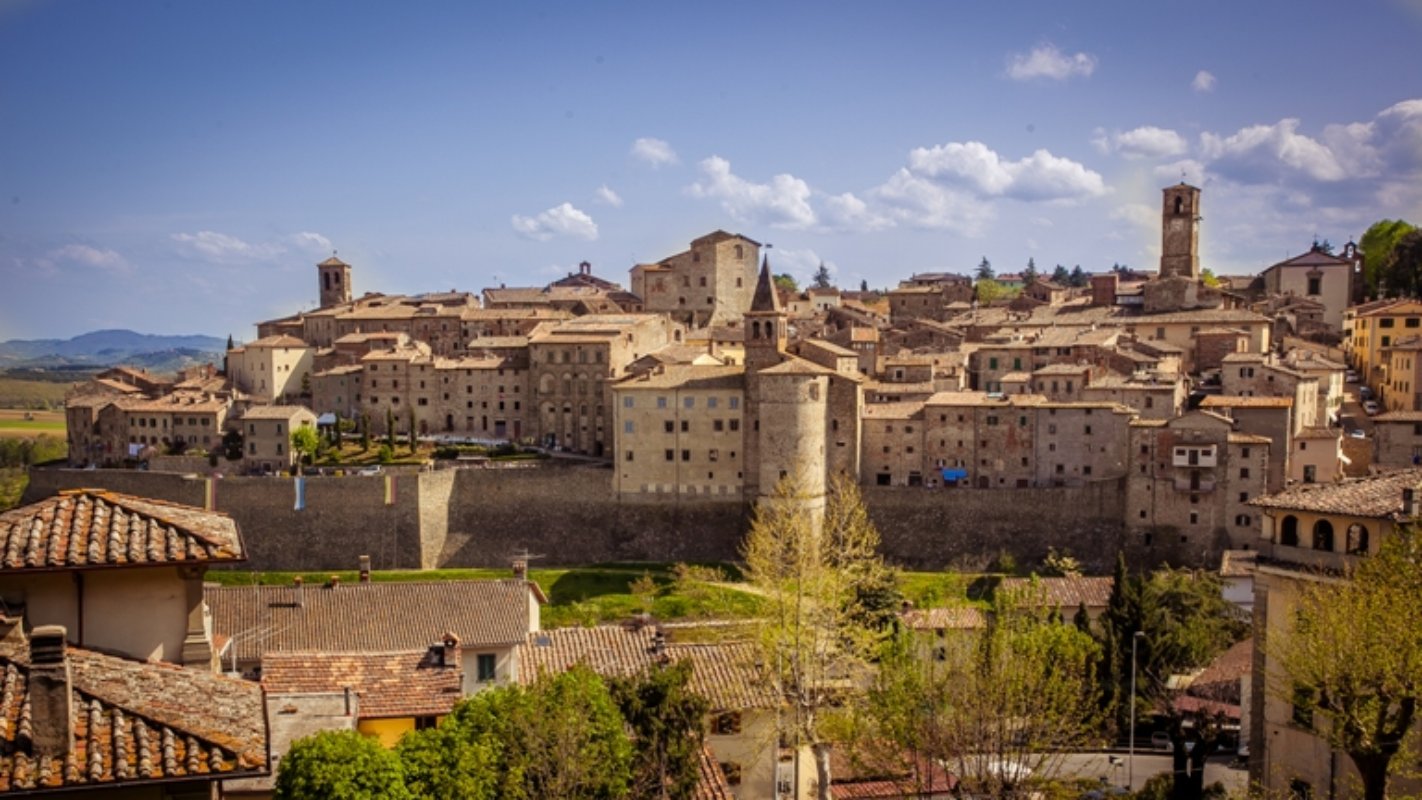 Hamlets, districts and squares
The gates of the ancient town
Discover the old gates in Anghiari's city walls
San Martino Gate (the Old Gate)
This gate was completed in 1204 as part of the city's second ring of defensive walls. San Martino Gate was the only entrance to the town on the north-west side. Today, there is an elevated stretch of road in front of the gate, although in times gone by there was a moat and drawbridge which had to be crossed to get into the town's main square. In fact, this gate was also known as 'Porta del Fosso' or the 'Moat Gate'. Visitors to the town today can still see the place in the gate where there was once a bell which was rung to signal the start and end of the market in Piazza Baldaccio (also known as Piazza del Mercatale) every Wednesday from the year 1388.

Florentine Gate (the New Gate)
This gate is made of a single stone arch with the remains of a Medici coat of arms carved in the key stone. To build this gate, stone from Castello di Valialle was donated to Anghiari by the city of Florence in 1460. According to recent research, the gate was built in the fourteenth century. After its construction, Via Garibaldi became one of the town's most important roads as it led directly to Piazza del Mercatale. The gate was subsequently modified to allow horse drawn carts to pass through it.

Sant'Angelo Gate
This gate represents an interesting Medieval solution to the problem of having a double ring of city walls. The inner walls were erected in the thirteenth century and the outer walls in the fourteenth century. Sant'Angelo Gate was the main entrance to the city in ancient times, until the town began to grow away from this area. According to a famous heroic-comic poem by Catorceide di Federigo Nomi, an illustrious local seventeenth century writer, the inhabitants of Borgo San Sepolcro once stole the lock from the Sant'Angelo Gate.
Anghiari
A striking medieval town nestled in the quietude of the Tiber Valley
Anghiari is a striking medieval town hugging the slopes of the Sovara torrent and the Tiber Valley. Its name is famous for a 1440 battle, fought on the plain in front of the town and depicted by Leonardo da Vinci in a legendary fresco lost somewhere in Florence's Hall of the 500 in the Palazzo Vecchio. ...
Morekeyboard_backspace
You might also be interested in