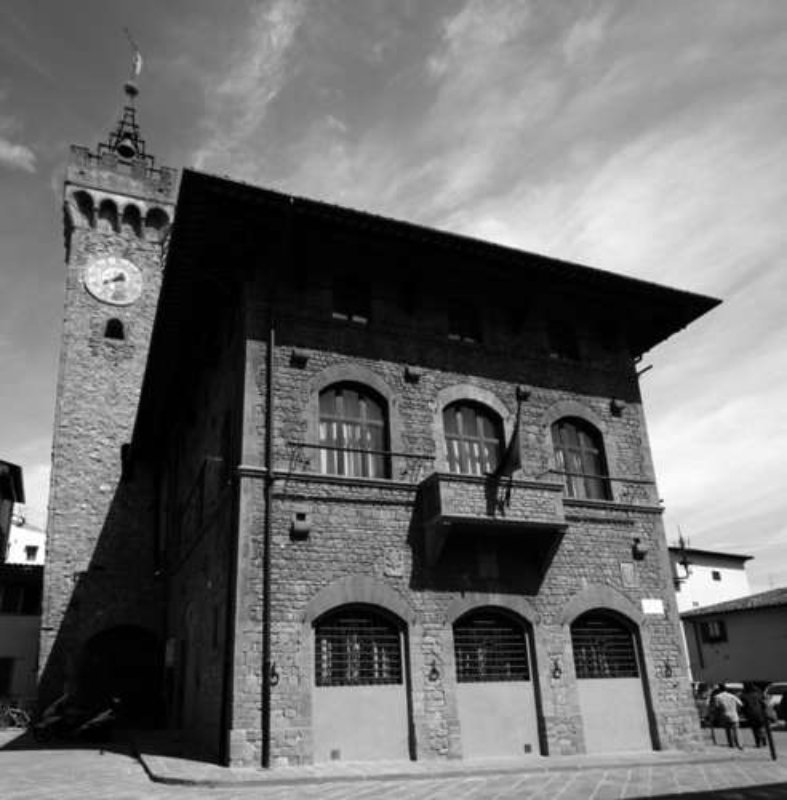 Hamlets, districts and squares
Piazza San Francesco in Figline Valdarno
Palazzo Pretorio and the Church of San Francesco
PALAZZO PRETORIO
The Palazzo was built halfway through the fourteenth century during the construction of the walls that fortified the whole built-up area. After centuries of changes and re-adjustments, a radical intervention of renovation in neo-Gothical style was carried out between 1924 and 1931 by the architect Ezio Cerpi. The tower with battlements is characterised by a considerable incline, probably caused by subsiding of the foundations, and was restored and consolidated at great expense in 1989. The top of the building is composed of a metallic structure that supports the fourteenth-century bell tower, used by the Podestà of Figline to round up all the inhabitants or warn of dangers. At the foot of the tower, in the Chapel dedicated to those who died in the war, there is a terracotta sculpture by Buglioni.

CHURCH OF SAN FRANCESCO
The presence of the monks of the lower orders has been documented since 1229. The church and the convent must both have been of much smaller dimensions then. Around the convent the first houses of Figline and a marketplace sprang up. Between the end of the thirteenth century and the beginning of the fourteenth, the church that still exists today was built. The façade shows the remains of a bicoloured covering with alternating rows of light stone and green marble, while the beautiful Renaissance portico has elegant columns that go along the length of the convent on the left side. From the cloisters you pass into the chapter-house through an acute-arched door, flanked by two three-leaved mullioned windows with two lights of the XIVth century. Under the portico there are various coats of arms including a very large one over the entrance portal, perhaps belonging to the Altoviti family, and seventeenth-century frescoes in the tympani.

Inside the church, there is a single wide nave with a small transept and three chapels at the end. The aspect the church has today is the result of a drastic renovation project conducted in 1926, during which some important frescoes came to light, some of which have recently been restored, such as the cycle including the 'Annunciation', the 'Crowning of the Virgin' and the 'Crucifixion and Saints'. In the Serristori chapel, collocated on the left of the transept, there is a modern copy of a polyptych by Mariotto di Nardo dating back to 1424.
Florence
An astonishing city of art, fashion and tradition
If you are visiting Tuscany you cannot miss Florence. The Renaissance city is a treasure trove of art with an astonishing contemporary vibe. Beyond the extraordinary artistic heritage, a testimony to its centuries of civilization, the best way to enjoy Florence is to stroll along the riverside avenues at sunset, or to get lost among the city's myriad alleyways of the bohemian Oltrarno or the ...
Morekeyboard_backspace
You might also be interested in