Must see and taste in Val d'Orcia
A trip through quaint villages, untouched nature and unique taste
Since 2004, the Val d'Orcia has been included in the UNESCO list of World Cultural Landscapes, the first rural area to be honored with this award. This unique countryside between Siena and Grosseto was shaped by generations of people who cultivated the land, as a result of the 14th and 15th centuries colonization made by merchants of Siena who aimed to create a developped area also pleasant to the eye. Durum wheat (for pasta) grows here and the very best Italian wines - like the renowned Brunello di Montalcino DOCG - and olive oil are made in this fertile area.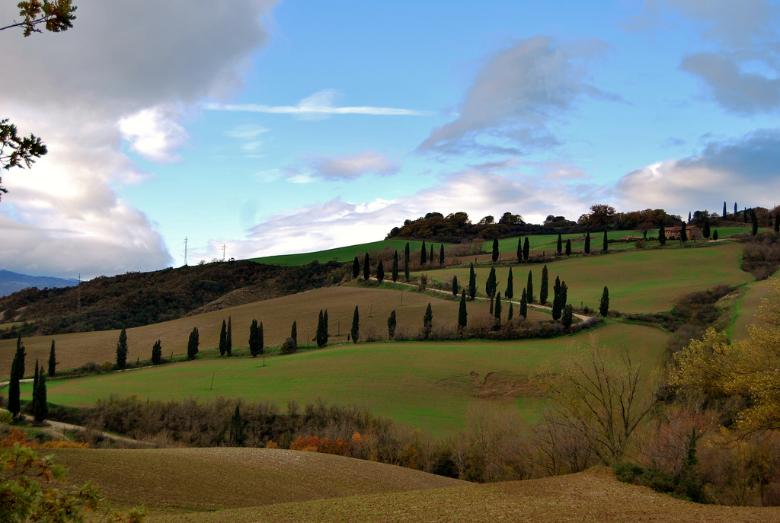 The best way to enjoy these and many other products is to visit individual producers directly while exploring the towns in the Val d'Orcia.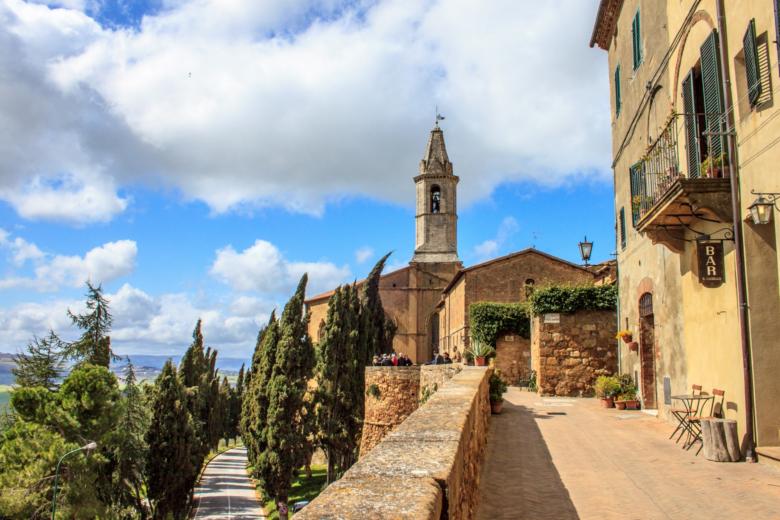 Pienza is a superb example of Renaissance architecture. The construction of Pienza started around 1459 on top of the ancient side and took about four years, creating a harmonious 15th-century town. Pienza is a romantic city because of its streets with "lovely" names such as Via dell'Amore (love street) and Via del Bacio (kiss street).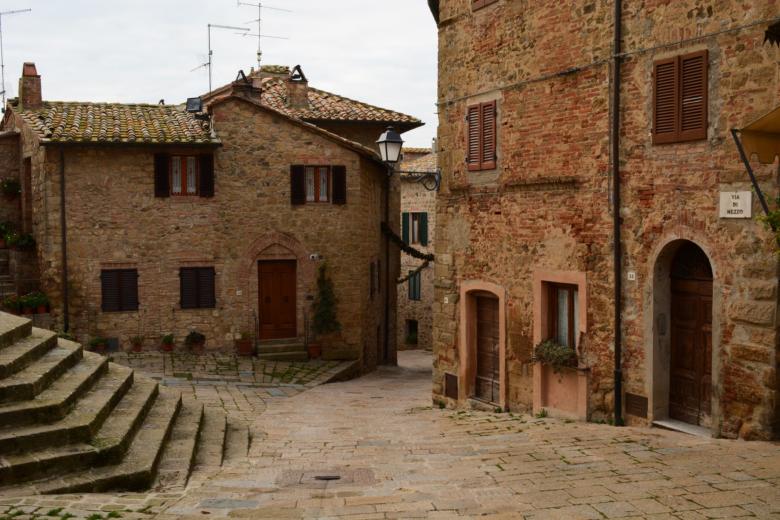 Montichiello is a tiny fortified medieval village that still preserves its gothic charm. Following the main road leading to Montichiello from south you'll find yourself in front of the most famous cypress lined road of Tuscany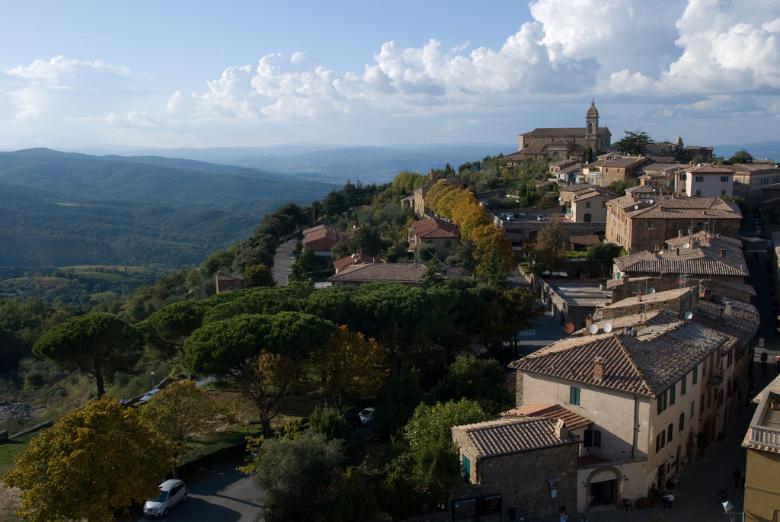 Montalcino, thanks to its magnificent 14th-century fortress, gives visitors a glimpse into the medieval military defence strategy of the past, characterized by narrow and steep streets. It was made famous by Brunello, one of the world's greatest red wines. But Montalcino is also a magnificent city of art to be discovered in each corner.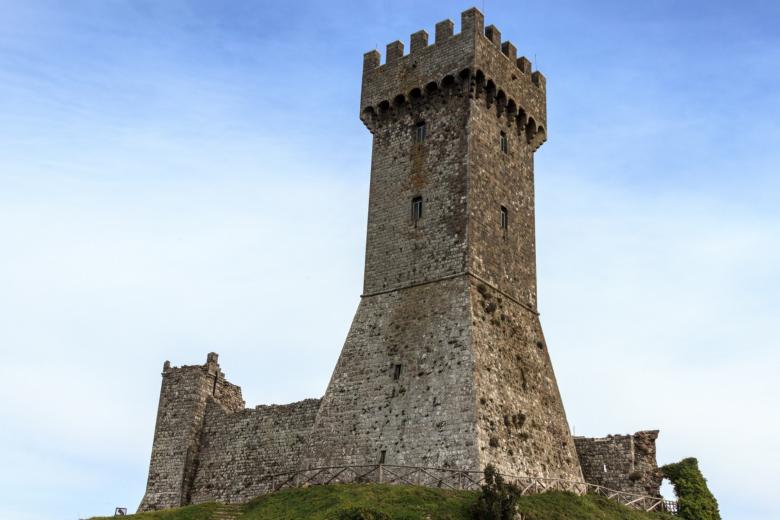 On the southern border of the beautiful nature park of the Val d'Orcia rises one of the most impressive and most scenic medieval fortresses in the whole of Italy. This and much more in Radicofani!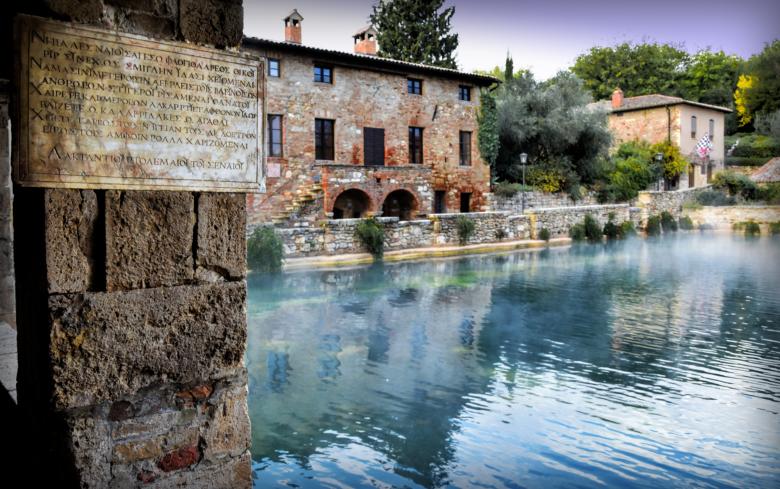 Not Far from San Quirico d'Orcia stands Bagno Vignoni, a small town famous for its thermal waters. In a document dating back to 1334 it's described as "a thermal spa arranged and surrounded by buildings and taverns with a chapel in the middle. It has a very beautiful square layout, with the spring divided in two parts and a roof for protecting the infirm." This pool, which is no longer used by the public to dip in today, is a basin of steamy water that forms the main square. Visitors can still enjoy dips and spa treatments in the nearby spa hotels of Le Terme, Posta Marcucci and Adler.
Castiglione d'Orcia is the perfect mix of nature and art. Check out the old Church of Santa Maria Maddalena, a Romanesque wonder made of stone, or the Church of Santi Stefano e Degna, the most important church in town.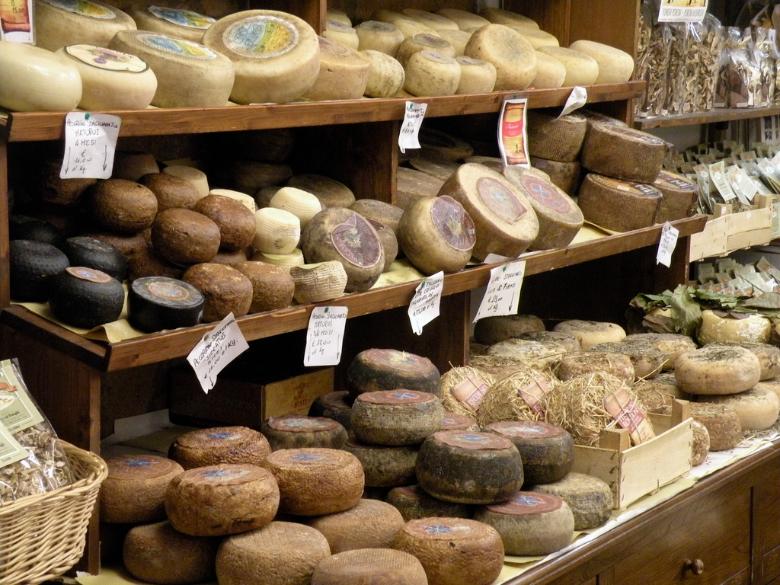 Pecorino cheese from Pienza: Pienza is considered the "capital" of pecorino cheese because the little town is situated in the middle of a clayey area, the Val d'Orcia, where sheep pastures are characterized by a series of aromatic herbs that make the milk particularly tasty and aromatic.


Terre di Siena PDO extra-virgin olive oil: it's an extra-virgin olive oil produced in the hilly territories of the province of Siena. Its color ranges from green to yellow and the taste has some bitter and pungent notes.


Orcia DOC wines: red, white, rosè and Vinsanto made with Sangiovese, Trebbiano and Malvasia grapes.



Brunello di Montalcino wine: Brunello wine was invented in the 19th century by a group of grape growers who cloned the Sangiovese grape, discovering the Sangiovese Grosso and a wine of great quality and longevity. In fact, it can be aged for a long time (from 10 to 30 years), only improving as the years go by.

Just few kilometres from these famous towns and along the Orcia wine trail you will also find the mushrooms of Amiata, the well-known truffles of the Crete Senesi and San Giovanni D'Asso, the cured meats made with Cinta Senese and many delicious dishes made with chestnuts (try the mushroom soup and the Ricciolina cake)

Find out here some local producers and where to find local products
You might also be interested in