Val d'Orcia in Tuscany: what to see and do
a fairytale travel, a dream that comes true
The first image that comes to our mind when we think about Tuscany is its unique landscape. The countryside with its green smooth hills and the soft curves lining the horizon with its isolated cypress trees. Well, believe me, Val d'Orcia is way better than any possible image that could come to your mind!
Val d'Orcia is the valley in Tuscany which extends from the hills south of Siena to Monte Amiata and it's the place where nature perfectly matches the aesthetics of Renaissance Art. A mix of beauty and breathtaking landscapes where the cultivated hills are sometimes broken by picturesque towns, villages, farmhouses, abbeys and shrines, all places populated by the pilgrims walking along the Via Francigena. This ancient and beautiful road connecting Rome to Canterbury is still walked today, here you will find more info about it.
Some of the Val d'Orcia towns are: Castiglione d'Orcia, Montalcino (the birthplace of Brunello wine) and Pienza also known for the typical Renaissance style architecture wanted by Pope Pious II, Radicofani, San Quirico d'Orcia, Monticchiello, Rocca d'Orcia, Montenero d'Orcia and San Giovanni D'Asso, a natural brigde between Crete Senesi and Val d'Orcia also famous for its tasty tartufo marzuolo.
Hot springs fans will find their heaven in Bagno Vignoni, Bagni San Filippo and Vivo d'Orcia. Last but not least, in the Val d'Orcia there are exceptional food and wines: DOC Orcia wine, pecorino cheese from Pienza, olive oil and saffron.
We are not susprised that The New York Times describes its beauty (even during winter time), but especially by the fact that this valley in 2004 was added to the UNESCO list of World Heritage Sites. This international badge of recognition was awarded for Val d'Orcia's "exceptional reflection of the way the landscape was re-written in Renaissance times to reflect the ideals of good governance and to create an aesthetically pleasing pictures" and for the way "The landscape of the Val d'Orcia was celebrated by painters from the Scuola Senese, which flourished during the Renaissance".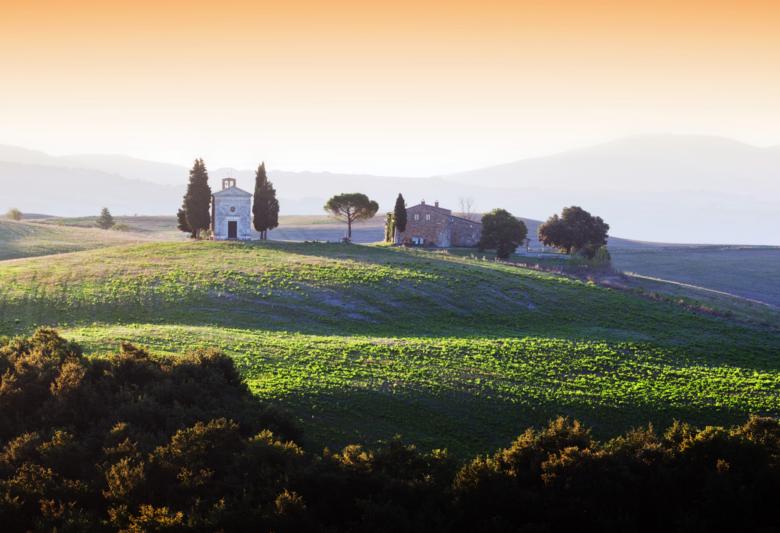 Chapel of The Madonna di Vitaleta situated in Vitaleta, just a couple of kilometres outside San Quirico, on a dirt road in a sea of hills. Probably built in late Renaissance, the Architect Giuseppe Partini renewed the interior of this tiny Chapel in 1884. It features a single nave, with the main façade covered in Rapolano stone. A small rose window opens above the portal's lintel. The sidewalls are made of stone, as well as the back of the church, where a bell tower stands. It used to contain a Madonna statue attributed to Andrea della Robbia. Definitely this is one of the most photographed Chapel, probably for its unconventional and enjoyable location.


Sant'Antimo Abbey is located in Castelnuovo dell'Abate (Siena), 9km far from Montalcino. It's one of the oldest and most important architectural sites of Tuscan Romanic times. According to ancient legend, the abbey was founded by Carlo Magno, who, returning from Rome with his followers along the Via Francigena, he stopped to rest and escape the plague in the Starcia valley. The Emperor stayed there until the threat of plague was over, and to give thanks, he founded the Abbey of St. Antimo. the structure of the building was constructed with travertine stone with alabaster, found in a nearby mine in Castelnuovo dell'Abate. The imposing bell tower is built in the Romanic-Lombardy style with small, suspended arches, and both single and double lancet windows. The church's ground plan is made up of three naves, separated by high columns, which alternate with cruciform pillars. An important wooden sculpture, which dates back to the mid-1200s and is from the Umbrian School, is located along the right nave and depicts the Madonna with Child. Above the main altar, there is a beautiful polychromatic wood crucifix from the 13th century by an unknown artist. Under the altar, there is a small, rectangular crypt with an ancient Roman tombstone and a lunette depicting Christ, which dates back to the 1500s and the Siena School.
From Pienza to Montepulciano (Length: 30 km)
La pace di Sant'Antimo (Length: 27 km)
Il fascino di Bagno Vignoni e Pienza (Length: 29 km)
Traversata della Val d'Orcia (Length: 80 km)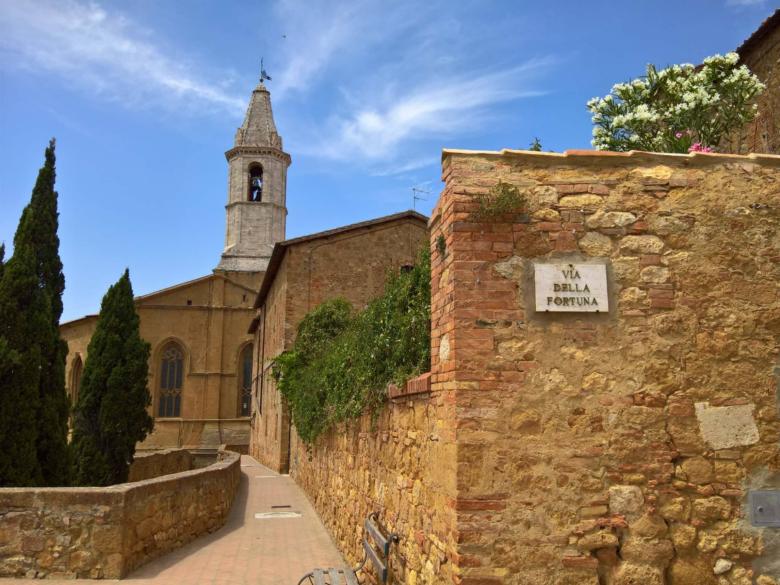 Infiorata of Pienza: takes place during Corpus Domini day (this year the 3rd of June), locals design a path in the town roads. Between the flowers path religious shapes and hearts are designed. Flower paths are meant to guide the band and the religious procession. During this event a fresh lovely scent of flowers invades the town of Pienza.
Olive Oil Feast at San Quirico d'Orcia: during the first week end of December for the San Quirico's "olio novo" presentation, local restaurants prepare traditional cuisine and recipes. Along the little town roads local olive oil producers offer "olio novo" bruschette to visitors.
Medieval Feast at Bagno Vignoni: during the last week of June Ladies and Knights in medioeval clothes welcome visitors with local products, ancient games and shows.
"Sagra della Val d'Arbia" in Buonconvento: a special event that mixes music, art, sport and food. Locals talk about this event all year long! Everyone advised me to go there this year (from September 18th to 26th).
This article was previously written by Erica Donolato.
You might also be interested in