Places of worship
Abbey of Sant'Antimo
Immersed in nature, Sant'Antimo Abbey is one of the most beautiful architectural jewels in  Romanesque style that is still standing today
The origins of this church are shrouded in legend. The Abbey, a jewel of medieval mysticism, is situated 9km from Montalcino, in the valley of the Starcia torrent (that flows from the Orcia River), near the town of Castelnuovo dell'Abate. It is one of the most beautiful monuments in an ancient Roman style, which also has elements of the French and Lombardy styles.
According to ancient legend, the abbey was founded by Carlo Magno, who, returning from Rome with his followers along the Via Francigena, he stopped to rest and escape the plague in the Starcia valley. The Emperor stayed there until the threat of plague was over, and to give thanks, he founded the Abbey of St. Antimo.

It is impossible to reconstruct the entire history of the abbey because many documents and other papers were destroyed in a fire. Visitors can see the original structure, which dates back to the Carolingian era, in the apsidal area of the monumental temple. This is where you can admire the small apses of the ancient church, which is the sacristy today that was frescoed by Giovanni D'Asciano in the 14th century, and the small crypt, which is divided into three naves of four columns each. The church dates back to 1118, as evidenced by an inscription above the central altar. The abbey's decline culminated in 1462, when Pope Pio II suppressed and incorporated it into the dioceses of Montalcino.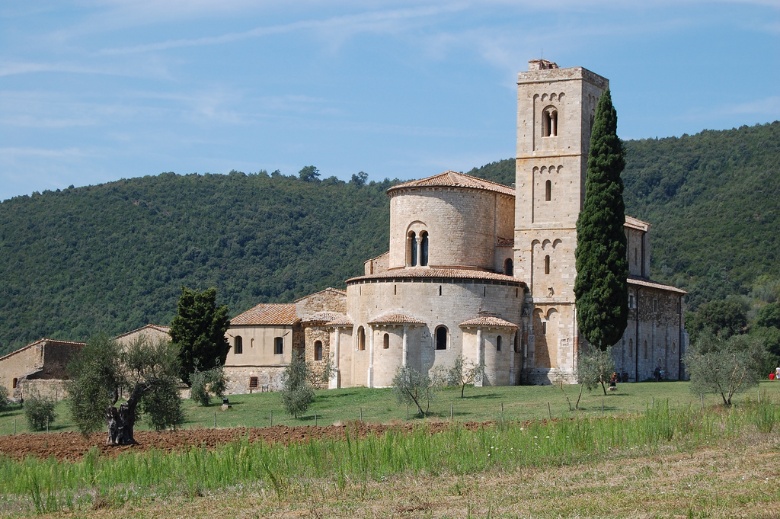 The main characteristic of the monumental temple is the material used to build it: the structure of the building was constructed with travertine stone with alabaster, found in a nearby mine in Castelnuovo dell'Abate. The imposing bell tower is built in the Romanic-Lombardy style with small, suspended arches, and both single and double lancet windows.The church's ground plan is made up of three naves, separated by tall columns, which alternate with cruciform pillars. Inside, it is decorated with splendid capitals decorated with geometric elements; these are often different from one another, just like in other Romanic churches.

An important wood sculpture, which dates back to the mid-1200s and is from the Umbrian School, is located along the right nave and depicts the Madonna with Child. Above the main altar, there is a beautiful polychromatic wood crucifix from the 13th century by an unknown artist. Under the altar, there is a small, rectangular crypt with an ancient Roman tombstone and a lunette depicting Christ, which dates back to the 1500s and the Siena School.
Montalcino
THE HOME OF BRUNELLO: A GEM FULL OF ART AND HISTORY IMMERSED IN THE HILLS OF SIENA
In the picture-perfect hills of the Val d'Orcia sits the beautiful 13th-century town of Montalcino. You can see right away that this medieval city has a military past, with its narrow and steep streets, but once you get to the top… what a view! ...
Morekeyboard_backspace
You might also be interested in