First courses
Pappa al pomodoro recipe
As we saw in many other recipes, like panzanella, bruschetta, ribollita and now pappa al pomodoro in Tuscan cuisine the use of unsalted and/or stale bread is very common.
This bread is combined to other simple ingredients that are very much appreciated, such as extra virgin olive oil and tomatoes (two qualities, fiorentino and costoluto).
These simple ingredients make up a the basis for many recipes yet there is one condition, these few ingredients must be of excellent quality and TUSCAN. Once you get the basic ingredients of excellent quality you will find that every tuscan family has its own recipe.
500g (1lb 2 oz) of 2 day old tuscan bread
olive oil for the sauce
4 garlic cloves, peeled and crushed
1kg (2lb 4oz) ripe tomatoes, skinned and cut into chunks
1 small dried red chilli
12 large basil leaves torn
Extra virgin olive oil to top
Slice the bread and cut into slices. Heat the olive oil in a saucepan large enough to eventually contain all the ingredients.
Add the garlic and when it begins to sizzle add the chili and after a couple of minutes the tomatoes.
Season with salt and pepper. Cook for 15 minutes and when the tomatoes have melted into a sauce add the bread and stir, and lower the heat.
Simmer until the consistency is that of a thick stew. Check the seasoning and add the basil leaves, before finishing your preparation.

When you serve the Pappa al Pomodoro, you will add fresh basil leaves and extra virgin olive oil.
Pappa al Pomodoro is one of the foods that Tuscany has contaminated the entire peninsula with. This contamination occurred not only because this thick bread soup is delicious but also because of a funny song that is a sort of ode to the tuscan dish-Pappa al Pomodoro. Ask any italian to sing it for you - it's tremendously popular! The lyrics and refrain say "hurray to Pappa al Pomodoro".
The singer Rita Pavone sang to the music of Nino Rota. We find this video amusing and it's one of the few songs that are entirely dedicated to a tuscan dish!
You might also be interested in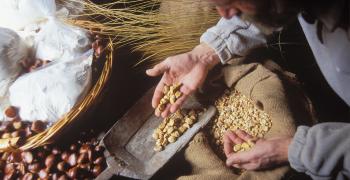 Learn more
Food and Wine
Olive oil, wine, truffle and other culinary delights make up the excellence of Tuscan gastronomy.
continue...