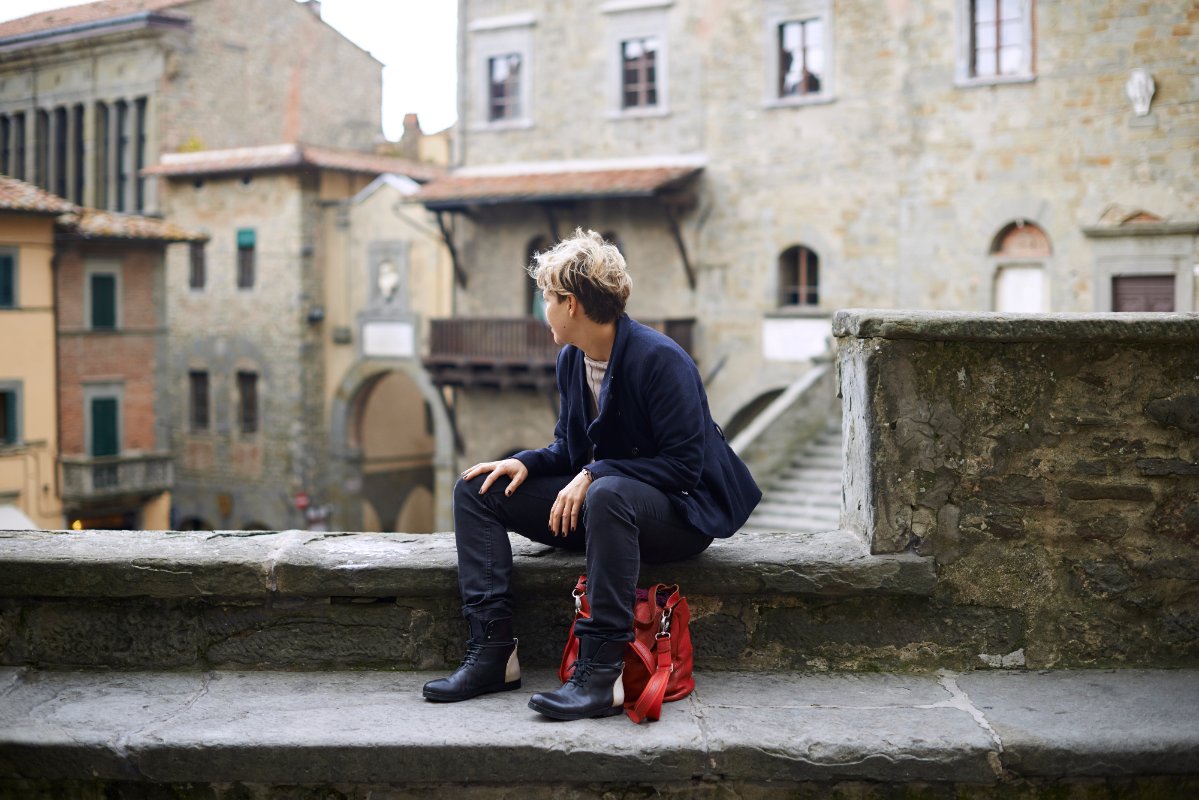 Paolo Canevari "Nobody Knows" in Prato
Paolo Canevari was born in 1963, in an elevator between the first and third floors
, in an old apartment building in Rome inhabited by his family of artists. His grandfather and uncle were artists responsible for important public art in Rome in the 1930s. His father worked with Andrea Camilleri as a set designer for the latter's plays; the director Fellini phoned Paolo personally when he was only nine years old to thank him for a letter...
Tall, dark, and handsome, and with training from babyhood in every artistic medium
(and with a sound basis in art history!), Paolo Canevari's career seems to have been spelled out for him. Its to his own merit, however, that he has conquered curators and audiences around the world with his art that he says is "not conceptual art; however, all art expresses a concept". Canevari's pieces are owned by the MOMA, MACRO, MART and other important acronyms. Now the Centro per l'Arte Contemporanea L.
Pecci in Prato celebrates him with a retrospective solo exhibit and a monograph
published by Electa. The exhibit and catalogue are curated by
Germano Celant
. While the catalogue traces the artist's life chronologically, the exhibit contains works from different moments in the artist's life, without wall text to explain them. I was fortunate to attend the press preview with the artist who explained things to us; the catalogue also has been essential to my understanding of the themes the artist has treated in the past 30 years or so. After an essay by Celant, the catalogue of works is commented by the artist himself with facing english and italian text that is appreciably easy to follow thanks to its good layout.
The book reads like a glossy scrapbook of images and memories
.
(this is the catalogue)
Canevari's art is, in fact, about memory
, be it personal (in works dedicated to his mother or to a cousin who died tragically young) or cultural, in relation to the artistic heritage of Italy and especially of Rome, his home town. Of this he writes (in the catalogue, page 186):
The richness of art in Italy represents for me a burden, a weight, a struggle, but also a wide horizon beyond which I can see the amazing achievements made by artists over centuries. My connection with them is a legacy and an affinity that runs in my blood. The contemporary translation of this tradition is what I can offer.
That's why he carries the weight of the Colosseum on his shoulders while dressed like an Italo-American gangster in the 2002 performance
Colosso
, put on in Manhattan's Little Italy. The iconic Imperial Roman building is cut out of a used tire: it's "the weight of classical tradition embodied in a
contemporary material
" (p. 212).
Material
. Another protagonist in Canevari's art is his relationship to materials. He started using inner tubes and tires in 1988, a form of recycling that he "justifies" by saying (to
us at the opening) "All sculpture is recycling. Art history is all recycling." And this is true both materially and conceptually. Michelangelo recycled a piece of marble that another artist had started to use. Using marble itself recycles something available in nature. Using tires... well, that seems like a good idea, since so many get thrown out. But is this art with a particular environmental bent? I don't think so. Tires and their innertubes offer two contrasting properties of flexibility and fixity; Canevari enjoys the challenge inherant the material - the inner tube that hangs one way on a nail, but when it comes down, it can be re-used in a different shape for another sculpture; the tire that wants to stay round and solid that he flattens and nails out into other forms, from a giant cube to a giant ball to miniature tanks. Tanks, you say? No question, war/peace and religion... and dogs... are also a theme here. As are guns, skulls, and burning - of various items. We see a huge drawing of a burning skull (the medium of artistic training here becomes the final product); we see a Givenchy dress on a cross being burned in a video from 2008. Three videos are displayed in one room of the gallery; the artist explains to us that he thinks of video like a fresco - action immobilized. The camera doesn't move, while there is an action taking place in the frame, from beginning to end. As he's rather 2.0, he's
posted his videos on youtube
: here's the burning dress (he also burns guns,
mein kampf
, and tire-colosseums at other moments). [youtube]http://www.youtube.com/watch?v=HGncac7t2yA[/youtube] There's certainly more to say and more to this exhibition that I can express. I wish to thank the Museo Pecci for introducing me to this important Italian artist and for the opportunity to as him questions in person (even though I was too shy to do so). Here's a bit of video I shot while also frantically taking notes on what the artist was saying. [youtube]http://www.youtube.com/watch?v=Q96JykKWv6Q[/youtube] A few more photos on
TuscanyArts flickr
.
You might also be interested in