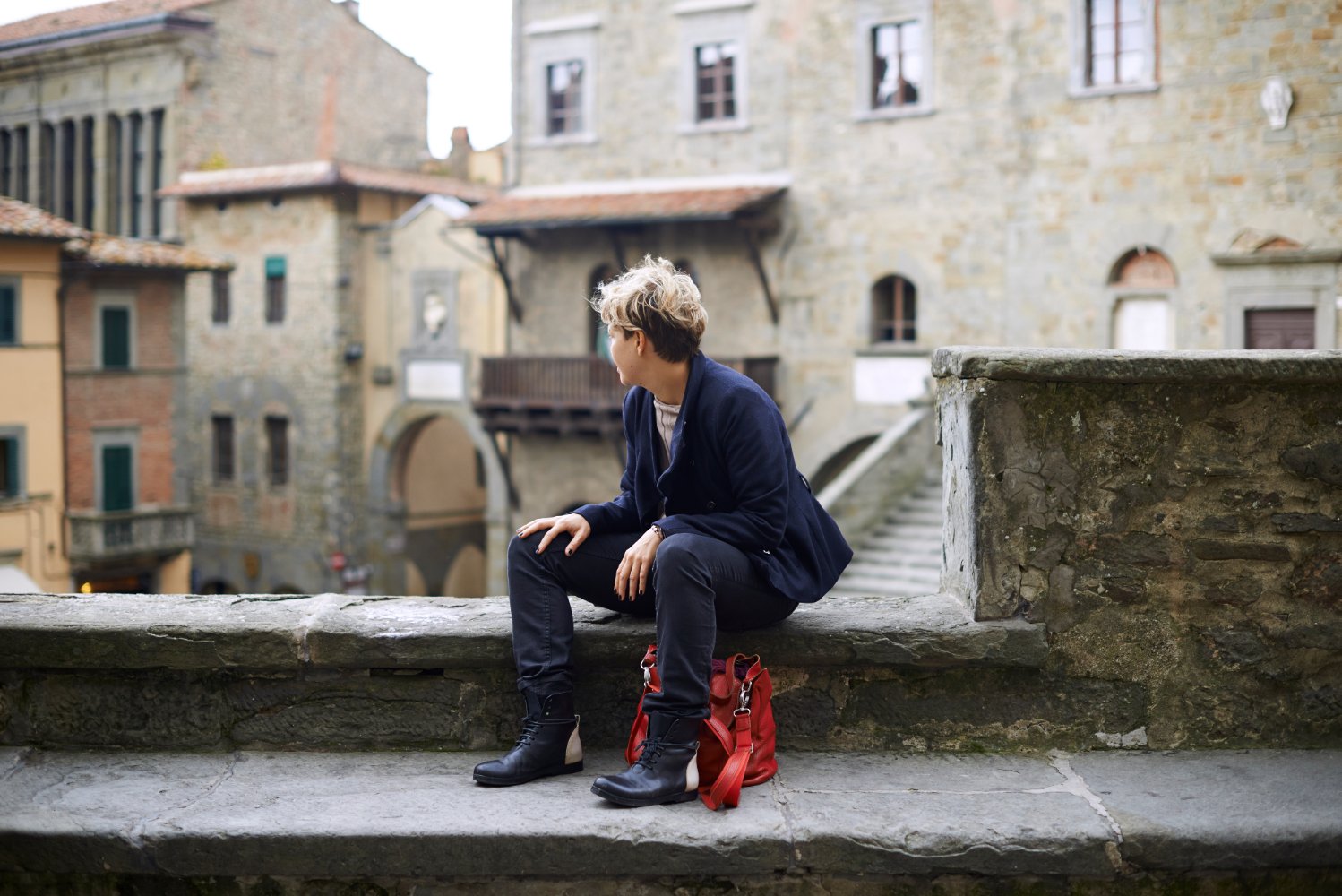 Food in the Uffizi Gallery (in painting, not to eat)
What happens when you bring a foodie to the Uffizi to look for food in Italian Renaissance art? You get hungry. But besides that… Last week Oriana of Tuscanycious and I went to the Uffizi on a hunt for food in painting. We wanted to make a great itinerary for you, a new way of approaching this museum. We admit partial defeat: there is not much food in the Uffizi, and I can explain why. But it was a lot of fun! To look for food in art in a general sense, there are various subject matters that you can search for that usually contain food. These are: the Temptation of Adam and Eve (at least an apple is guaranteed), the Last Supper (bread and wine, sometimes more), marriage scenes including the Marriage at Cana or peasant weddings (think Breughel); in the sixteenth century, in Northern Europe there are also many still lives and genre scenes (including markets) that provide a satisfying display of food. Food is used symbolically in some 15th-century Italian art, but it's more common to find it in the following century as realistic accessories to an interior, sometimes religious scene.
Food in Early Renaissance art
In the first few rooms of the Uffizi, while you look at Giotto and the 13th- and early 14th-century art, you will not find any food. This is all religious art and there are no last suppers here. From this period the only food in art that comes to my mind is a lovely fresco of the Last Supper by Pietro Lorenzetti with cats that eat table scraps, but alas, that's located in Assisi (Umbria). Things don't improve as you seek food in Piero della Francesca or Filippo Lippi. However, there are a few interesting fruits in the Botticelli Room – in particular, pomegranates and a strange breed of oranges.
Fruits in Botticelli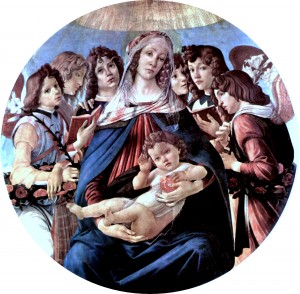 The most obvious fruit here is the multi-seeded red one that Christ holds in Botticelli's Madonna of the Pomegranate. In this case, the fruit serves a symbolic function - when broken or bursting open it is a symbol of the fullness of Jesus' suffering and resurrection. For this reason the pomegranate is often depicted in the hands of baby Jesus. There is also a pomegranate in the other large tondo (round painting) in the room, the Madonna of the Magnificat. This painting is such named for the words that appear on the page of a book to which Christ points, so frankly I've never noticed the pomegranate in it before. I have always liked this work best of all the Botticellis in the Uffizi Gallery because of its beautiful composition that follows the roundness of the frame.
The Mala Medica
The mala medica is the tree you see in the back of Botticelli's Primavera that has white flowers and orange fruits growing on it at the same time (impossibly). I always knew about that tree, but thanks to Oriana and our search for food, I now also see the very same type of tree in other works in this room, including the Madonna Enthroned with Saints by Domenico Ghirlandaio of 1484 (see photo), in which the fruit is very obviously large and significant.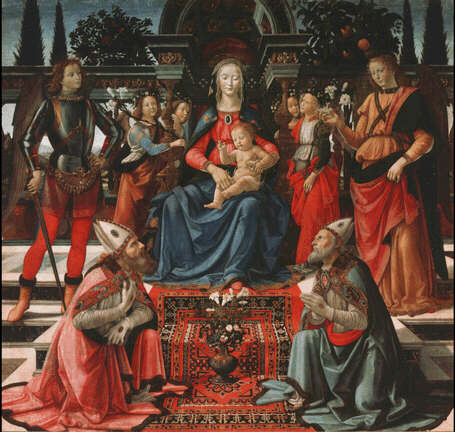 There is some confusion as to what the Mala Medica is. The word "mala" is similar to mela, apple in Italian, but in these paintings it is depicted as an orange and is definitely part of the citrus family. Dr. Albert Shneider writes of the Mala Medica in his 1899 article on BirdNature:
Lemons have been known for a long time. They were brought to the notice of the Greeks during the invasion of Alexander the Great into Media where the golden-yellow fruit attracted the attention of the warriors who gave them the name of Median applies (Mala medica). Later, Greek warriors also found this fruit in Persia, and hence named it Persian apples (Mala persica). The eminent Greek philosopher and naturalist Theophrastus, 390 B.C., described the fruit as inedible, though endowed with a fragrant odor, and having the power to keep away insects. On account of this latter property the so-called Median apple was, by some, supposed to be identical with the fruit of the cedar (Kedros) and therefore received the name "Citrus" from which is derived "citrone," the German name, and "citronnier," the French name for the fruit.
As you can see, this helps little to none: so far our mala medica is either a lemon, an apple, or a cedar fruit. In any case, the mala medica, also known as mala aurantia or melarancia in Italian supposedly has therapeutic properties (for the digestive system, it seems), and the Medici family of Florence adopted it as part of their iconography. Medici means doctor in Italian, and the mala medica is a perfect wordplay that also has meaning through this medical connection. When you see what looks like oranges in art of this period, you can safely assume that the piece was a Medici commission. After the Botticelli room you'll see some Leonardo da Vinci's (no food there) and then end up out in the hallway, where if you look up to the decorated ceiling you'll see ladies lounging and satyrs romping and often these late-16th-century characters are eating something. But if we all walked around with our heads up looking at these grotesque frescoes (that's the art historical term for these, not a judgment on my part) we'd get a sore neck and it'd be a long time 'till lunch.
Adam and Eve's apple; Mannerist and Venetian art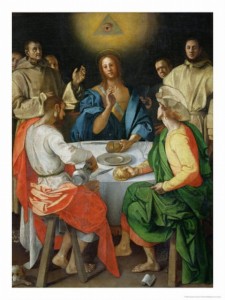 Proceeding through the galleries we get to a room of German art. In Hans Baldung Grien's Adam and Eve there are pears as well as Eve's apple, and there are many other things that are potentially edible, like cinghiale (wild boar) and pheasant. There is also what appears to be a moose, which Tuscanycious says must be an error since paradise is in Tuscany, and Tuscany has no moose. We are getting ready to shoot and roast that pheasant; it's coming up to noon and we know that the Uffizi café is way at the end of the museum. We pass Michelangelo and Raphael (no food, too classicizing) and find a loaf of kind of stale bread in Pontormo's Supper at Emmaus of 1525, which was painted for the guesthouse of the Carthusian Certosa di Galluzzo near Florence. This painting is quite naturalistic (although it has the weird colorization and mystic elements typical of Mannerism), so it includes some tableware that tells us something about what people used at table in the sixteenth century. There is a pewter jug and plate, two kinds of glasses (wine glasses and tumblers), and a glass decanter. There's also a metal knife.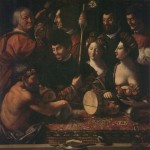 Usually sixteenth-century Venetian art yields some depictions of food, but all we could see was that the ladies were well fed. But, in the small room after the Titians, across from Parmigianino's Madonna of the Long Neck, don't miss the fun Witchcraft, or Allegory of Hercules by Dosso Dossi (1540), a very strange metaphorical painting whose occupants share the space with broad beans (fave), a chunk of aged cheese (displayed, however, wrong side up), cherries, and a plate with apples and pears. We thought most of these things would taste quite good together. I could go for some apples and cheese right now, or some pear and pecorino... which recalls an old Tuscan saying, "Non far sapere al contadino quant'è buona la pera col pecorino" - don't let the farmer discover how tasty pear and cheese are. This saying relates to the fact that the farmer might indeed eat all the cheese if he discovers how good these two ingredients both available in his home are and not hand the cheese over to his landlord.
Market scenes and still-lives
Continuing through the series of rooms after the Venetians (at which point you're fully exhausted), in Room 35 there's a little mid-sixteenth-century market scene by Joachim Beuckelaer of Antwerp with a good assortment of bread, hare, chicken, goose, disproportionately large cherries, peas, lemons, apples, various cuts of meat including (agnello), some (cavolo verza), and mussels being tossed on the ground by a little kid. We realize at this point that so far we have seen no cooked food, only raw ingredients. I am unable to find a reproduction of this piece that I can legally use, but you can see that it's very similar to other works by Beuckelaer. In Room 44 we found an elderly couple dining on herring and helping it down with beer from steins (you can guess that this was North-Eureopan, specifically by Frans Van Mieris the Elder of Leiden); there was also a still-life painting full of metaphorical significance in the peeled lemon (a sign of sexuality), red grapes, oranges, walnuts, two oysters and a glass of white wine (by Abraham Mignon of Frankfurt).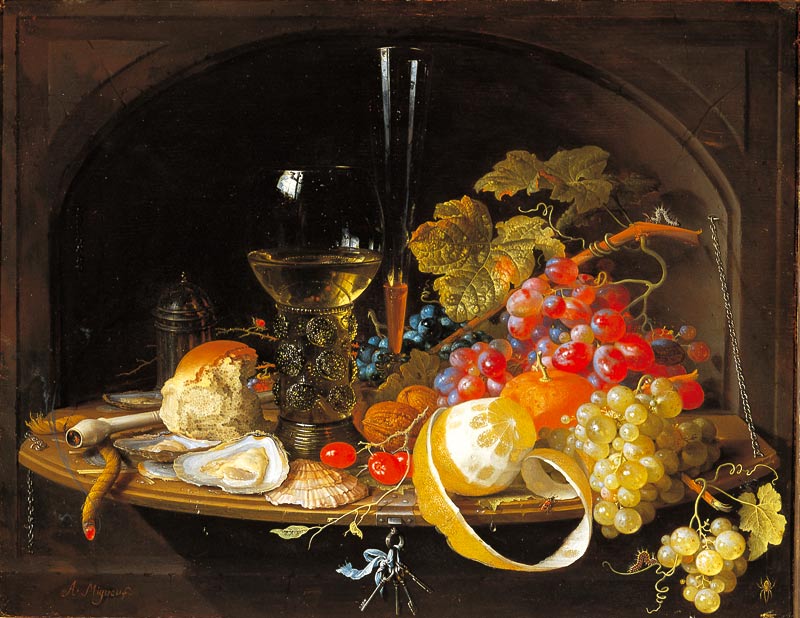 Fruit in Caravaggio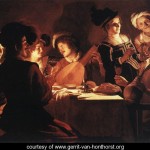 The Uffizi is not over yet – in recent years they have expanded the exhibition space, so follow the signs for the exit, through the special exhibition area, and do not exit yet. There is a new series of rooms at the very end of the museum that are dedicated to Caravaggio and his followers (including my favorite female artist, Artemisia Gentileschi). We finally found some cooked food – an eel, to be specific – in Gerrit van Honthorst's painting of a dinner party with a lute player. (This photo is of a close copy of the painting.) There is an old woman and a young, pretty woman feeding the man said eel, and much merry-making, which all makes me think that this must have some kind of sexual significance.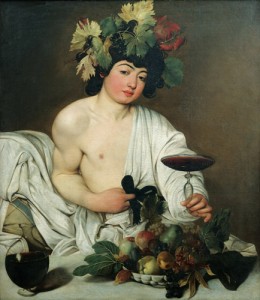 Finally, Caravaggio's Bacchus of circa 1596 finishes this food tour. This painting stars in two Caravaggio exhibits in Rome and Florence this Spring (2010) so we did not see it in the museum when we went, but it will be back in May in time for the show "Caravaggio and the Caravaggesques in Florence". Here, the figure of Bacchus (god of wine) is actually a teenage model, a little tipsy and very come-hither. As is typical of Caravaggio's models, the boy has a farmer's tan – darker skin on his face and hands indicate that the artist painted after a real figure (possibly himself in a mirror), though the reddish face also indicates drunkenness. Wine, with its related vines and grapes, are the main "edible" here, but a lot of scholarly attention has been given to the mostly rotten fruit in the bowl in the foreground. According to Horticulturist Jules Janick, the fruits include "black, red, and white clusters of grapes; a bursting pomegranate; figs; a large green pear; three apples—one greenish and one red with a codling moth (Carpocapsa pomonella) entrance hole, a small, golden russet crab with two areas of rot, likely a form of Botrysphaeria; and a half-rotten quince." By this period in art history, artists had long used fruit to display their skills, but also as erotic imagery (peaches like buttocks and so-forth). The rotting fruit here is likely a reference to the transience of life and perhaps of beauty and youth; the young Bacchus himself being part of this metaphor of short-lasting ripeness. With thanks to Oriana for her input on this article - for the fun days and for writing some of the food parts here.
You might also be interested in