Pedaling through the hills of Pistoia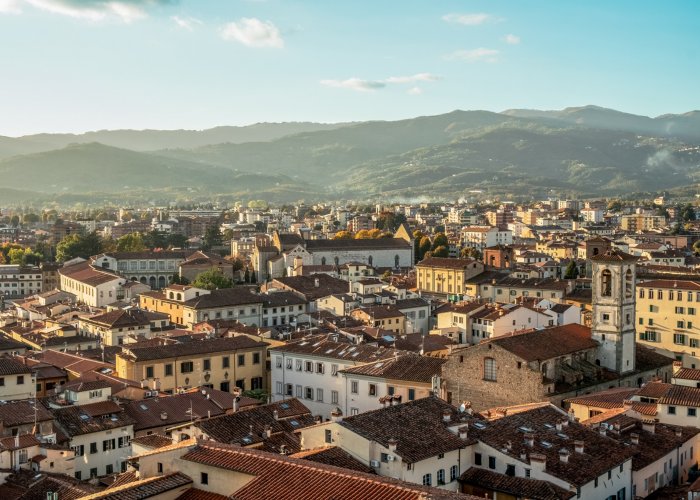 An easy tour suitable for everyone that from Piazza del Duomo leads cyclists through villages and olive groves
The route starts from Piazza del Duomo in Pistoia then climbs the hills to the north, passing through the villages of Germinaia and Valdibrana, and, on the way back, from the shores of the lake of the Parco di Villa Puccini, a magical place on the outskirts of the city.
The route, mostly paved but with amusing dirt passages, is ideal for a pleasant half-day e-bike ride.
Leaving behind us the Palazzo Comunale, the Baptistery and the Cathedral of San Zeno, we pass through San Francesco and then, via the bike path along the Brana Torrent, we begin to climb decisively toward the hills north of Pistoia.
Amid olive groves and beautiful manor houses, among which Villa Sbertoli stands out for its architectural beauty, we climb until we reach the village of Germinaia. After a refreshing break on the panoramic terrace, we take the dirt road to Croce a Romito, the highest elevation of the tour (420 meters above sea level) and then begin to descend on the opposite side of the hill to the hamlet of Valdibrana, an important place of worship in the tradition of Pistoia.
We now travel down the valley along a pleasant descent, along the banks of the Brana stream as far as the entrance to the romantic park of Scornio, known to all the people from Pistoia as Villon Puccini, on the outskirts of the city. In the park, frequented by all those who want to enjoy a bit of greenery and peace, one can still appreciate the visionary architectural creations of Niccolò Puccini, an eclectic philanthropist of the 19th century in Pistoia, with which he meant to celebrate the greats of thought, science and the beauty of nature.
Once we go back onto the road, the route moves toward its conclusion, returning to Piazza del Duomo.
Itinerary curated by Tuscany Hiking
Explore
Discover something of interest near this itinerary
[]