Discover Florence from the river Arno with the "Renaioli"
An interesting experience which allows you to have a different point of view of the cradle of the Renaissance.
Florence's rowing association "I Renaioli" organizes boat trips along the Arno from May until September (or April-October if the season is good) and it can be a good occasion to see how Ponte Vecchio and the pastel-colours buildings look like from the river. The name "renaiolo" (sand digger) comes from "rena", which means sand.
The Association of Renaioli in Florence has given new life to this job, restoring the small old boats that today take visitors to the most relevant points of the city. In addition to this, the Renaioli take care of recovering, conserving and maintaining the boats.
The tour lasts about 45 minutes, one hour considering the operations of embarkation-disembarkation. The entrance is from the pier in piazza Mentana on Lungarno Diaz, in a place called la Porticciola, through the descent on the banks of the Arno situated between the Ponte alle Grazie and the Ponte Vecchio, on the right bank.
Here's what you'll see from the boat:
Palazzo della Borsa: Here is where the boat ride starts. The neoclassical building was built between 1858 and 1860. Today is the seat of the Chamber of Commerce.
Uffizi Gallery: Have you ever thought about seeing one of the most famous museums of the world from another perspective? The Uffizi Gallery doesn't need a presentation, just imagine a building begun by Giorgio Vasari in 1560 for Cosimo I de' Medici and hosting many prestigious works arranged in two long wings separated by a narrow courtyard overlooking the Arno.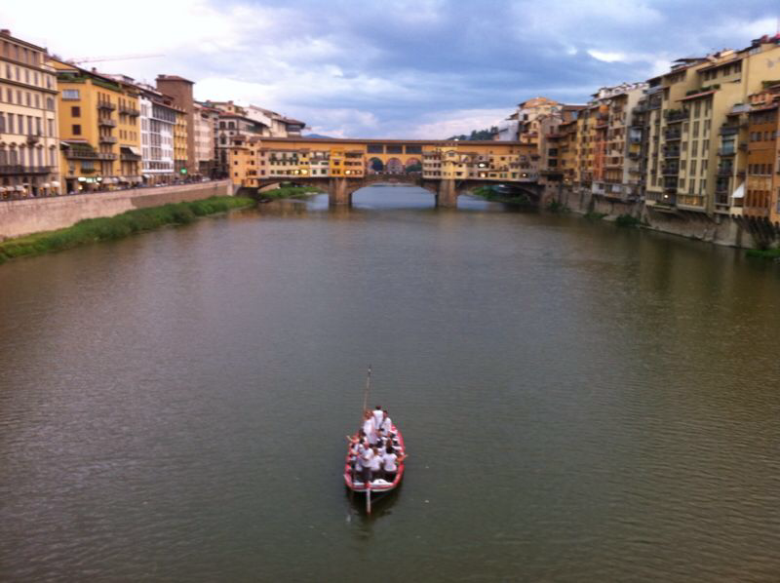 Vasari Corridor: It is a hidden aerial passageway the Medici Family used to move from Palazzo Vecchio to Palazzo Pitti passing also over the Old Bridge.
Ponte Vecchio: It's the most famous bridge of Florence built at the narrowest part of the Arno. It's the only remaining bridge to have houses and shops on it and the only bridge spared by the bombing during the WWII.
Chiesa dei Santi Apostoli: It is one of the Florentine churches that mostly has kept its medieval style inside, situated in Piazza del Limbo.
San Jacopo sopr'Arno: The church was built in the 10th-11th centuries in Romanesque style and has a great historical importance. In fact, according to Giorgio Vasari, Brunelleschi built here a chapel, the Ridolfi Chapel, in which he studied, in smaller scale, architectural elements later used in his famous dome of Santa Maria del Fiore. The chapel is now destroyed. The people of Florence use to call it "the church with the bottom in Arno", and if you look at it you can understand why! ;)
Ponte Santa Trinita: The name of this bridge means Holy Trinity Bridge and it is the oldest elliptic arch bridge in the world. The elegant bridge was destroyed during the WWII by retreating German troops, but reconstructed in 1958 with original stones recovered from the bottom of the Arno.
Palazzo Corsini: Palazzo Corsini is one of the most prestigious examples of Baroque style in Renaissance Florence structured in two levels and with a U-shaped courtyard that opens towards the riverbank.

For booking boat trips, asking for the price and any other requests please call 347.7982.356 or email: info@renaioli.it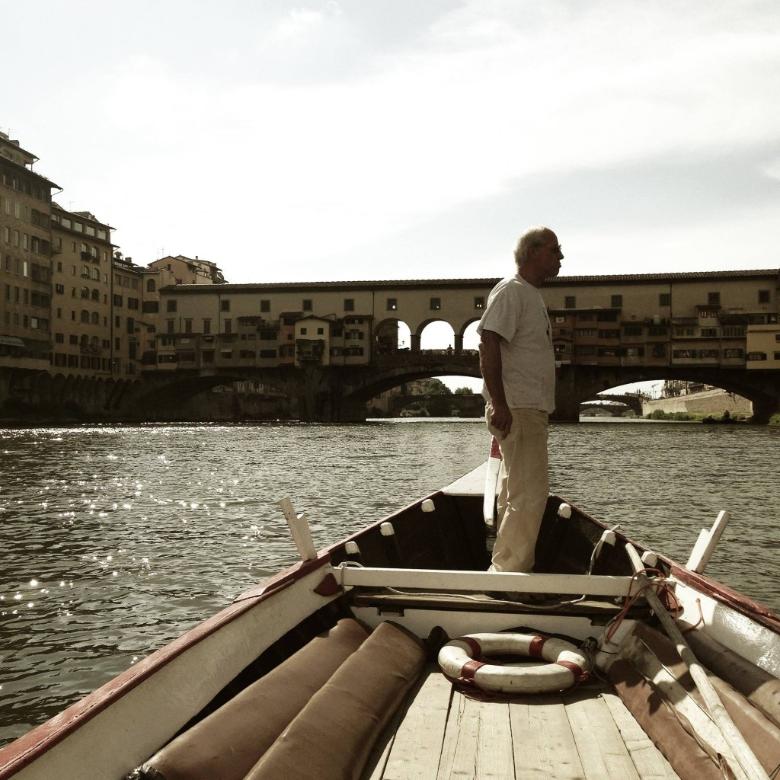 You might also be interested in