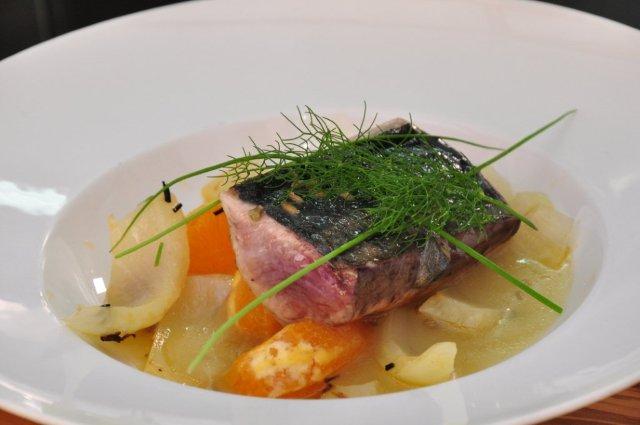 Meat and fish
Palamita: the Tuscan "Slow" fish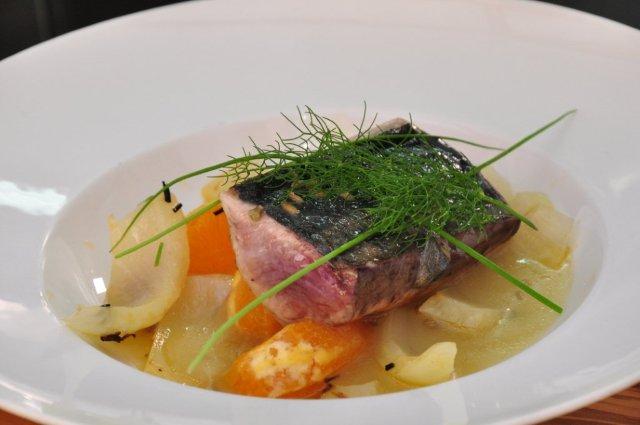 Palamita (the Italian name for Bonito fish) is a blue fish, commonly found along the entire coast of the Tuscan Archipelago. It's a relative of tuna, sometimes measuring up to 80 cm and it has a wide mouth and sharp teeth. It is fished from late-spring to early-summer and again at the end of September, when it can weigh up to five or six kilos. For many years, Tuscan families have boiled palamita and kept it under olive oil with bay leaves, pepper and ginger. The commercialisation of other fish varieties caused a decrease in palamita fishing at the beginning of 1960s and the tradition disappeared in the entire region. More recently, Tuscany's palamita fish become a Slow Food Presidium. The presidium aims to encourage age-old fishing and manufacturing techniques and create a market-value chain: at the time being, there are certain fishermen who would like to restore the use of ancient nets, called "palamitari", and restaurateurs interested in serving palamita in olive oil.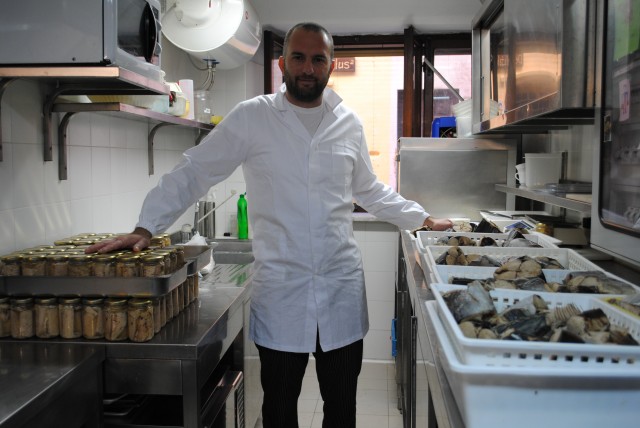 Today you can find it fresh and conserved in olive oil in some shops and restaurants on Elba island and along the Tuscan coast. San Vincenzo (near Livorno), hosts an annual food and wine event, called "Crazy for Palamita" to celebrate the rich variety of cooking methods linked to palamita fish. The traditional way of eating palamita is preserving it in olive oil it, but it can be cooked in a variety of ways. Here is a simple but sophisticated recipe:
Palamita slice on fennel and orange salad dressed with wild fennel sauce
Ingredients
1 fresh palamita (aproximately 1 kg)
1 clove of garlic
2 fennels
1 white onion
2 oranges
1 small bunch of wild fennel
1 small bunch of chives
Flour
Extra virgin olive oil
Preparation
Fillet the fresh palamita and select four slices
Sautee them for a few minutes in extra virgin olive oil and a clove of unpeeled garlic
Brown both sides of the fish but make sure it remains red inside
Blanch the fennel cut into wedges for 3 minutes and cool immediately in ice water
Sautee them for one minute adding chives and freshly peeled oranges
For the sauce make a broth with the head and palamita bones adding a yellow onion and fresh fennel
Pass the soup through a sieve and add extra virgin olive oil and flour to create a sauce
Assemble the dish by placing the salad of fresh fennel and orange below, the slice of bonito on top and sprinkle everything with the wild fennel sauce still warm
Enjoy it!
Recipe and Pic credits: Paolo Paolini - La Taverna dei Poeti (Capoliveri - Elba Island) Special thanks to Massimo Bernacchina, Slow Food Tuscan Palamita presidia
You might also be interested in