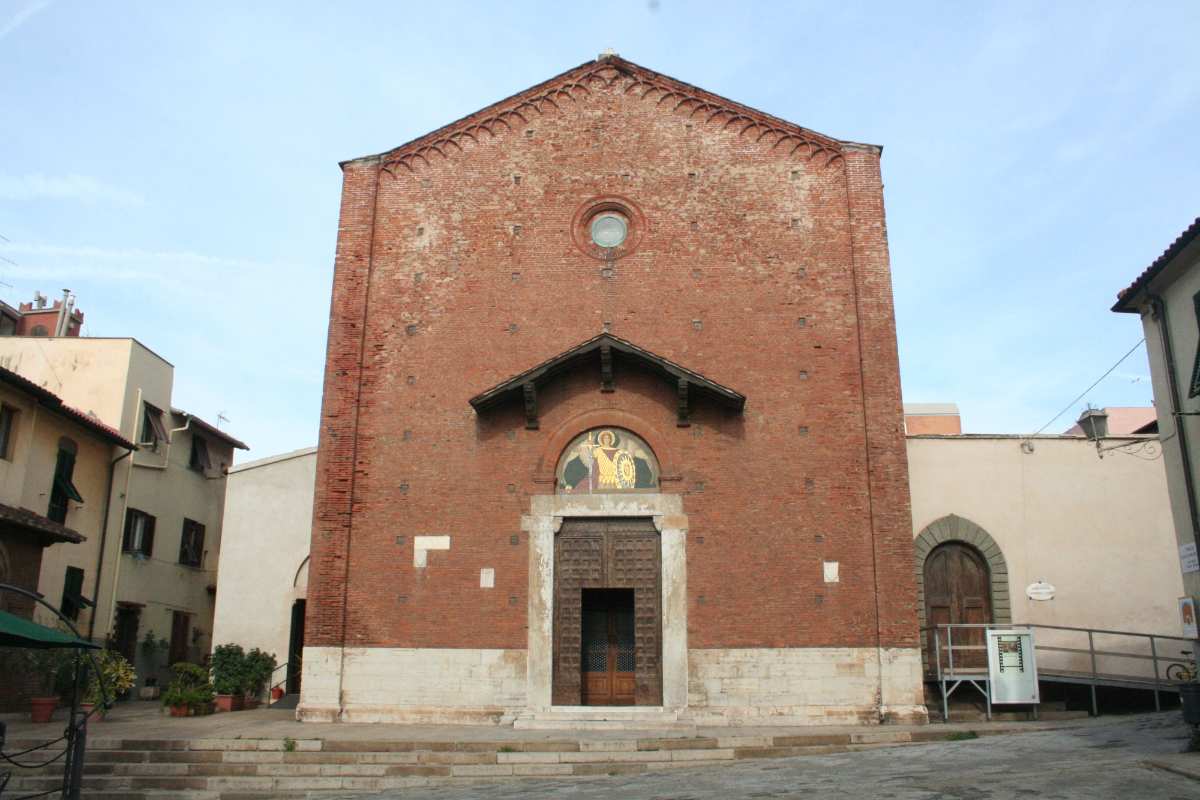 Places of worship
The church of Sant'Antimo in Piombino
The 14th-century cathedral was extensively restored in the 1930s
Built in 1377, on the site of a previous church dedicated to St. Michael, the Piombino Cathedral was built in the Sienese Gothic style and was dedicated to St. Augustine. As indicated on the front, the architect was Piero del Grillo from Pisa. Numerous changes have been made over the years, up until the substantial restructuring during the 1930s, when the façade was rebuilt and the left nave was added. In the intervening period, due to the suppression of the church of Sant'Antimo sopra i Canali, the cathedral inherited its name.

The red bricks façade is topped with a series of hanging arches that break up the severity of the building. A lunette over the portal has a lunette with a mosaic depicting the Archangel Michael, dating to 1937 and carried out by the Vatican mosaic school. Medieval emblems and coats of arms are also present, and to the left of the main portal, a plaque indicates the construction date, the client and, as previously mentioned, the architect.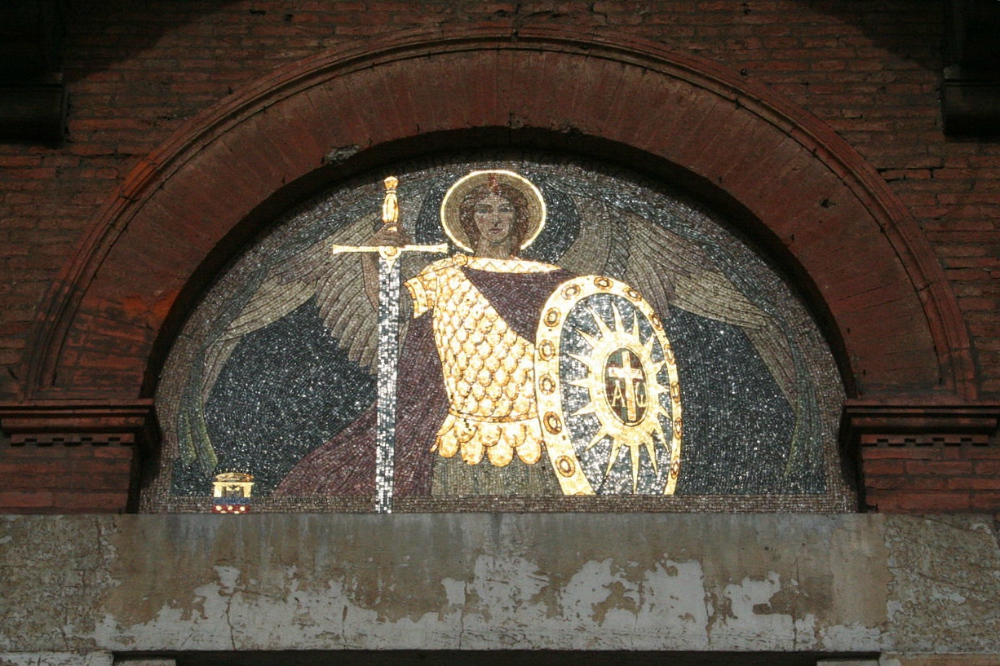 The church interior, which originally had just one nave, has undergone many changes and renovations. Recently, panel decorations created during the Baciocchi decades (between the end of the 1700s and the beginning of the 1800s) were added to the walls. The side aisle was created in the 1930s by unifying two of the old chapels. The altar, dating from the 17th–18th century, in the baroque style, holds candlesticks from the 16th century: among them stands a wooden crucifix from the same era. Everything is framed by a clay-brick pointed arch that marks the main chapel. At the beginning of the left side aisle, you'll find a marble baptismal font in the late Gothic style, created by Andrea Guardi (1470). He was also responsible for the two fonts, one of which was built on a fifth century B.C. Etruscan stone, which contained traces of hunting scene reliefs; additionally, he worked on the two monuments on the interior side of the façade. Among the different paintings on the wall, standouts are a Trinity and Saints by Francesco Vanni and the Death of Saint Joseph by Giuseppe Baldracco.

The cathedral cloister is one of the most interesting in the whole principality. Once again, Andrea Guardi was behind it, constructing it around 1470. It's a classic example of a Tuscan Renaissance cloister: quadrangular with lightweight arches on slender marble columns, topped by capitals with flowery motifs.
Info: diocesimassamarittima.it
Piombino
From archeology to diving, beaches to natural oases, many ideas for a unique vacation
Nestled on an evocative promontory across from the Tuscan Archipelago, rich in history and dotted with protected landscapes, Piombino is one of the main cities on the Etruscan Coast. Dating back to ancient times, the area's first city developed in the prehistoric period, which is why Piombino conserves a significant number of archeological artefacts. ...
Morekeyboard_backspace