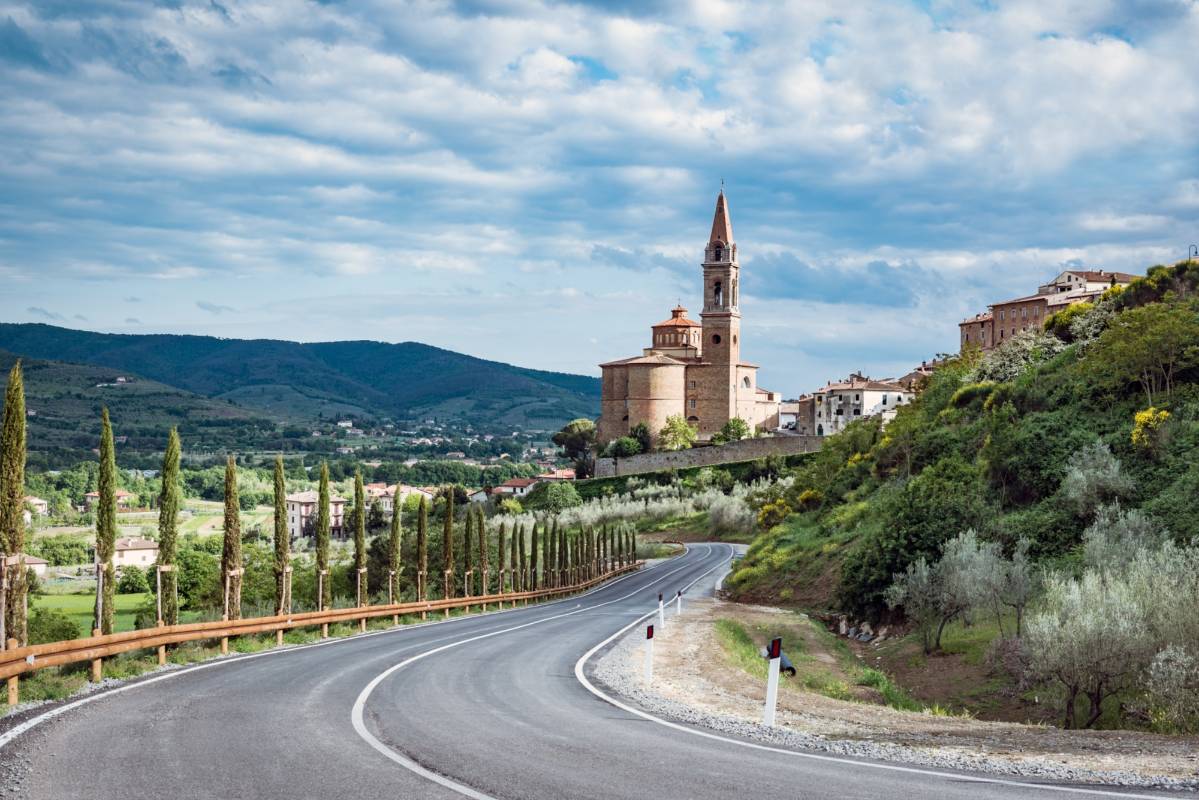 Photo ©Shutterstock / Pegasophoto
Antiques, art and eclectic festivals in the Tuscan Valdichiana
What to see and do in a 5-day period
The Valdichiana is a hilly landscape crossing multiple Italian regions and originating in central Italy; until the end of the 18th century it was a marshy area, but when the Grand Duchy of Tuscany made a final reclamation it evolved into a rich agricultural territory. Its Tuscan components are divided into Sienese and Aretina sections. Both areas are rife with Etruscan heritage, but the things to see don't begin and end in that bygone era: today you'll find lively marketplaces, romantic spas and resorts and an impressive inventory of regional wines and foods. Take a five-day dive into both Tuscan portions of the valley and you'll soon see why it draws visitors with a vast scope of interests.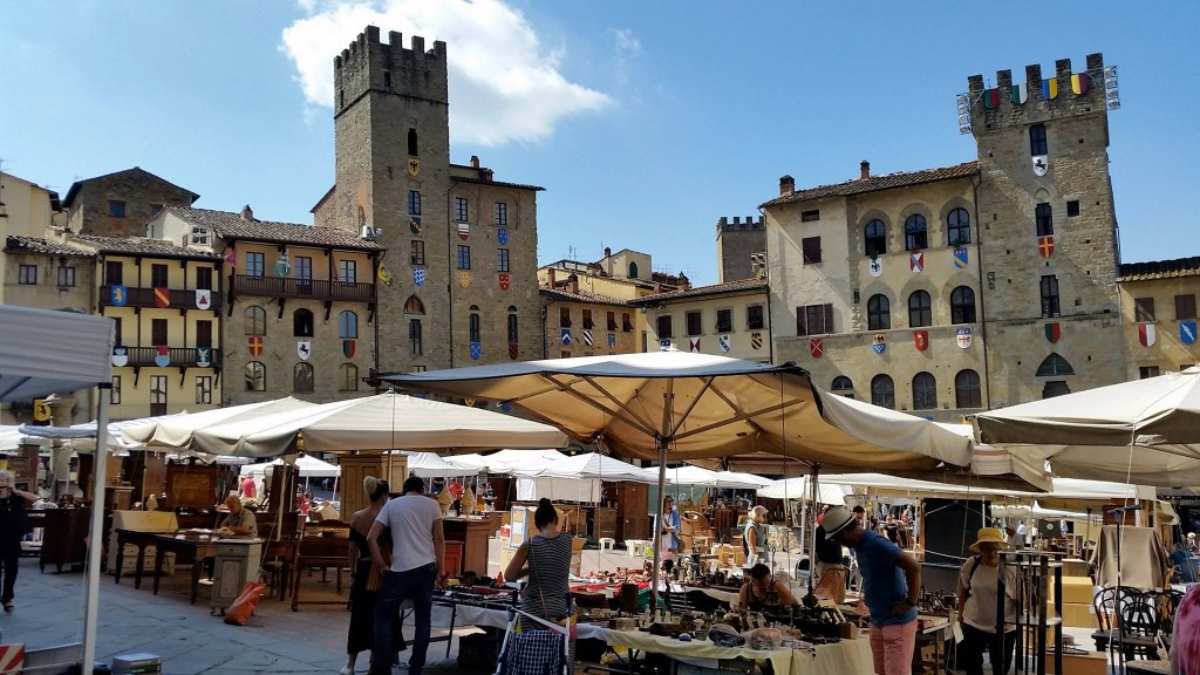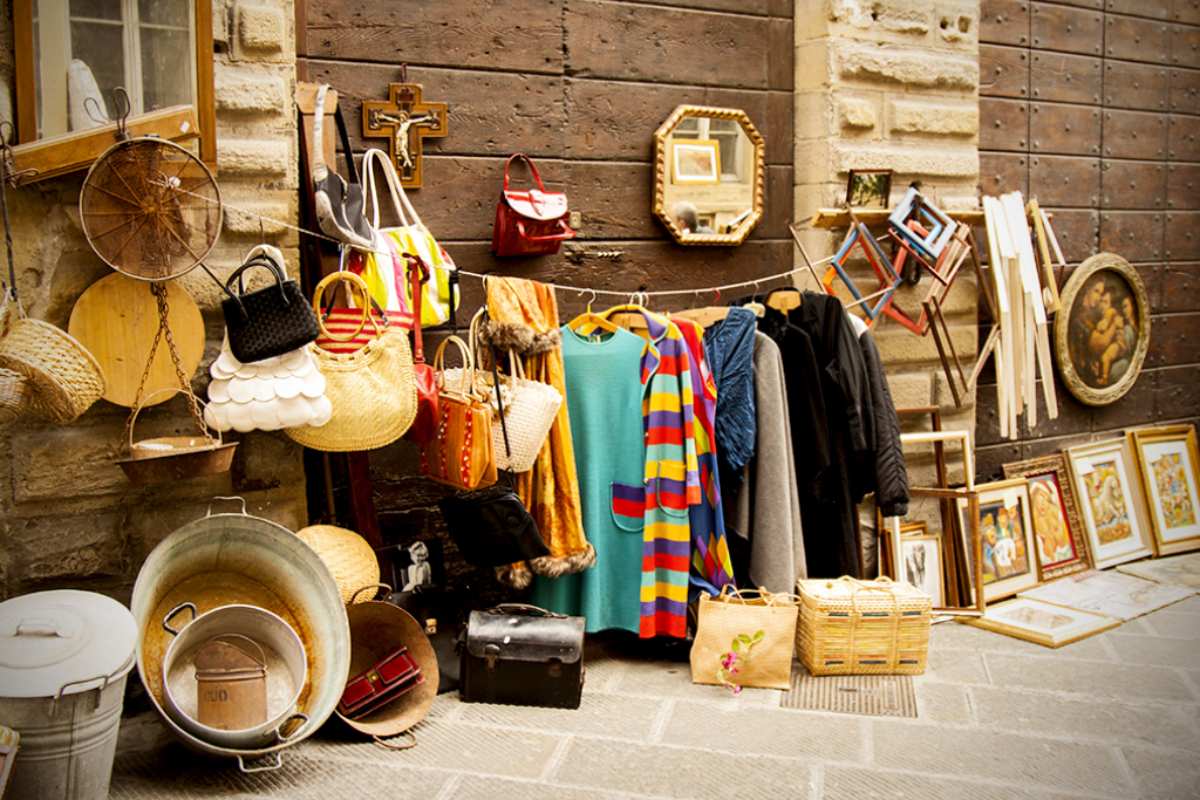 Arezzo
You'll hang your hat in Arezzo for the first two nights of this itinerary. Start your Valdichiana voyage on the first Sunday of the month if possible: this is the standing monthly antiques market anchored in Arezzo's Piazza Grande. Sprawling out into area streets and squares, it's a giant event that draws crowds of thousands. (For film buffs: Piazza Grande was also the site of many scenes in Roberto Benigni's Oscar-winning Life is Beautiful.)
Can't make it on market Sunday? Antiquing in the shops around town, while stopping off for lunch at a down-home trattoria to try something seasonal, won't disappoint.
After a busy morning of browsing, dip in to the Cathedral, built on the site of a pre-existing, pre-Christian church. Today it is perhaps best known for housing Piero della Francesca's depiction of Mary Magdalene, a fresco dating to 1460.
If you're an archaeology buff, leave adequate time for a visit to the Gaio Cilnio Mecenate Archaeologica Museum, home to an extensive collection of area archaeological finds from across the ages. Discoveries from Roman Arezzo, local ceramics, stunning statues and sculptural reliefs make up this 26-room museum, housed atop the remains of a Roman amphitheatre from the mid-second century CE.
When dinnertime comes around, consider indulging in a Chianina steak: although Florence is better known than anywhere else in Tuscany for its bistecca, this prized variety of meat is typical of the Valdichiana.
Photo ©Shutterstock / Pegasophoto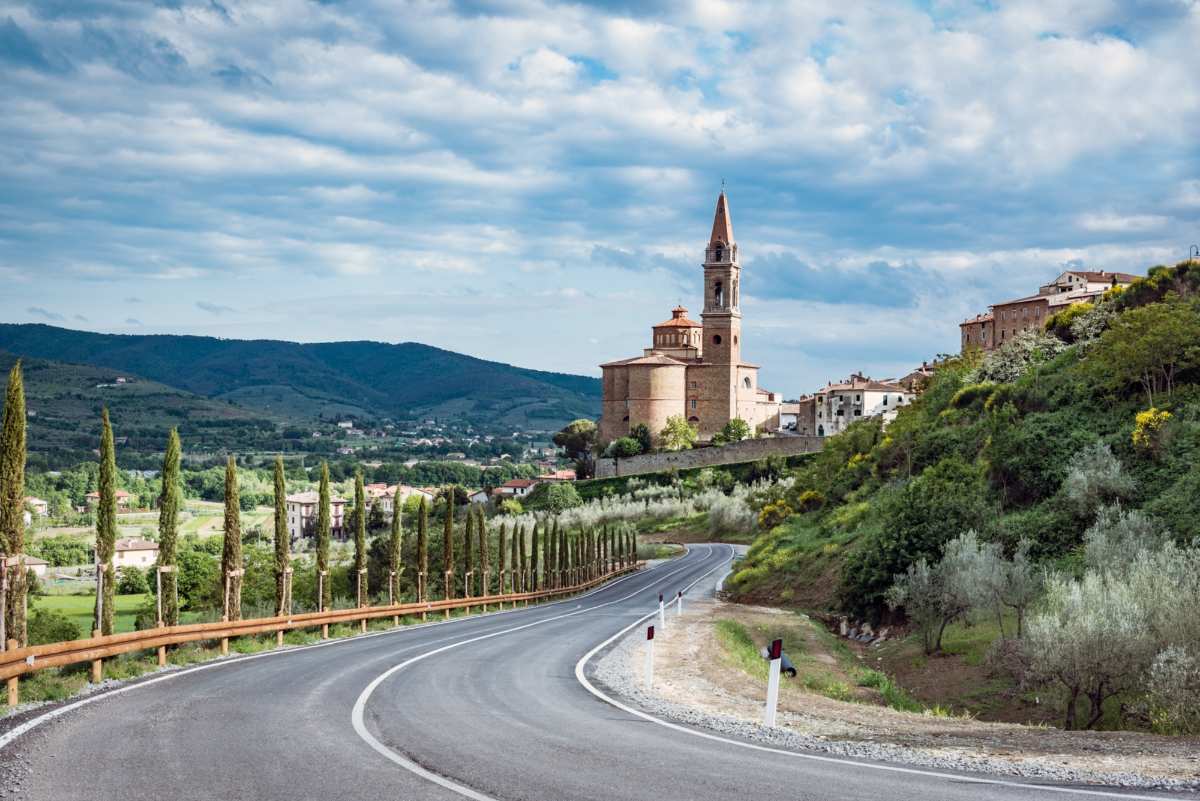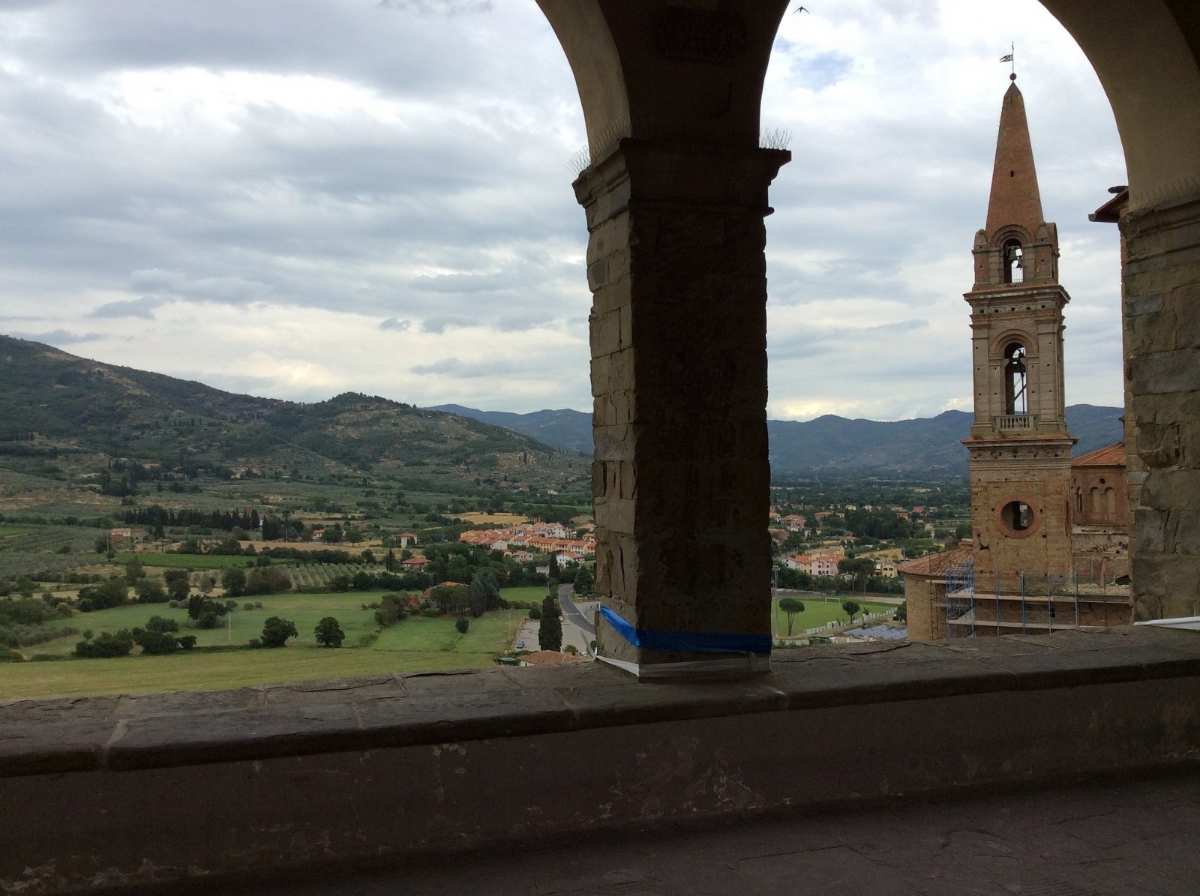 Arezzo and Castiglion Fiorentino
Wake up with a morning coffee in the elegant Caffe' dei Costanti, a historic bar in Arezzo that's also featured in that famous Benigni film set during the harrowing Holocaust years. Its history goes back further: founded in 1804 as an exclusive gathering place for nobles and select clientele, the café watched Arezzo transform from its days under the Grand Duchy of Tuscany to the first days of Italian unification, when it opened to the general public.
Next, cross the street to the famous Basilica of San Francesco just across the way. The Gothic church is home to an extraordinary Renaissance fresco cycle by Piero della Francesca known as the Legend of the True Cross, completed between 1453 and 1459 for the Cappella Bacci. Note that reservations are required; call 0575 352727 or email pierodellafrancesca-ar@beniculturali.it for booking information.
Post-Piero, hit the road (or railway) for a little day jaunt Castiglion Fiorentino (a quick 10 minutes by train). This walled town is known for its Etruscan history and for being an important crossroads between Arezzo and Cortona. Today, locals and visitors are drawn to its eclectic festivals and folklore events, which include the tongue-in-cheek Sagra del Cinema, open-air cinema shown in the shadow of the medieval Tower of Cassero in the summer; the Palio, a competition among the town's historic districts, held on the third Sunday of June; and the Maggio Castiglionese, a month-long series of spring festivities during May.
Don't fret if your trip doesn't land during one of these high points—there is plenty to see year-round. The definitive item on your local to-do list should be the Cassero area, home to what was once a medieval stronghold overlooking much of the Valdichiana. In its current state, the Cassero complex has undergone numerous transformations since the 11th century, when the area became the seat of a castle overseeing key economic routes. Besides the old stronghold, the Cassero area contains a picture gallery, an underground passageway, a local archaeological museum and many other monuments worth visiting, all conveniently part of the same museum system.
Photo ©We Make them Wonder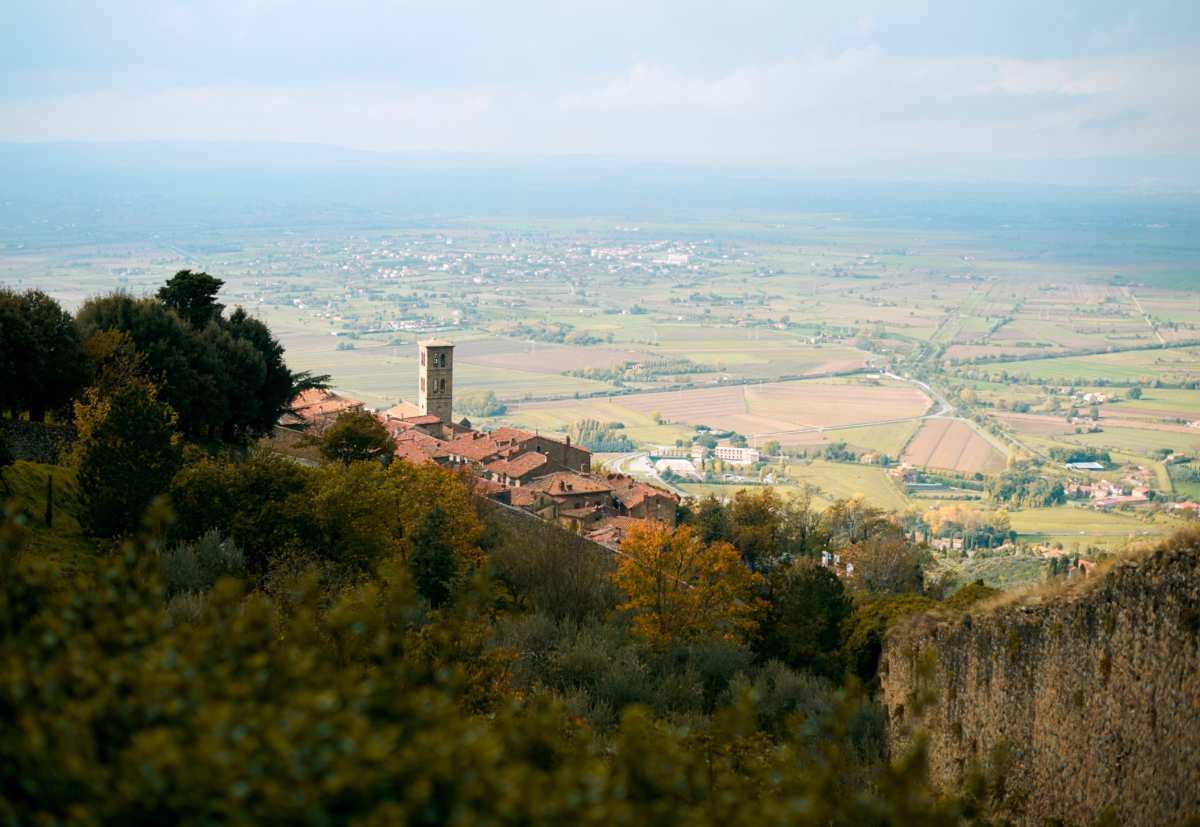 Photo ©We Make Them Wonder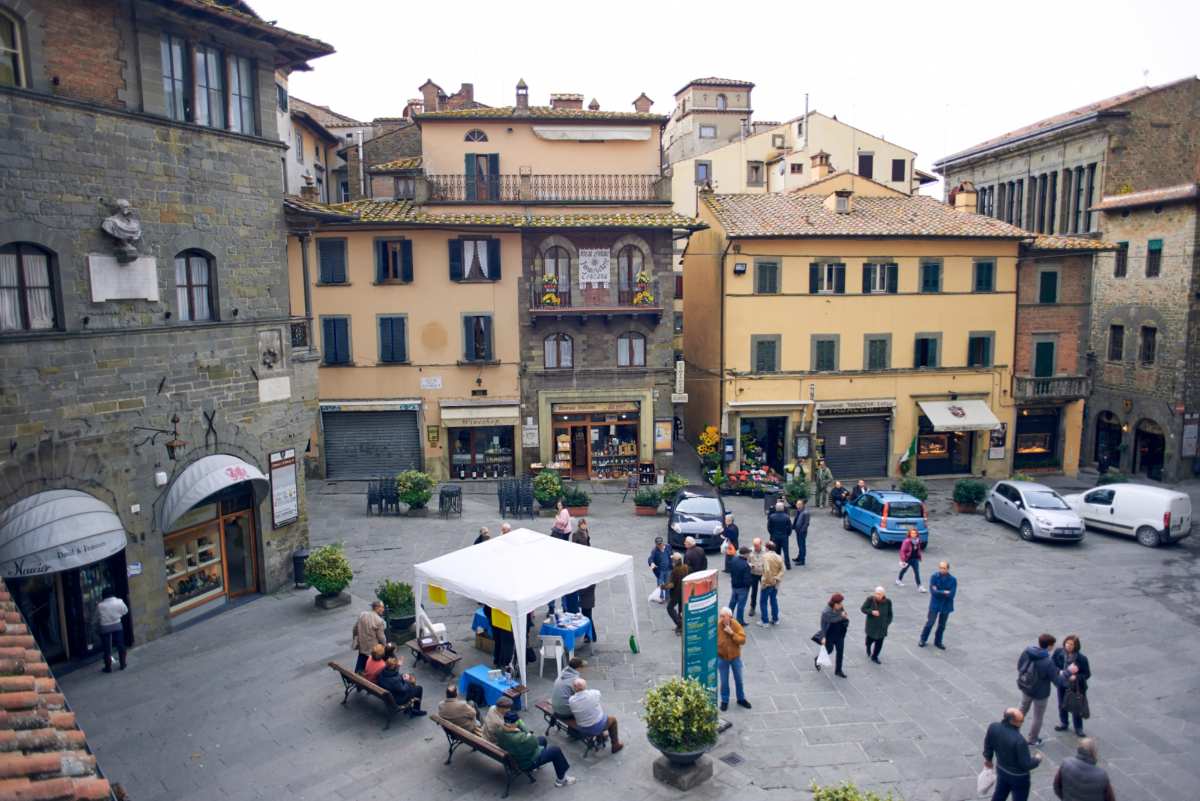 Cortona
Your next day trip, departing from Arezzo, will take you to a town made famous in the English-speaking world largely by Frances Mayes' fixer-upper classic, Under the Tuscan Sun: charming Cortona. Long before Mayes ever set foot here, however, another Francis (this one with an i) came through town. Saint Francis of Assisi stopped here in 1211 and founde a hermitage called Le Celle not too far away. Another religious figure associated with the town is its patron Margaret of Cortona, who is celebrated in town-wide festivities on May 9.
A visit to the Museum of the Etruscan Academy and of the City of Cortona (MAEC) is a must: besides housing Etruscan vases, relics and the iconic Tabula Cortonensis (the two-millennia-old Cortona Tablet, perhaps its best-known piece), the museum documents the evolution of the town with impressive breadth, beginning in the Prehistoric age.

Next, if you're interested in the area's "native sons" of art, pop by the Diocesan Museum which is home to many altarpieces by the locally-born Luca Signorelli. Fra Angelico wasn't a native, but several masterworks by him, including an Annunciation, are also here.
If your visit lands in summer or early autumn, keep an eye out for Cortona on the Move initiatives, exhibitions and spinoff events: this world-renowned photography festival offers a curated look at the finest work in contemporary photography and typically runs from July to October.
When hunger strikes at some point, indulge in a local specialty like a ciaccia, a savory fried bread made with bacon fat and prosciutto, washed down with a glass of Cortona DOC wine. Got more of a sweet tooth? Opt instead for the dessert variety (ciaccia con l'uva), which is made with grapes and olive oil instead
At sundown, start making your way toward Montepulciano, your home base for the next two nights, via an inexpensive train ride from either the Terontola-Cortona or Camucia-Cortona stations. The journey clocks in at just under one hour from either departure point.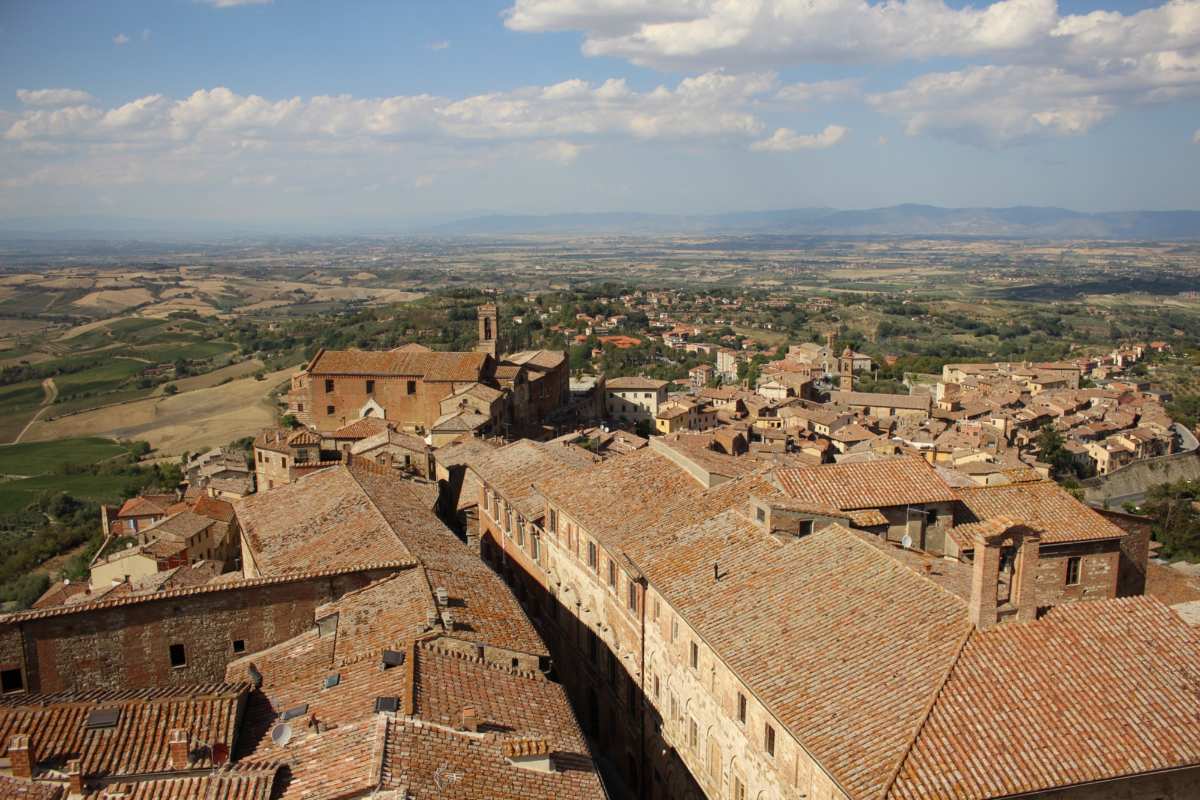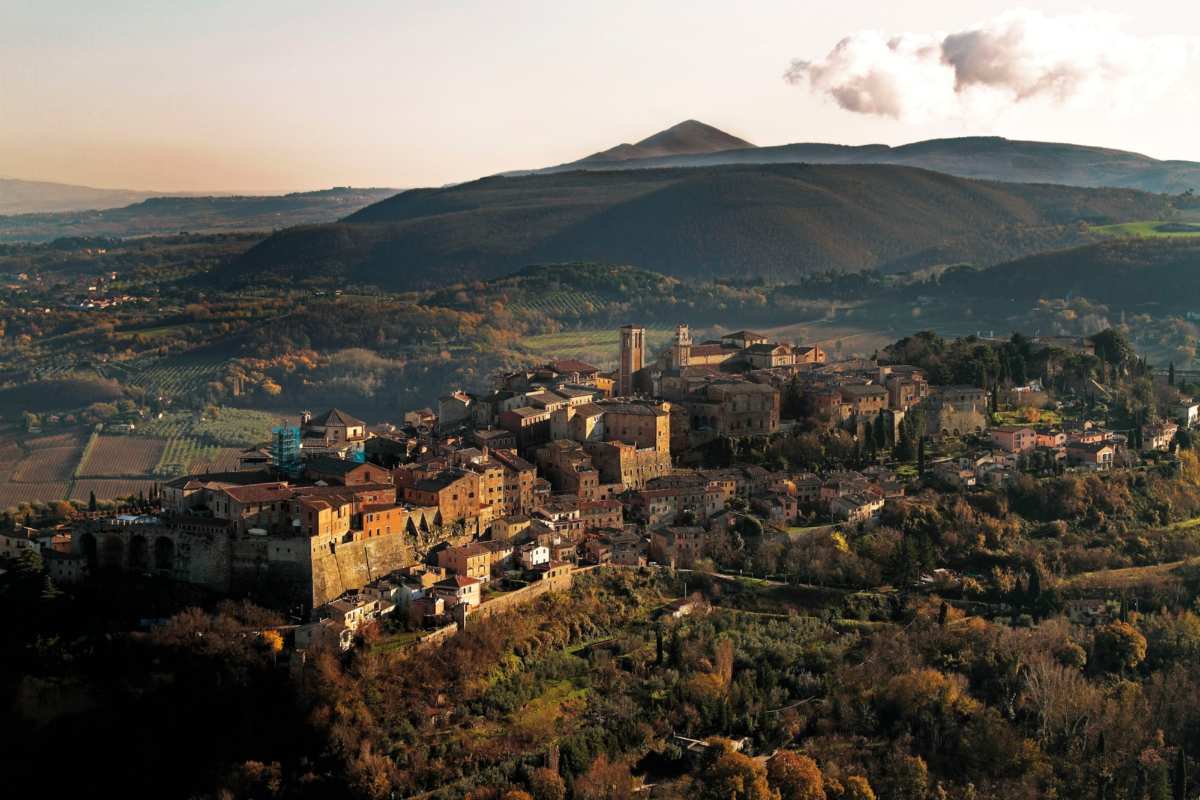 Exploring Montepulciano
Now we've moved into Sienese territory! Start your Montepulciano day with a morning coffee at the sumptuous Caffe' Poliziano in warm weather, try to snag a seat on the terrace for a taste of the dolce vita.
Central to this hilltop town are its traditions and festivals: perhaps the most famous is the uphill barrel race the Bravio delle Botti which takes place on the last Sunday of August. Even if you can't be here for it, expect to catch glimpses of its influences: since it's a competition among the town's eight historic districts, their pride is on full display year-round in the form of flags and aged photos tacked proudly on the walls of local businesses.
Visit Piazza Grande (Twilight fans may recognize it from the set of New Moon). Here you can climb to the top of the Palazzo Comunale tower: this Michelozzo-designed structure was inspired by Palazzo della Signoria in Florence (today known as Palazzo Vecchio).
Of course, a main reason for visiting Montepulciano is wine-related tourism. Prepare your palate for Vino Nobile di Montepulciano, the area's pride and joy: made with Sangiovese, Canaiolo Nero and a small mixture of local grapes, this red is not to be confused with Montepulciano d'Abruzzo, a grape grown in the Abruzzo region. To maximize the tasting experience, try it at an area winery: the region is rich with choices.

A final note for foodies especially: this is prime territory for pici, a thick, hand-rolled pasta, served in a plethora of ways. Want a rendition particular to the Valdichiana? Go for pici all'aglione, usually made with tomatoes, a pinch of chili pepper and a "giant garlic" native to the area (aglione).
Morning stroll in Montepulciano and Torrita di Siena
Take an early-morning stroll along the main Corso to watch Montepulciano wake up. Then hit the tracks to Torrita di Siena – it's just five minutes away by train.
Torrita di Siena is small, but significant for a number of reasons, not the least of which are its long agricultural history and high concentration of woodworking activity. But the reason most people outside its immediate radius know about it is its donkey race, the Palio dei Somari, held annually on the Sunday after Father's Day (March 19). Fun fact: the woodworking tradition here and this unique race have an unlikely link, since March 19 is Saint Joseph's Day and he was the patron saint of carpenters.
Music buffs know it for the Torrita Blues Festival, which spotlights a small group of blues musicians each year, chosen after a competitive selection process www.torritablues.it . The festival is usually held in late June and its outdoor concerts are a lively yet laid-back way to soak up the summer atmosphere.
At any time of year, the Palazzo Comunale, seat of civic power, is worth a stop: this 13th century building stands in piazza Giacomo Matteotti. Also worthy of exploration is the Romanesque Church of Sante Flora e Lucilla, which houses a marble lunette decorated with a 15th century relief of the Blood of Christ, attributed to Donatello.
Cap off your evening with entertainment at the Teatro degli Oscuri, which hosts musicals, dramas, concerts, comedies and more and is located in the town's main square a few steps from the Palazzo Comunale.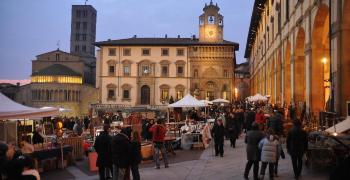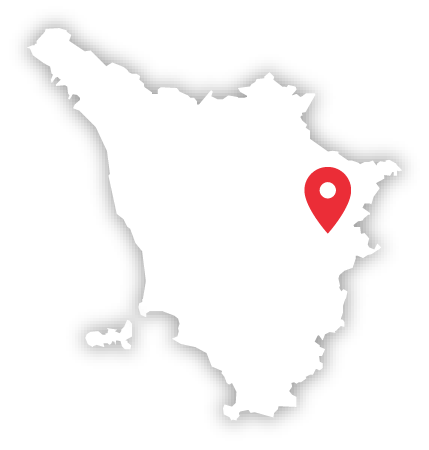 Learn more
Arezzo area
Despite its small size, the Arezzo area offers a vast natural and artistic heritage.
continue...