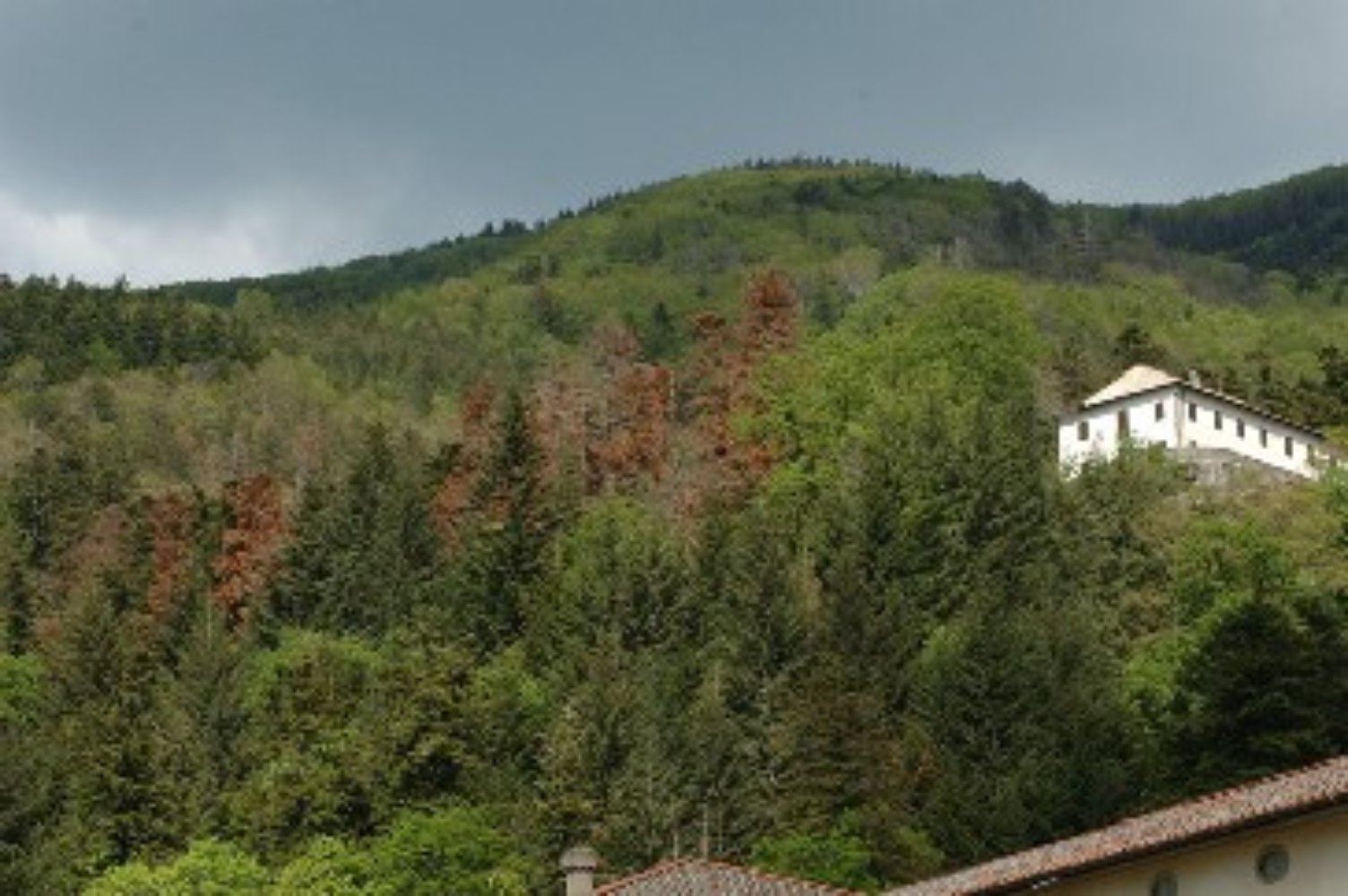 Vallombrosa area, a walking route
Among the valley of Casentino and the Valdarno, for a route rich in history and stunning views
Vallombrosa is an area that satisfies a wide variety of cultural interests: from the naturalistic to the historical. It was founded by St. Giovanni Gualberto at the beginning of the XI century followed by numerous disciples. The current biogenetic reserve is of great naturalistic importance, extending over 1,270 hectares, as is the State-owned forest of St. Anthony of 993 hectares.

The Iron Cross of Pratomagno is at a height of 1,591m: inaugurated in 1928, it is visible from very far away. This itinerary proposes a trek from the abbey of Vallombrosa (FI) to the monumental Cross of Pratomagno (AR) and back, for a total of 30 Km and slopes of 680m. This trek leads us to the discovery of the secular forest of Vallombrosa on the Monte Secchiata and from there to the ridges of Pratomagno, where we can enjoy vast fields rich in broom trees and wide views.

The path Cai n° 9 starts steeply from the "Scalinata del Calvario" that from the abbey leads to Paradisino. This first part that leads to Monte Secchiata is the steepest part of the route (in two kilometres there is a slope of about 500m to be confronted); from the Monte Secchiata on, in fact, the path Cai n° 00 along the ridge maintains a constant height, until the large iron cross of Pratomagno (just light slopes up and down). So, apart from the distance, that admittedly isn't short, the route itself is fluid and doable, not presenting particular difficulties for those that love walking in wide spaces.

Starting from the Rifugio Giuntini on the Monte Secchiata at about 6.1km we must emphasise a fork in the path Cai n° 00 that joins back together after about 1.5km at Varco di Gastra: one path forks to the left under the ridges (advised for the first leg) and the other forks to the right climbing up the ridge (advised for the return journey, in the opposite direction, from the Varco di Gastra).From Varco di Gastra continuing along the ridge and still following the path Cai n° 00, we arrive at the Varco alla Vetrice, the knoll Varco di Castelfranco, the monte Pianellaccio (1593m) and here we turn our gaze to the right and can see the Cross of Pratomagno.


Map Ref.: Map of paths and refuge Multigraphic 1/25.000
Massiccio del Pratomagno n° 31/32
You might also be interested in
The power of art and the vitality of culture in Florence, stretching back to Antiquity, have an energy that expands all throughout Tuscany. ...
Scopri keyboard_backspace