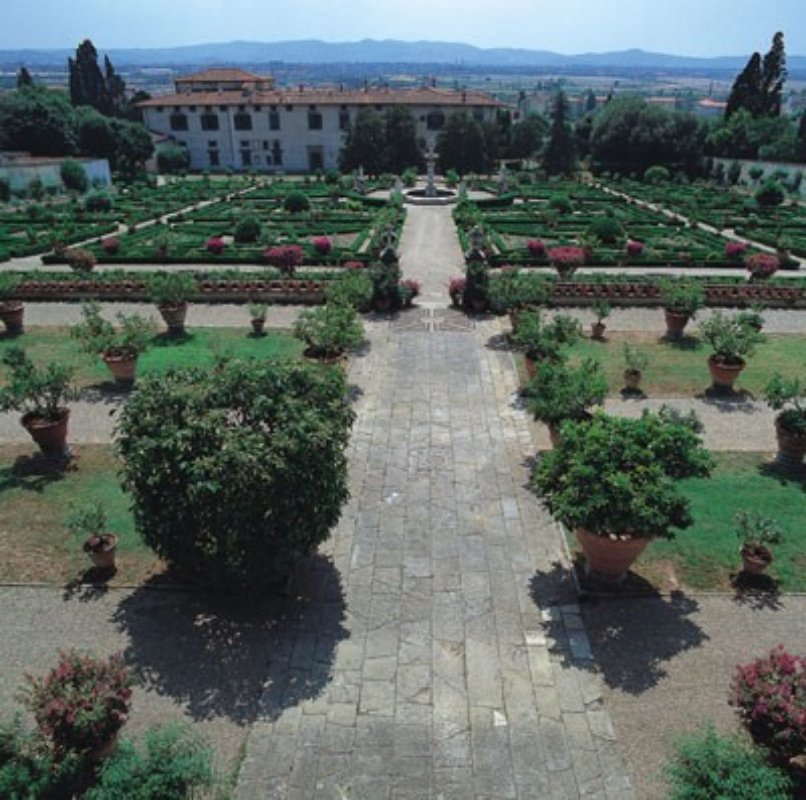 Discovering the Medici Villas: UNESCO sites
Refined architecture with splendid gardens
The Medici villas were built by the top specialists of their day and show a variety of civil and residential architecture. During their rule over Florence and a large part of Tuscany between the fifteenth century and the first half of the eighteenth century, the Medici family had a number of villas built, all surrounded by splendid parks and gardens. Today, these villas provide a wealth of information about the period in terms of art, culture and history. Poggio a Caiano is home to the Villa Medicea that Giuliano da Sangallo built on the foundation of the old Villa degli Strozzi towards the end of the fifteenth century. This villa belonged to Lorenzo il Magnifico and welcomed many illustrious guests such as Vittorio Emanuele II. The architecture is splendid and there is a terraced portico on the ground floor.

A double stairway leads to the stunning central loggia which is inspired by classic motifs. The interior is a kind of small museum, with noteworthy sixteenth century frescoes, while the villa itself is surrounded by a beautiful park. Near Comeana is 'La Ferdinanda', also known as Villa Artimino, which was commissioned by Ferdinando I de' Medici and built by Buontalenti towards the end of the sixteenth century. Petraia Villa is known as one of the most beautiful residences near Florence. Ferdinando I had it transformed by Buontalenti during the second half of the sixteenth century. Villa Medici is not far from Fiesole and is also known also as Belcanto or Palagio di Fiesole. This villa was built under Cosimo il Vecchio who entrusted Michelozzo with the project (1458 – 1461).

On the outskirts of Florence is the Villa Medici di Careggi which was bought by the Medici family in the first half of the fifteenth century. It was restructured by Michelozzo for Cosimo il Vecchio. This villa, surrounded by a beautiful park, was Cosimo's favourite and it was here that he died in 1464. There is another Medici Villa at Coltano, not far from Pisa and today part of the Centro Visite del Parco Naturale di Migliarino-San Rossore-Massaciuccoli. The Medici had the villa restructured by Buontalenti in 1587 to turn it into a kind of hunting lodge.