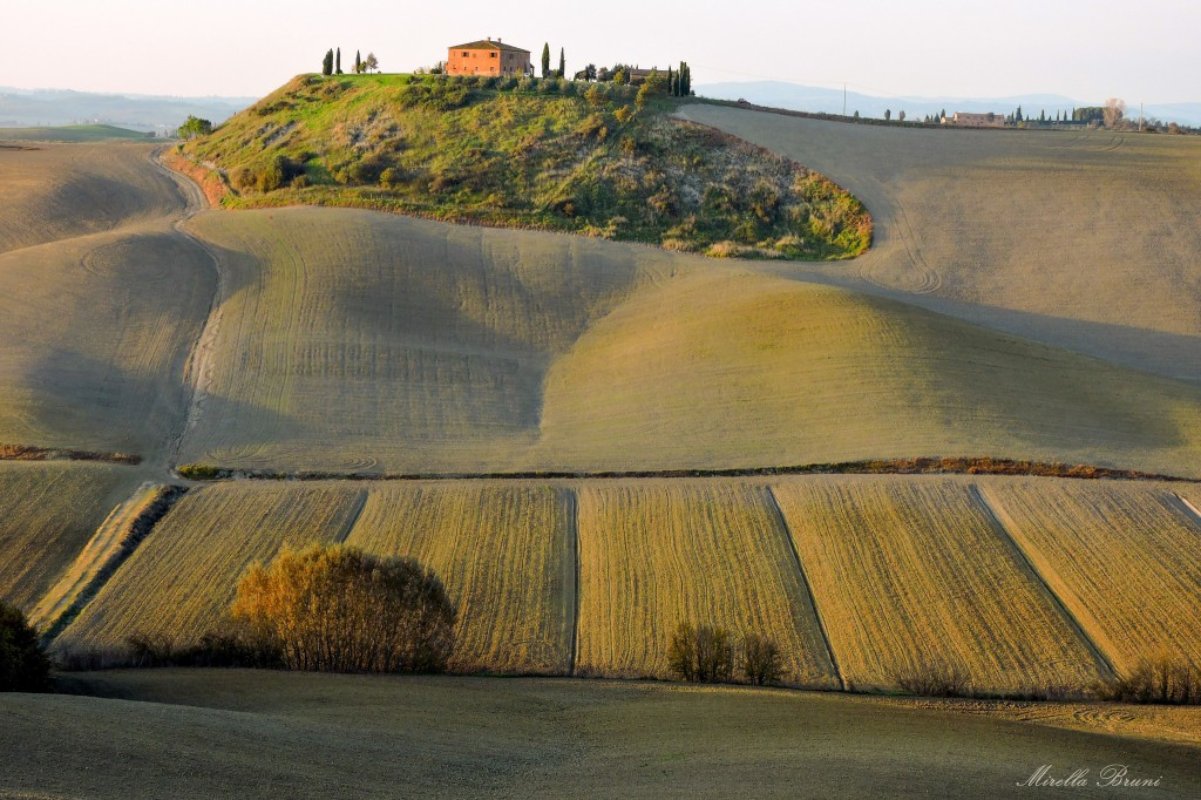 Explore the Merse Valley and Siena Crete by bike
A cycle route with breathtaking views
The route starts from the car park below
Murlo castle
, and heads downhill on the SP 34/c-d "Murlo" road towards
Vescovado di Murlo
. After passing through a small village (km 1.7), continue along the SP 33 "Rocca di Crevole" road towards
Casciano di Murlo
and Grosseto. After just 600m you will get to the village of
Lupompesi
and, at the next crossroad (2.8 km), turn right towards
Radi
. Shortly after the SP 34/b "Murlo" road turns into a firm gravel track for 4km, heading downhill, fairly steeply at first and then gentler. Continue through the
Monteroni d'Arbia
area, passing the Stile river, firstly heading uphill for a short time and then down again until you reach a crossroad in the middle of the countryside with a cypress tree in the centre (7.3 km). From here, after 200 m, you will come to the small town of
Radi
.
At the crossroad take the SP 23/b "Grotti" road towards
Ville di Corsano
. This asphalt road follows the line of the hills, taking in some quite challenging uphill climbs, before arriving at
San Giovanni Battista a Corsano
on the left hand side. From here you will arrive at
Ville di Corsano
after just 1.2 km, where, at the crossroad with the SP 46 (the Ville di Corsano road), you should turn left towards
Casciano di Murlo
. After 900 m uphill you will find yourself at the foot of
Grotti castle
(km 12.6), which has been converted into a villa. Continue up a very slight hill for around 2 km, passing by
Pulcianese
farm, before reaching Selva, at which point the road goes downhill for 1km.
Following this there is a challenging climb of 2.3km, shortly after which you will find yourself in Murlo. At the junction at the end of the hill take the SP 33 towards
Vescovado di Murlo
. After 800 m you will get to the Rospatoio crossing (512 metres above sea level), and from here the road does downhill along a road with beautiful views over the
Crete Senesi
. After 2.2 km you will pass by the ruined
castle of Crevole
. After another 3.5 km you will arrive at
Vescovado di Murlo
, and from here, after a hill of 2 km, you will find yourself back at Murlo castle.
Point of departure and arrival: Murlo
Difficulty: medium
Distance: 28 km
Total climb: 460 m
Road surface: mixed
Type of bike: all terrain, road bike
You might also be interested in