Cheese and cold cuts
Lard from Camaiore
The perfect pairing with bread and as a condiment
Category
Cheese and cold cuts
Lard from Camaiore is a typical local salami. Much appreciated by food lovers, it has a white colour with red veins and is made from the fatty part of the pig's back. Pieces are covered by a rich layer of salt and pepper, garlic and rosemary, and are placed on marble surfaces at a slight incline, where they mature for a rather short period, after which the lard is ready to be sold.
It can be cut into thin slices, paired with toasted or fresh bread and used as a condiment for soups and dishes. As the typical Tuscan appetizer, it is often served with other salamis, such as biroldo,prosciutto Toscano DOP, etc.
You might also be interested in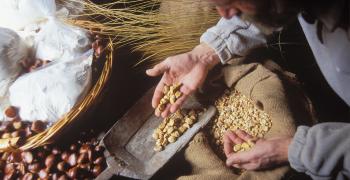 Learn more
Food and Wine
Olive oil, wine, truffle and other culinary delights make up the excellence of Tuscan gastronomy.
continue...