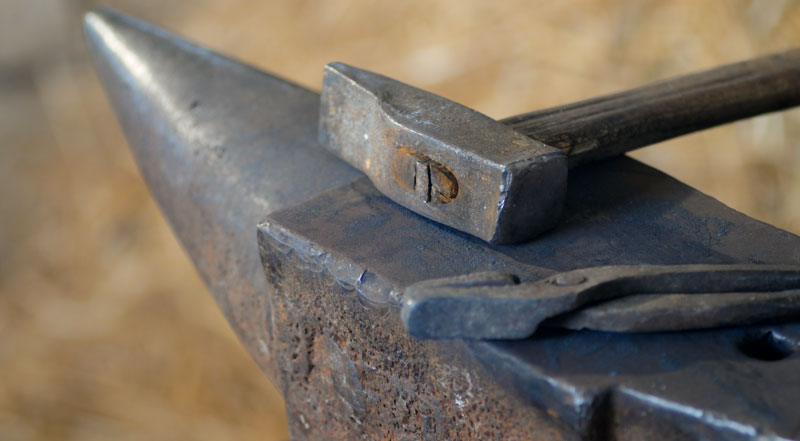 Archaeological sites
The Milani Ironworks
Craftsmanship and ironworking, all in the service of art
For centuries the Apuan Alps have offered a rich seam of mineral extraction, thus favouring the development of the mining activity that was often the main economic resource for many communities in Versilia. The Museum of Work and Popular Traditions, which occupies the Palazzo Mediceo in Seravezza, has a whole section dedicated to the history of the Versilian iron-foundries. In the Stazzema municipality, in particular, the Medici directed numerous resources towards the mining industry, building smithies, foundries, laboratories, furnaces to the extent that extra manpower had to be called in from the Tyrol region, from Saxony and Hungary.
The tradition of the metallurgic sector has never been extinguished; and while many of the old foundries of Versilia have over time been transformed into sawmills, this old and well-known artisan activity still survives today in Pomezzana, a small hamlet near Stazzema.
Renzo Milani and sons are modern-day ironsmiths continuing the trade or rather the 'art' of the cutler. Today, just as they have done for years, they make the precious tools of the trade for marble sculptors: double-faced cape chisels, stone-cutting chisels, stonemason's hammers: everything that accompanies the artist from the quarry to the laboratory. The same utensils have been used since time immemorial, passing from the hands of Michelangelo down to those of the artists of today.

The old forge, located near Grotta del Papa on the carriageway to Pomezzana, is still open to the public, offering a pleasant visit for all those who wish to know more about the realisation of a work of art. Inside the ironworks it seems time has come to a standstill. Naturally the hydraulics of the past have been replaced with electricity, but the working of the iron can still largely be done only by hand, such as the forging, while rasp teeth can only be incised with a special burin driven by very swift blows with a little hammer. Modern-day production of surgical instruments, mostly scalpels, continues alongside the practice of the old craft: the Milani forge makes them for surgeons all over Italy, and also throughout the rest of the world.
Seravezza
Between Michelangelo's beloved quarries and the gateway to the Apuan Alps
Follow the Versilia River to discover the two torrents that give it life; explore the region from the inside out, an area known for both for its sea and majestic mountains; discover hamlets embedded in lush forests and marked by the savory tastes of local cuisine… all this and more in beautiful Seravezza, a town nestled between age-old marble quarries and wooded mountains. ...
Morekeyboard_backspace