location_cityHistorical Buildings
Church of Santa Maria Assunta in Stazzema
From ancient Roman temple to magnificent parish church
The Church of Santa Maria Assunta in Stazzema is a magnificent parish church located just outside the town. It's been a place of worship since Antiquity, with its presence being recorded as far back as 200 BCE, when it was an ancient Roman temple. Only one urn remains from that period, today enclosed in the walls of the current church.
The sacred building underwent considerable renovations and additions over the centuries, likely beginning in 1100. This has led to the original church being lost, but the beauty that this masterpiece embodies nonetheless remains.
The complex is also closely tied to its location, demonstrated by the façade, which is made entirely in local bardiglio marble. Even the late-13th-century bell tower, one of the oldest in the area, marked the daily life of the inhabitants, its three bells ringing a unique sound.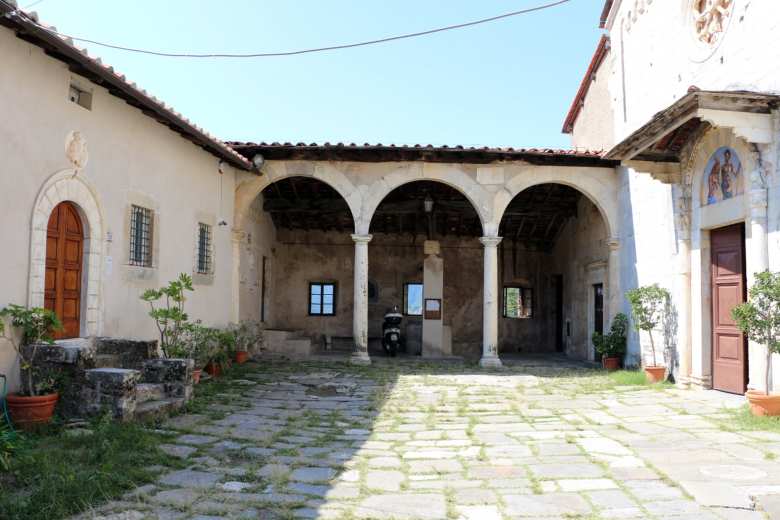 Amongst the various modifications, there are the addition of two side aisles in the 1400s and the rose window in the same period, attributed to Lorenzo Riccomanni, who also made the one in the cathedral in Pietrasanta. Today, the opening is covered inside by a precious organ from 1775, which was originally in the Collegiate Church of San Pietro in Massa and was moved here by Elisa Bonaparte Baciocchi. The porch is very evocative, overlooking the valley below. Three elegant pointed arcades in white marble were added in the 1600s to connect the church to the rectory.
The interior boasts a coffered ceiling from the 1500s, as well as an Assumption of the Virgin by Pietro da Talata, a predella by Zacchia il Vecchio and a sculpture by Niccolò Civitali.
Stazzema
Castles, fortified sites and medieval tunnels
Surrounded by the Apuan Alps, Stazzema is a scattered town, forming part of the historic Versilia region—in the area, it's the only town that is entirely mountainous. With its magnificent setting and panoramic views, you'll want to admire its numerous hamlets—a solid 17 of them—which are spread down the slopes of the mountains. ...
Morekeyboard_backspace