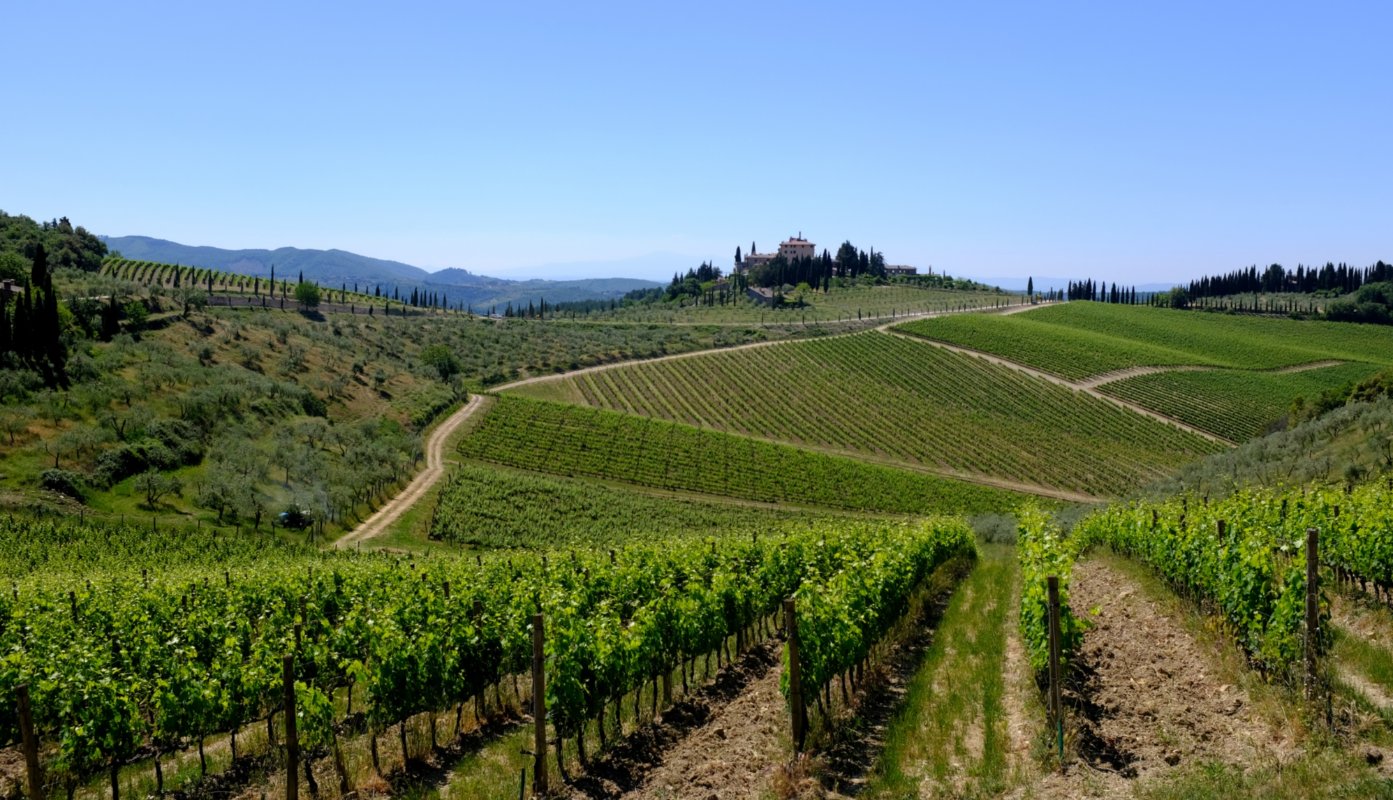 The luscious, rolling chain of Chianti hills that straddle the countryside of Florence and Siena, have characterised this area since the beginning of time. From a historical point of view, across the centuries, the Chianti area consisted of the municipalities of Gaiole, Radda and Castellina, otherwise known as the Lega del Chianti. Founded in 1384 by the Florentine Republic, the League's coat of arms bore the (still renwoned) black rooster. With the creation of the wine-making area in 1932, the area known as Chianti expanded substantially.
The history of Chianti has always been deeply linked to the wines and other first-rate products, making it the perfect destination for a journey through traditional Tuscan food and wine: the towns in the area make up the production zone of world-renowned Chianti DOCG red wine. The Sangiovese variety, at the heart of Chianti Classico, stretches over the hills of this territory, leaving space here and there for sheltered towns and villages whose streets emit the aromas of the nearby wine cellars.
This wine blends perfectly with tasty products such as a cold cuts – ideally from the local Cinta Senese – and with local dishes that bring together ingredients that traditionally filled the bellies of the poor yet today are considered some of the most exquisite and refined features of international cuisine: just think of delights such as ribollita, a Tuscan bread soup, collo ripieno, stuffed chicken neck, chicken livers and tripe.
The best way to not miss out on anything in the region is to travel the Chiantigiana, adored by motorcyclists, linking Florence to Siena. Stopping along the way means seeing must-see villages like Greve, with its curious, triangular piazza surrounded by colonnades, Castellina and its fortress that houses the archaeological museum, and many more typical Tuscan parishes, like Montefioralle and Panzano. While lost in the winding alleys of these hamlets, luck strikes when you find yourself in a shop full of wine bottles or in a traditional butcher's shop, before eventually arriving unsuspectingly at a local Wine Museum.
However, Chianti is not only about wine. This is a land that played host to many early inhabitants – as the ancient Etruscan artefacts show – highly regarded artists and architects, as well as today's many collections of sacred art and remarkable artworks. The Chianti Sculpture Park is particularly wonderful as it connects the beauty of the countryside to creations and installations by artists from all over the world.
Many international sculptors arrive in Chianti with their works, but even more have transported the phenomenon of this scenery overseas.And if you're used to seeing it travelled by a flame red convertible, you'll be surprised when to see a flash of bicycles fly past during the Eroica, a vintage bike race that has the unique prize (so to speak!) of sprinting through the enchanting landscape of Chianti.
Social & Web
Find out what they say about us, and tell us about your Tuscany!