Top winter sports in Tuscany
Skiing, snowboarding and bob sledding
Tuscany holds surprises for every season and this also means winter! There are lots of activities and sports that can be done in the region during the cold and snowy season , as the mountains change colors, everything turns to pure white. The "snow system" of Tuscany is a complex set of large districts and smaller ski resorts. "White Tuscany" boasts many resorts, such as Abetone and Doganaccia di Cutigliano in the Pistoia Apennines (Pistoia province), as well as Mount Amiata, Casone di Profecchia, Passo delle Radici and Careggine in Garfagnana and Zum Zeri in Lunigiana.
In Pistoia, Abetone is one of the most important ski resorts of the Apennines, just one hour's drive from Florence. With 50 km of ski runs of varying difficulty and 21 modern ski lifts, you can easily understand why Abetone is a paradise for ski and snowboard lovers. But it is also well loved by nature lovers in general, who can enjoy this natural winter wonderland with snowshoes or trekking. Skiers and snowboarders can enjoy the Pulicchio and Val di Luce Snow Park, equipped for both beginners and the more experienced. For children there is a baby park; while for Nordic skiers there is the "Maiori" trail. There is also a 15km long trail and many other ski resorts throughout the Abetone area, including Doganaccia between Corno alle Scaleand Monte Libro Aperto, where it's possible to go bob sledding. You can also find Cutigliano in the Pistoia mountains: from here, you can easily reach the ski resort of Doganaccia via the cable car. The ski area has 10km of ski runs and is served by 5 lifts. There is also a trail for snow tubing, while nature lovers can enjoy cross-country skiing (6 km) and the hiking trails and alpine skiing at the Mount Cornaccio, Rifugio Duca degli Abruzzi and Lake Scaffaiolo. Here you can find, rental equipment and a ski school.
It's also possible to ski on Mount Amiata, where there are 4 resorts: Prato della Contessa, Prato delle Macinaie, la Marsiliana and the Rifugio Cantore. On Mount Amiata there are 25kms of trails and 12kms of cross-country skiing trails for a range of levels. When there is a lot of snow, it's possible to go on excursion into the forest. Sports lovers will find what they are looking for, from guided tours of North Walking to skiing at 1738 metres above sea level. There are two ski schools and numerous rest spots offering warmth and sustenance. If you are a family and want to enjoy the mountains together, the Garfagnana area, located between the Apuan Alps and the Apennines, offers several choices. Careggine, Casone di Profecchia and Passo delle Radiciboasts 15 kms of trails and 7 ski lifts. There are also school camps, trails for experts, cross-country skiing and hiking routes in the snow for those equipped with crampons or snowshoes. Finally, in the northwest of Tuscany, there is the Lunigiana area, where you'll find the Zum Zeri ski location, a resort equipped with 3 lifts serving 5 km of trails and a baby park that is ideal for families.
You might also be interested in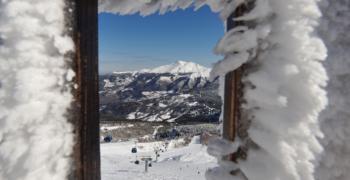 ac_unit
Learn more
Snow
Tuscany turns white in winter, so it becomes the favourite destination for sport tourism: as the snow starts falling on the mountains skiing becomes
continue...