Thermal baths and spa towns in Tuscany
A short guide to explore spa towns in Tuscany, a perfect gift idea to warm you up.
Tuscany has countless natural springs and many spa towns that were established in ancient times thanks to this precious gift of the Earth.

There are both modern spas where hot thermal water is collected in (outdoor and/or indoor) swimming pools and you pay a day ticket at the entrance; others are free open air springs. Thermal spring water has different characteristics and contains different minerals, so they are suitable for treating various ailments.

Here is a short guide to explore spa towns in Tuscany, a perfect gift idea, even in the winter, to warm you up!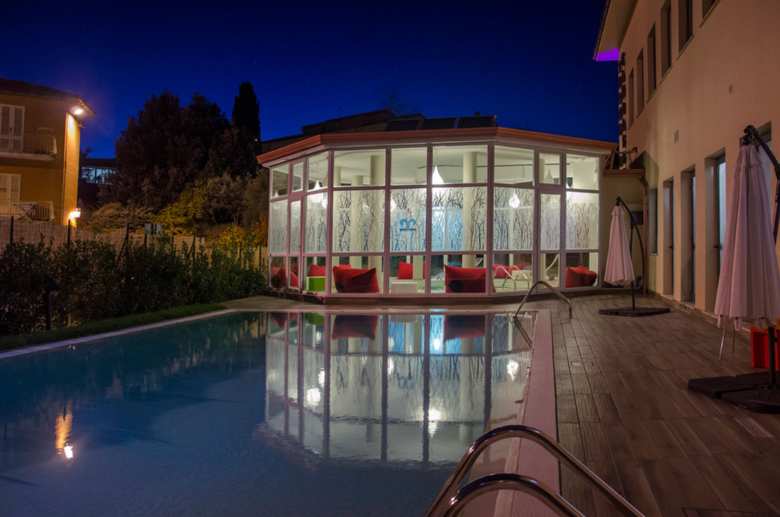 Gambassi Terme has been inhabited since the Neolithic Age. Later it became an important centre for the Etruscans and Romans, too.
It was also a resting place for travellers and pilgrims who followed the via Francigena route.
Gambassi Terme spas opened in 1974 and boast waters that are scientifically proven to be therapeutic and curative for many ailments.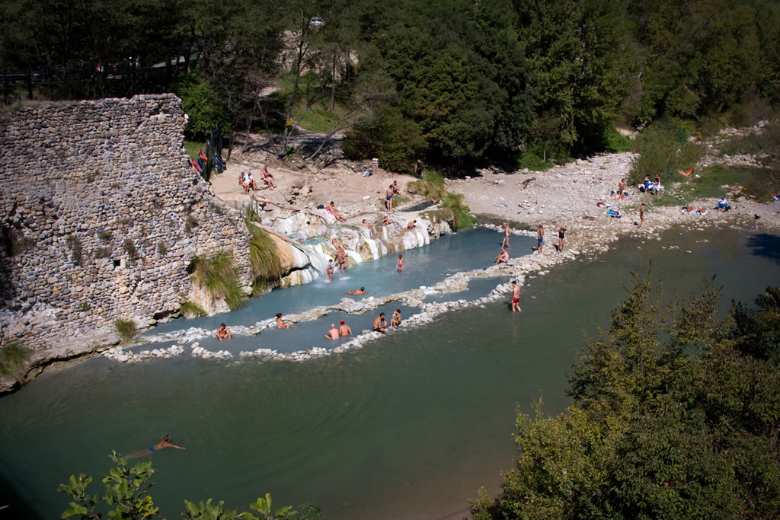 Petriolo's hot springs are immersed in beautiful woodland in the Terre di Siena, near Montalcino.
There is a natural sulphuric water basin as well as the free outdoor baths that are part of the Farma river.
The water temperature stays constant at 43 degrees, perfect to treat respiratory and skin problems as well as motor ability troubles.
Even the Medici family, popes, cardinals and nobles used to go to Terme di Petriolo!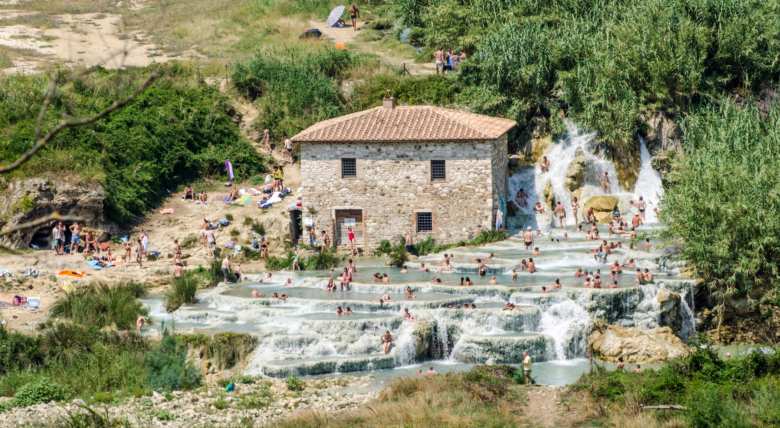 For 3000 years, uninterrupted, the thermal waters of Saturnia have flown into a natural crater at the slopes of Mount Amiata, remaining at the same temperature as amniotic fluid.
The Terme di Saturnia and the Fonte Pura Thermal Baths are located in the Maremma area of Tuscany, near the village of Saturnia.
Here's a big choice between thermal baths that are free of charge and those for which you have to pay an entrance fee. The free ones are called Cascate del Mulino, the others boast a big number of hotel rooms, restaurants, wellness centres and a golf course.

Here are more info about the waterfalls.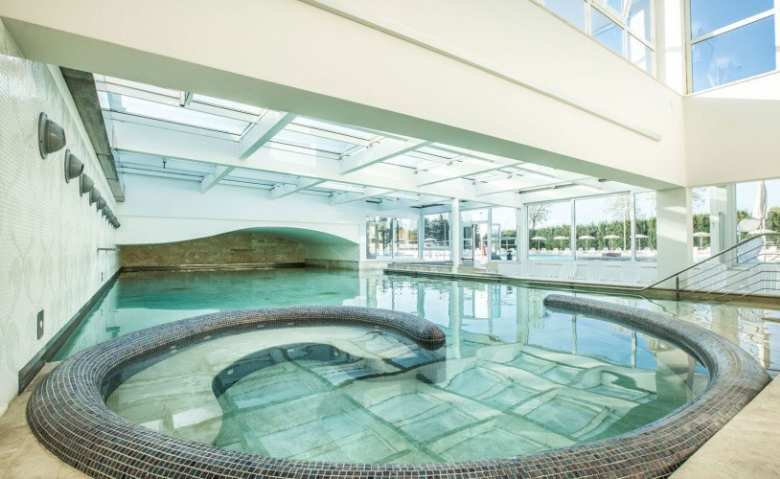 The thermal baths of Venturina in Livorno area, have Etruscan origins.
Here, the "Aquae Populoniae" gush forth, which touch 36°C, rich in sulphur, alkali and earth. The temperature stays constant and it is highly beneficial in treating respiratory ailments as well as mud and water therapies, inhalation and hydro treatments. It has two indoor and outdoor pools
The location is perfect for a holiday as is just 5 kilometres from the sea.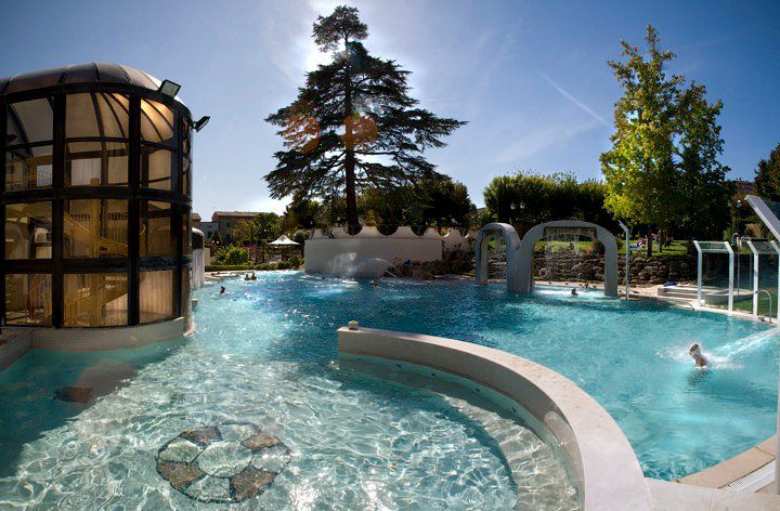 In Casciana Terme visitors can enjoy the invigorating, slightly fizzy, mineral-filled waters which caress the skin and help de-stress. The beneficial effects of the spa waters redress the balance of mind and body.
The thermal waters flow at a constant temperature of 35,7 degrees and are famous for their therapeutic properties. Casciana Spa is equipped to treat various conditions, such as circulatory problems, rheumatism and respiratory and gynaecological conditions.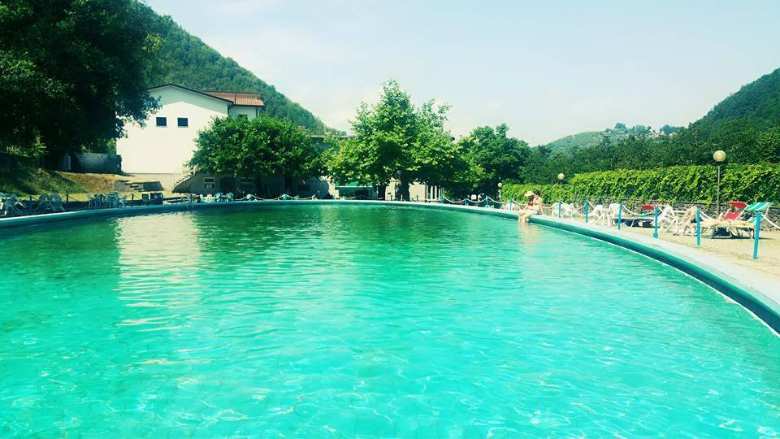 Equi Terme is situated close to Pizzo d'Uccello, one of the most striking peaks in the Apuan Alps in the Lunigiana area of Tuscany.
For many centuries, the rainwaters have been collected by the Apuan Alps, filtered by the sub-soil and then entrusted once again to the surface where, not far from the medieval hamlet, they are collected and used as curative waters. The chloride-sulphate-sodium waters ranging between 17 and 27°C, with an average of 24°C, are used to heal health problems affecting the respiratory and otolaryngology systems, skin complaints, bone and joint problems and angiology.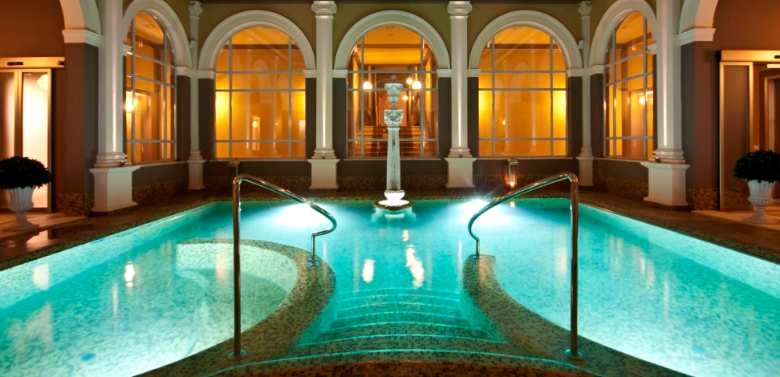 San Giuliano Terme hosts Bagni di Pisa, an elegant spa where you can carry out a wide range of treatments ranging from massages, mud baths and aerosol baths.
The water of this spa has anti-inflammatory and regenerative properties, while its muds are a cure for joint ailments.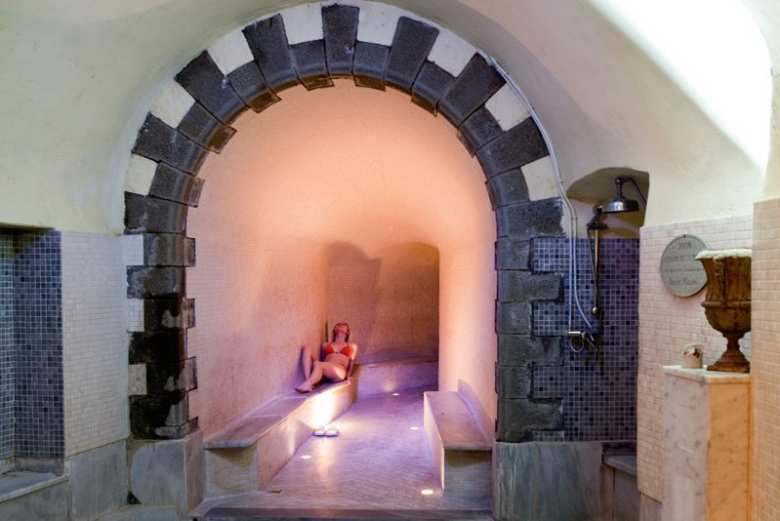 In the mountains of Bagni di Lucca there are waters rich in calcium, bicarbonate and sulphate that are beneficial for rheumatism as well as vascular, skin and gynaecological problems.
These caves are rich in natural vapours and their temperature go from 26 to more than 50 degrees.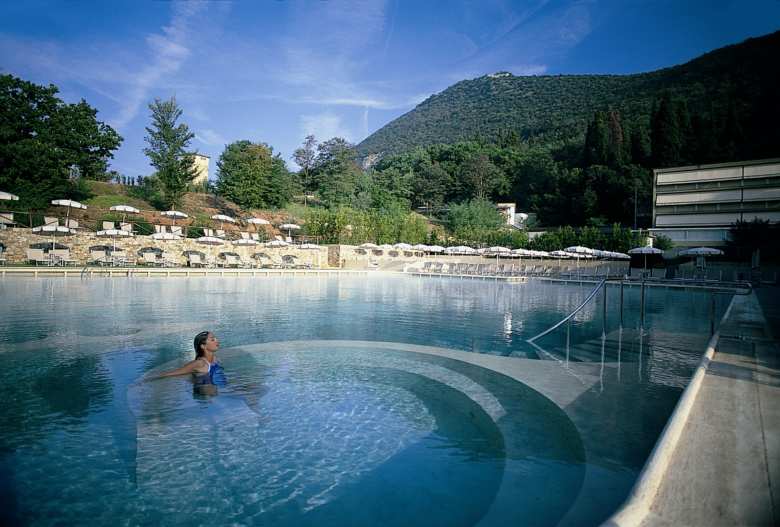 Monsummano Terme has many spa centres because of natural cavities in the surrounding mountains that release steam and hot water endowed with exclusive therapeutic properties.
Its underground labyrinths, adorned by stalactites and stalagmites and spacious caves, recall the Dantesque atmospheres of Hell, Purgatory and Paradise. At the base of the cavity is water that stays at a rough temperature of about 36 degrees.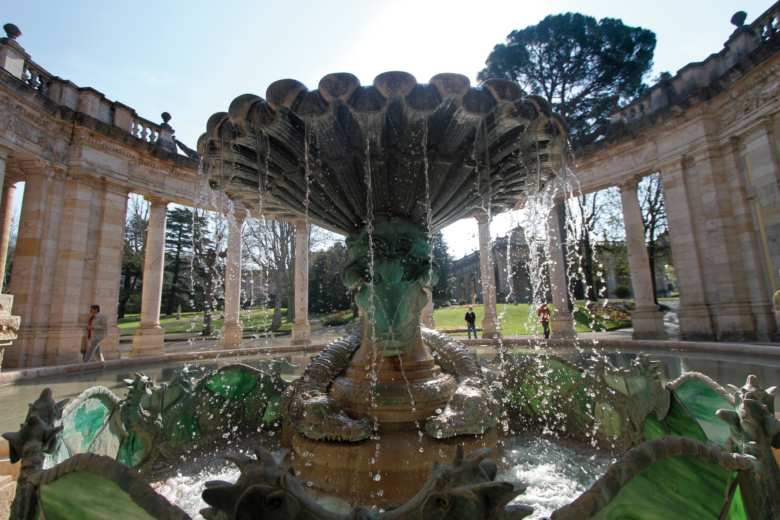 Montecatini Terme is considered to be the leading spa town in Italy, so it has a long tradition in using thermal water, pure and rich with precious elements; they are used in therapies as well as drinking water. Situated in the province of Pistoia, this spa town is well equipped for relaxing holidays in one of the many spas around the town: there are, in fact, nine thermal centres immersed in the extensive thermal parkland.
The first establishments were built during the 15th century (even though the therapeutic properties of the waters in this area were already known about in Roman times), and many of these spas are built in Art Nouveau style. Il Tettuccio – one of the first establishments – is regarded as the symbol of the town.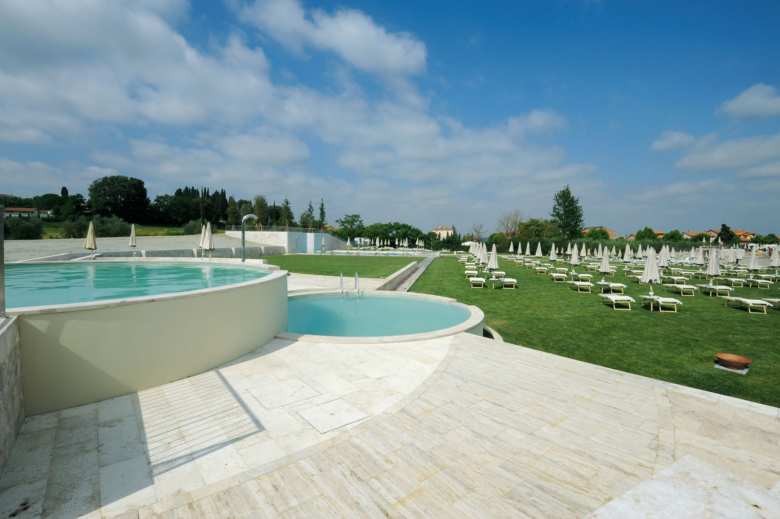 Founded by the Romans, Rapolano Terme boasts two ancient thermal baths, both open year round: Antica Querciolaia and Terme di San Giovanni. The thermal waters of Rapolano Terme were discovered in the late 1700s and are perfect for relaxation and wellness.
The Antica Querciolaia baths offer a long list of top-quality treatments with thermal waters that flow from springs at varying temperatures that range from 39-40°C to 22-25°C, and are characterized by high levels of calcium, magnesium, sodium and potassium.
The five thermal pools of San Giovanni, all of which have different water temperatures, are spread over indoor and outdoor areas, allowing guests to relax and recharge against a backdrop of incredible panoramic views.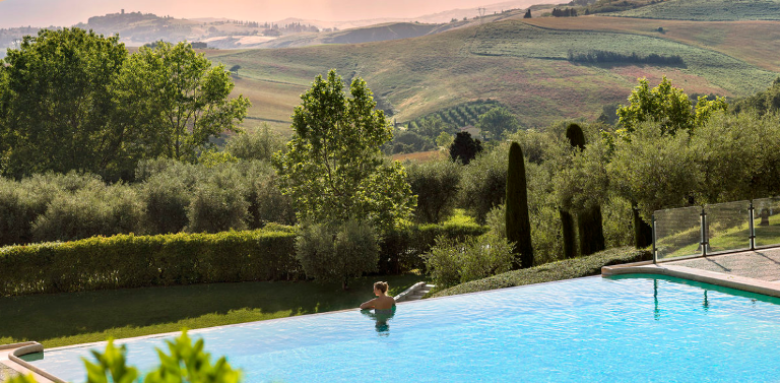 This place has Etruscan-Roman origins and the name itself reflects the very presence of thermal waters. Legend has it that the foundation of the first thermal baths were for Porsenna, the sovereign of Chiusi.
The thermal waters of Fonteverde Baths in San Casciano Terme contain sulphur, calcium and fluoride, and boast anti-inflammatory and analgesic properties. Through inhalation they act on the respiratory system with anti-inflammatory effects. They also have a peeling effect on the skin.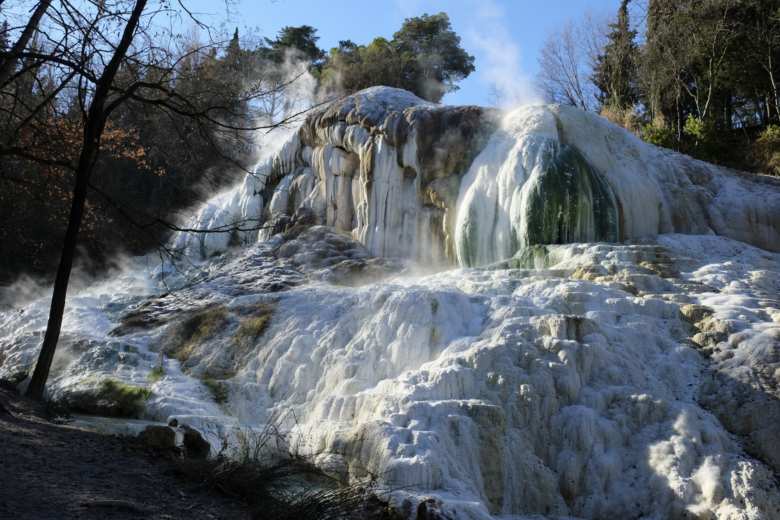 The small village of Bagni San Filippo is situated in the province of Siena, opposite Mount Amiata. Here, natural thermal springs have been documented since the Middle Ages, measuring from 25° to 52°C. The greenery all around is luxuriant and the "Fosso Bianco" (White Moat), a white, calcareous stream is famous for its natural waterfalls and pools, one hot and one cold.
The waters of Terme San Filippo are rich in sulphur, calcium and magnesium and, for this reason, are recommended for inhalations and aerosols for respiratory problems, while the natural muds are used in mud and bath treatments and against skin diseases.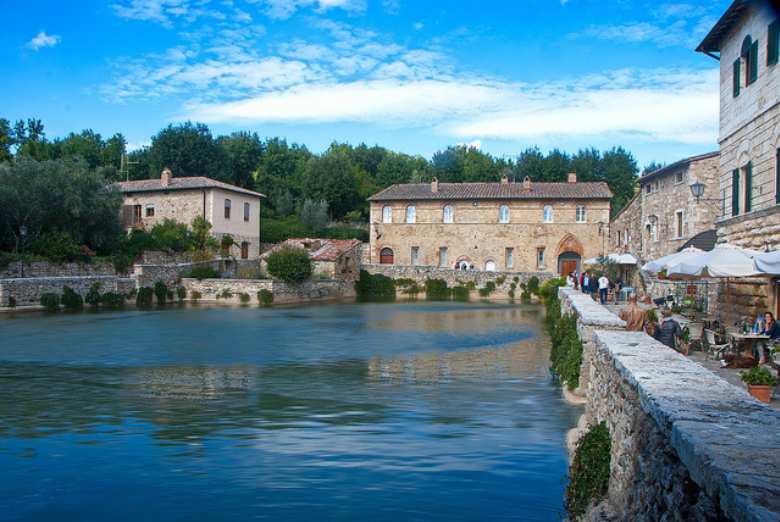 This village in the heart of the Val d'Orcia has long been a resting place for people travelling through the region along the Via Francigena. Bagno Vignoni has a 49-metre-long rectangular pool in the town centre, in piazza delle Sorgenti.
The warm water comes from a deep, underground, volcanic spring and vaunts curative properties first discovered by the Etruscans.
The thermal waters at Bagno Vignoni are known for their special properties and are particularly renowned for their use in treating neuralgic and arthritic conditions, inflammation, rheumatism and respiratory and gynaecological problems.
Overlooking splendid Val d'Orcia and the Rocca di Tentennano, with its large thermal pool, the Hotel Posta Marcucci offers its guests well-being in Bagno Vignoni's thermal waters. You can also visit Hotel Adler Thermal Baths in Bagno Vignoni.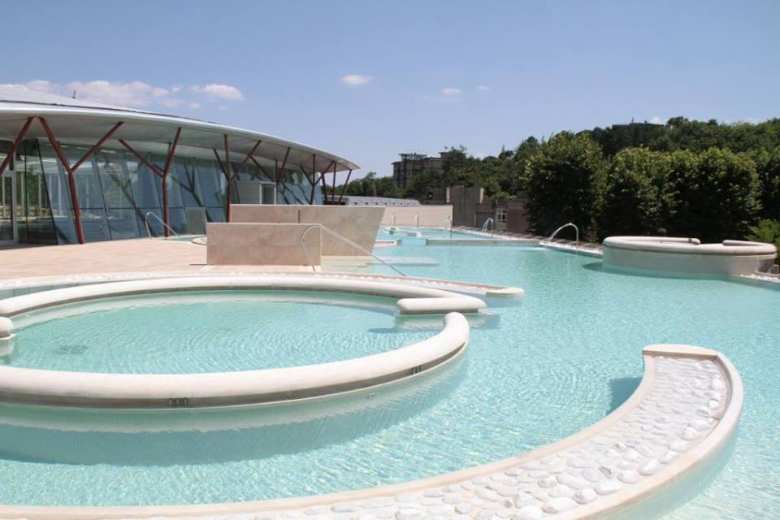 It is situated 50 km southeast of Siena, located between the Valdichiana and the Val d'Orcia. During Roman times curative powers of Chianciano's water became well known and villas were built in the area near the thermal baths.
Today Chianciano Terme, thanks to its therapeutic water that is reputed to cleanse the liver, is considered among the finest health resorts in Italy, equipped to host more than 12,000 visitors on a given day.
But there's another thermal spa nearby: clinically proven and scientifically tested, water taken from Sant'Elena Spring is particularly recommended to cure illnesses effecting the kidneys and urinary tract, in addition to gastro-intestinal problems.
According to regional health protocols advance booking might be necessary to access some wellness centres, while others could be temporarily closed. We suggest that you contact the thermal spa before planning your trip.
You might also be interested in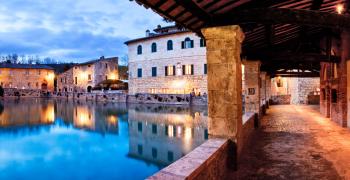 spa
Learn more
Spa and Wellness
If you could close your eyes and push away the overwork, the traffic, the pollution, the stress… it would be a desire for many, especially now that
continue...