spaRelax and wellness
The Grotta Giusti thermal springs in Monsummano
A millennia-old grotto, perhaps the eighth wonder of the world
Set in the hills of the Valdinievole, Monsummano Terme is home to a true natural paradise known as the Grotta Giusti.
Defined by the Maestro Giuseppe Verdi as the "eighth wonder of the world," the millenary grotto runs for more than 200 meters in the subsoil, creating underground labyrinths, adorned by stalactites and stalagmites and spacious caves that recall the Dantesque atmospheres of Hell, Purgatory and Paradise. At the base of the cavity is water that stays at a rough temperature of about 36 degrees Celsius, which emits a health-enhancing, therapeutic steam, immersing guests in a detoxifying "sauna" of sorts. Here the temperatures only have very slight seasonal variations, moving between 28 and 34 degrees Celsius.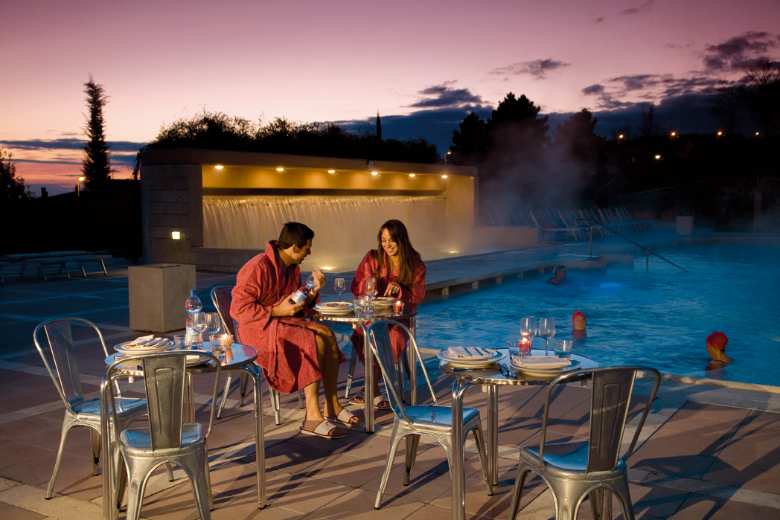 Those passionate about scuba diving can enjoy immersive experiences in thermal grottoes, under the guidance of expert instructors.
The Grotto is within the park of the 19th century villa of the poet Giuseppe Giusti's family. Today, it is a Resort and wellness center with an open-air pool, with thermal waters at 35 degrees Celsius, and equipped with high-level technological settings. It also has a 750 square meter body of water, a scenic waterfall and 40 hydro-massage stations.
Grotta Giusti's wellness centre offers an abundant selection of spa and aesthetic treatments, keeping you in tip-top psycho-physical shape. Inside, a dedicated Eastern area holds access to ancient disciplines and energetic techniques to help you get your inner balance back.
Grotta Giusti is a unique, regenerating experience for both body and mind, in the natural setting of the Pistoia province's green hills, and just a short distance from the major art destinations of Tuscany.
Info: grottagiustispa.com
Monsummano Terme
Where relaxation, history and culture meet in the Valdinievole
Monsummano is known for its precious thermal springs, where hot water surges from the ground, relaxing and benefiting the health of those who bathe in it. What distinguishes this place from other leisure spots is the Giusti grotto: a subterranean gallery nestled in a centuries-old park, so marvellous that Giuseppe Verdi referred to it as the eighth wonder of the world. ...
Morekeyboard_backspace