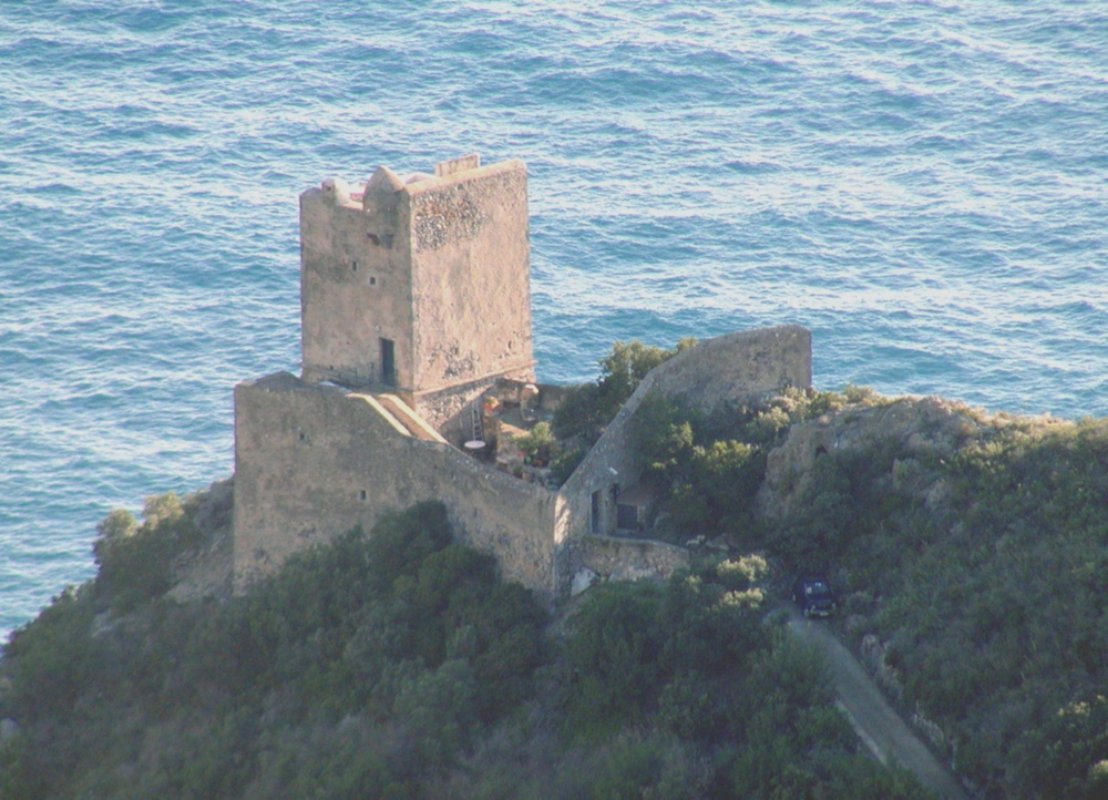 Discovering the fortresses of Monte Argentario
Historic forts and dreamlike bays
Monte Argentario is a wild, uncontaminated promontory used in past centuries as a fortress. Even today, it still has traces of its military past. Part of the cultural patrimony of the noble Aldobrandeschi family, later dominated by the Siena republic, it was fortified by the Spanish between the XV and XVI centuries.

The Spanish Fortress in Porto S. Stefano is an enormous tower, measuring 35 x 35 square metres, on two levels. It was built during the second half of 16th century to fortify and defend the area. It has two terraces, one of which opens out over the sea.
 

Not far away stands the Lividonia Tower, which dominated the northwest coast of the promontory. Toward the west side of the Argentario promontory, different towers crop up, each overlooking a cove, a possible landing point for enemy ships. Examples are the Tower of Cala Moresca, guarding a gypsum cove; the Tower of Cala Piatti which overlooks the sea; and the Tower of Capo d'uomo, which is partially destroyed, like the nearby Tower of Maddalena.

The Cannelle Tower is very well maintained, and faces the beach of the same name, just like the Ciana Tower, which was built by Sienese government and later modified by the Spanish to facilitate better communications with the various outposts of Porto Ercole. Moving toward Porto Ercole you'll find the Avvoltore Tower and Fort Stella, the most famous fort on Monte Argentario for its unmistakable star shape, situated at the foot of Monte Telegrafo and once dominating the Cala dei Santi. 

The "Rocca" Fortress, is the largest military construction of Argentario. It has an irregular shape to fit perfectly the hill of which it was founded. Its total area reaches 26,000 square metres, of which about 14,500 are part of the stately fencing-walls. Nearby you'll find the Santa Caterina Fortress at the bottom of the hill of Monte Filippo, at the very jut leaning to the sea. It was also used as a hospital and it's said that Caravaggio was taken here to recover when he was found dying on the Cala Galera beach. Like other fortresses, also Santa Caterina is empowered by a fencing-wall of notable thickness and by a draw-bridge. It is in a very good repair.

The most important of the fortresses is the Forte Filippo. It is rectangular in shape with four unequal, asymmetrical triangular bastions, with a wide moat around, located atop Monte Filippo between the Gulf of Porto Ercole and Cala Galera. The only watchtower that is not located directly on the coast is the Argentiera tower, built by the Sienese in the fifteenth century between the valleys of Pozzarello, the Forconata, Chestnut and Campone.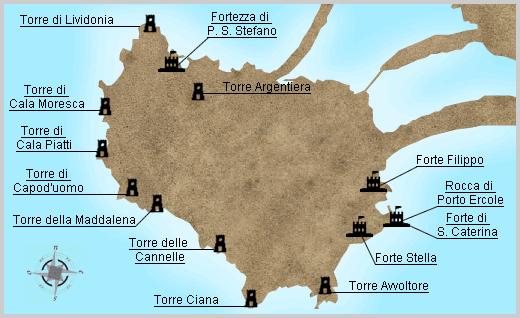 You might also be interested in
Argentario
A promontory overlooking the Tyrrhenian Sea stretches up to Giannutri and Giglio Islands. A peninsula only tied to Tuscany by two strips of land representing the richness and beauty of Orbetello Lagoon. ...
Scopri Argentariokeyboard_backspace