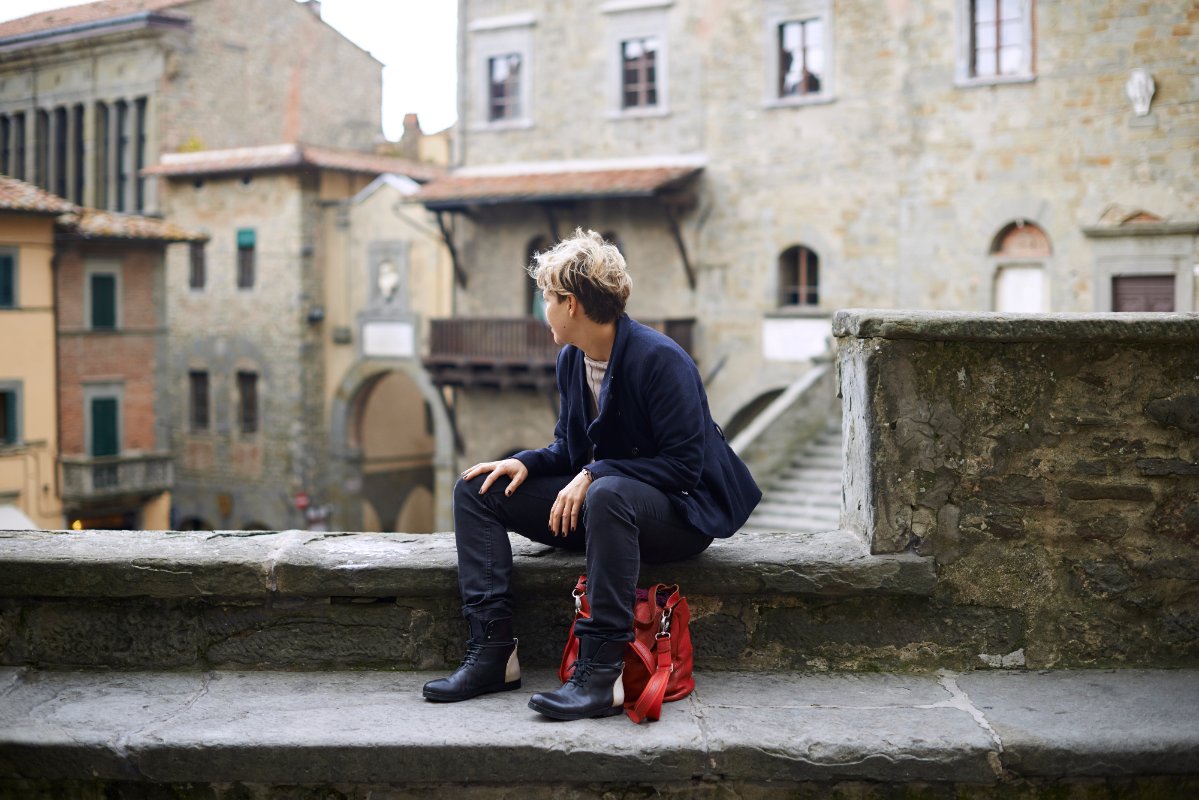 Discover Florence through its crafts and craftsmen - Part One
a guest-post by Fondazione Firenze Artigianato Artistico (Part Two? Here! Part Three? Here!)
Yes, you've made it to
Florence
! You've made a long list of all the things you want to see. Monuments. Squares. Churches. Good! But what we offer here is
a different way to get to know the city
, to savour it. Here we suggest that you add the
people
to your list of
things
to see.
Flesh-and-blood Florentines
, people who speak the local language and whose knowledge of the city flows through their veins. More than that,
these people represent Florence at its truest, they are the ones who have brought it alive and made what it is today
: a city where you can literally feel beauty, art, and ... the
handmade
, in every corner. For real. So here is
an itinerary of some of Florence's workshops
. It is divided into three stages, with the first one (this one) starting at
Il Vecchio Conventino
, in via Giano della Bella, 20/1 (Porta Romana area), where
Florence's foundation for arts and crafts
is based, as well as
more than 20 different workshops
, where artisans work every day using traditional techniques of Florentine art and crafts.
Il Vecchio Conventino is a unique place and an original experience
, bringing together so many artisans in one place. On the second Sunday of each month, with the event/market
"Lungoungiorno + Fierucola"
, and every Saturday with
workshops
for children and families, the place is filled with plenty of curious visitors. It's not easy to choose from the many shops present, but we did it! Here are
some tips
for shops to visit via
guided tours
, places that also offer the possibility to
book practical demonstrations
, enabling you to get "hands-on", or just listen to the noise of the gears grinding and the stories told.
Valter Seroni - wrought iron
A master of hand-forged wrought iron,
Valter Seroni is one of the last craftsmen of this ancient profession
. His workshop is one of the few remaining authentic ones in Tuscany, home to the art of wrought iron, renowned for its long tradition. In the workshop, founded by his father in 1960, you breathe in the unmistakable
smell of iron
and see the
traditional tools
of the trade: the chisel, forge, anvil and the welding machine. Valter Seroni and his son Sacha produce anything, especially to do with lights. While today's artisans only use printed iron, Valter and Sacha still cut it by hand, custom-made as in the past. After having forged the wrought iron, always by hand, it is then bent and welded, giving it the desired shape. Valter's most important commissions include the four lanterns that can still be seen today in Via Tornabuoni, in Florence's old city centre. He also exports his art worldwide, selling a lot abroad, mainly in Canada, Germany and United States.
Giancarlo Mescoli - wood turner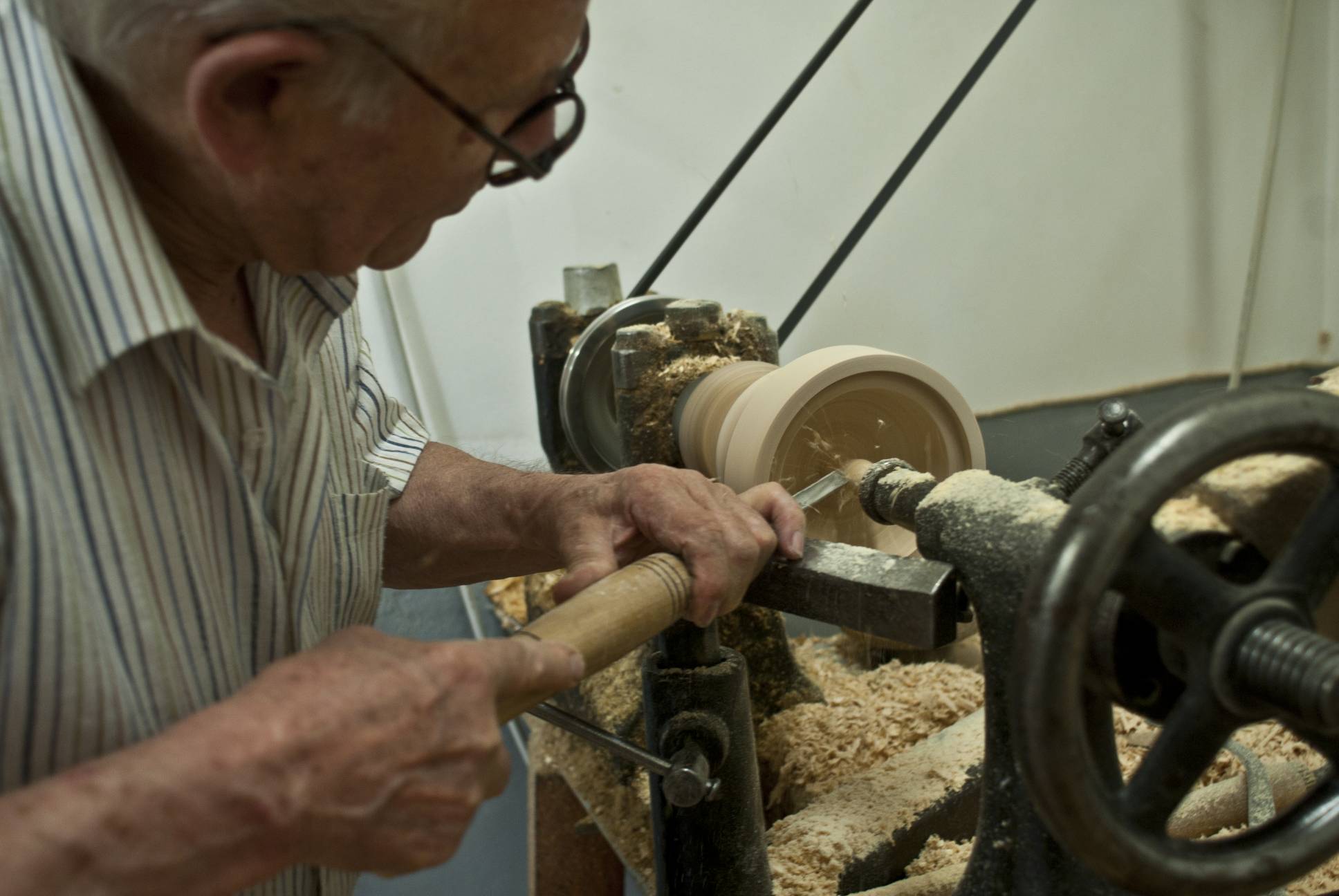 Giancarlo Mescoli, born in 1934, has been carrying out his trade
for more than half a century
, continuing the craft passed down from generation to generation. In fact, the war had just ended when he began to help his father in the shop at Il Vecchio Conventino and devote his time to the art of the lathe. Today, upon entering his historic shop, you can see him intent on handling the timber with the same craftsmanship and dedication, surrounded by stacks of chips and gouges of various sizes. From his hands,
shapes of all kinds
are formed, from candlesticks to doorknobs, from boxes to tops for children, or legs and bases for tables and chairs. His years of
experience and expertise
make his products unique pieces of the finest quality, finished to measure.
Mireille Valentin - Florentine mosaic
Born in Belgium in 1966, Mireille Valentin trained in Florence, graduating in history of art from the Academy of Fine Arts and the Opificio delle Pietre Dure, where she learned
the art of mosaic
. She works with passion, adhering to the traditional Florentine mosaic technique in semi-precious stones, which dates to the end of Medicean Florence, in the late sixteenth century, the moment that Mireille considers "the highest for craftsmanship and refinement". She always researches materials and workmanship, both
for restoration or for the creation of new artefacts
. She chooses the stones and marble, selecting them carefully and making the most of the infinite variety of shades they offer, mainly using jasper, chalcedony, lapis lazuli and malachite. She uses the
traditional techniques
including bow openwork, staining and polishing to create beautiful miniatures, which turn into jewellery, paintings and tabletops.
Tommaso De Carlo - decorator
Passionate about decorating since he was a young man, Tommaso De Carlo began to work in the shop while attending Florence Art Institute. From his day-to-day work, he learnt engraving and carving techniques as well as how to draw design objects. He later added interior decoration experience in polychromy and gilding to his portfolio. Inspired first of all by the iconographic repertoire of the Renaissance and by nature,
he creates personal artefacts and decorative lines, constantly experimenting with new forms and languages
. His focus on sustainability is reflected in the exclusive use of natural materials, as well as in the aesthetic recovery of pre-existing materials and paintings that he adapts into new forms. The same principle is applied to the furniture, which he often brings to new life, through renovation or makeover.
Laudato - typical Florentine leather sandals
Four brothers and a passion
: to dress the world's feet in traditional Florentine-style leather sandals and clogs. Giuliano, Gianni, Cristina and Maria Laudato, with their cousin Gianni, inherited
the legacy of their father and grandfather
, who opened a shop in Via Santa Monaca (Piazza del Carmine area) in the 60s, where their wares are still sold today. The Laudato family use
natural plant leather tanned exclusively in Tuscany
. All the shoes are made using traditional craftsmanship:
every single part is made by hand
, from the heel to the sole and the uppers. Everything is produced in-house and even the models are drawn by hands that have unparalleled wisdom and experience. Assembly and finishing is also done by hand: each one of them works on a pair of sandals, one of the few dozen that are produced each day in their workshop at Il Vecchio Conventino. Over the years, their reputation and craftsmanship has been consolidated and has conquered markets around the world.
Lorenzo Galgani - glass
"The elegance and familiar taste, the softness and transparency that open a window onto the past ensure that every model becomes an object that has always been in your home."
Lorenzo began his career alongside his father Marcello, who at age 14 had already discovered his passion for glassmaking. Stimulated by the aesthetic sense of the past,
they restore and invent bevelled and hand-engraved glassware and crystal
, emblems of elegance and expressiveness. Researched in depth, the shapes are blown by the mouths of traditional Tuscan blowers. Grinding and engraving are done strictly by hand using carborundum wheels to rough, grinding stones to finish and engrave, cork wheels wet with pumice to polish and wet felt wheels with cerium oxide to return the true brilliance. [Photo Credits: Fondazione Firenze Artigianato Artistico] [googlemap address="via giano della bella 20 florence" maptype="ROADMAP" zoom="10" width="425" height="350" marker="true" scrollwheel="true" longitude="" latitude=""][/googlemap]
You might also be interested in