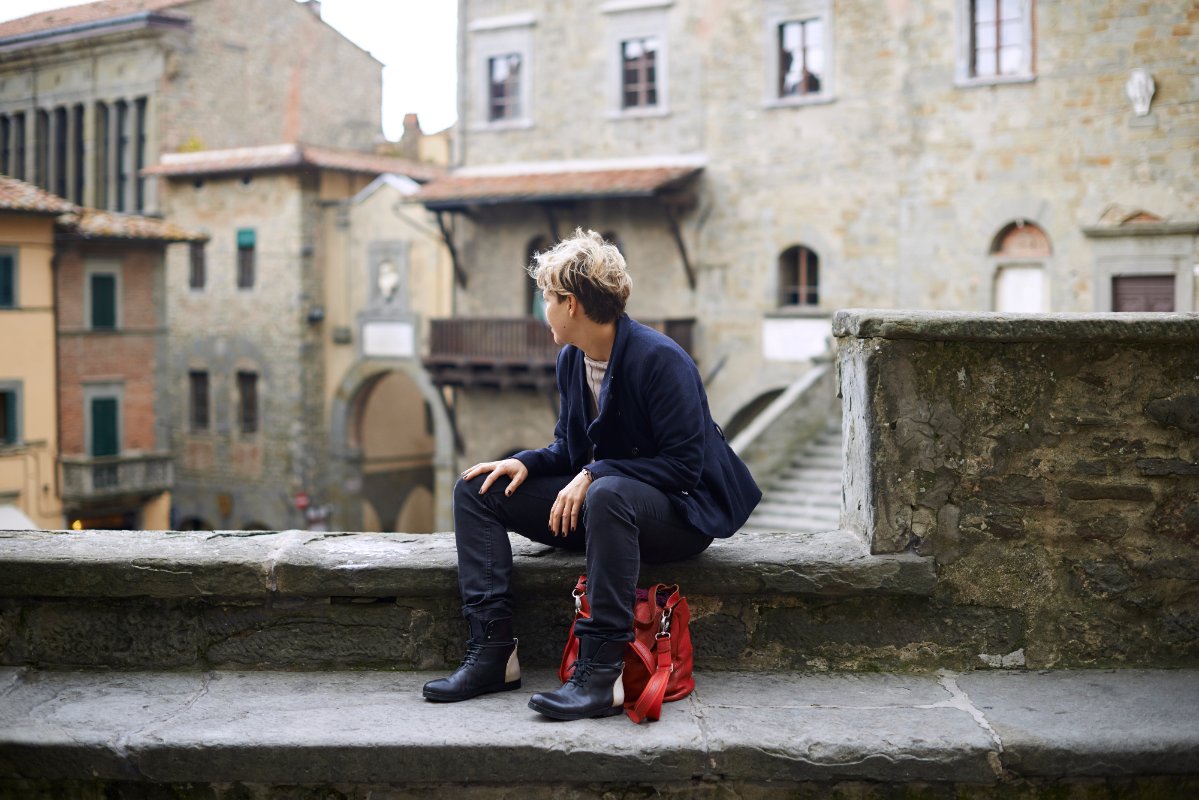 Clet's Studio in San Niccolò - Florence
Last Thursday we went to visit
Anacleto Clet Abraham
better known as
CLET
.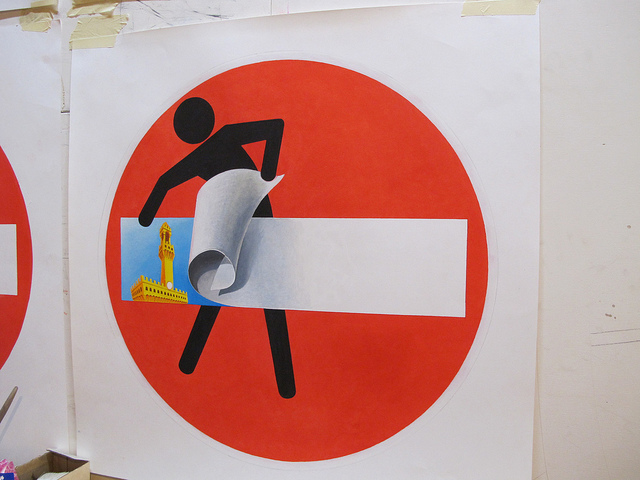 His studio is located in one of the most suggestive neighborhoods in Florence: San Niccolò (Via dell'Olmo, 8/red, Florence.). Cross the Arno River on the San Niccolò Bridge and in the Corner in front of
San Niccolò's Church
, you will see a glass door with a silver sign saying "Clet". This is actually the road that takes you to
Piazzale Michelangelo
, Florence's best sightseeing spot, and his studio is located at the feet of the the stairs that take you there.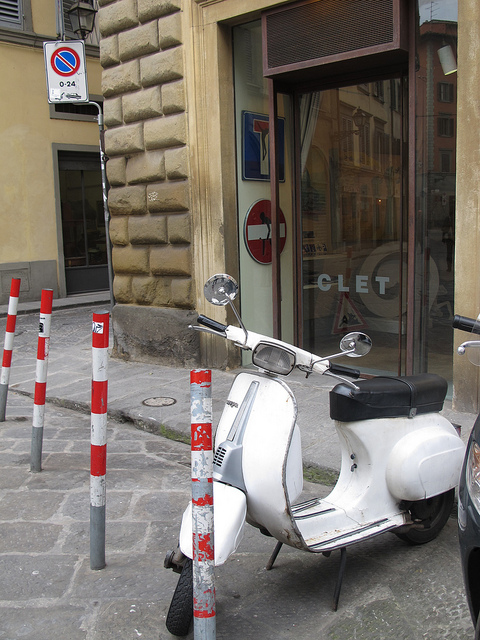 Who is Clet?
Clet is a
French artist from the Bretagne region
, that lives in Florence from a few years. When we asked Clet why he decided to open a studio and live in Florence, he said
"well I'm afraid there's not a magic or romantic reason, I have a son in Arezzo and part of my family lives in Tuscany. Florence was the perfect place to stay close to my family and also to be part of an important city from the artistic and cultural point of view".
Clet moved to Italy almost 20 years ago, he told us
he started his career as a restorer in a antique forniture shop in Rome
, life brought him to move around Italy. He spent part of his life in Arezzo and recently moved to Florence. He said
"one of the main resons why I live here is because I found this beautiful studio in San Niccolò"
from Clet's words and from how the neightbourhood's inhabitants reacted to his "
Uomo Comune
" statue (see below), we can say
he is really loved and apreciated
by San Niccolò and its people.
The interview
During our interview in Clet's studio a lot of people, students, art lovers or just curious tourists
stopped by and came in to meet the artist
, have a look around or buy an original souvernir, like a sticker or a magnet of
Clet's popular street signs
! Clet bengan his "street art" activity before this past summer,
he organized a group night assalt to the main street signs located in Florence
and, during night, Clet and his team inserted the famous stickers in some strategic points of the city. Some days after Florentine citizens started wondering what happened and to whom these stylized little men on the streed signs belonged to. The same action was repeated in Milan and Rome and, slowly the name of this ecletic artist begun to grow from the bottom and spread in a viral way, also thanks to the use of Social Media: Clet also has a
Fan Page on Facebook
where his fans talk to him and show their support.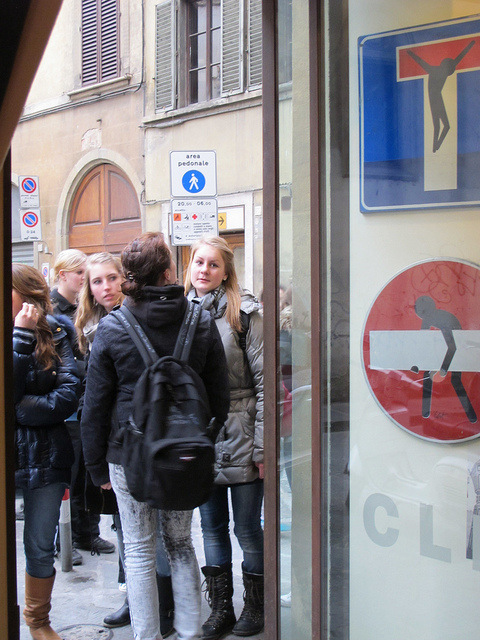 "The Common Man" statue at Ponte alle Grazie
We also talked about Clet's recent new action and 
"The Common Man"
. A lot of people and famous critics carried out the idea that the stumbleing statue of a man placed on the edge of Ponte alle Grazie represents the condition of uncertainty of modern man, fighting every day for a proper and secure job and life. We asked Clet what was his real intention in "
The Common Man" was and he said "the common man represents the exact moment all of us of us face before making a decision, the street that goes in two directions and that can change our life symbolize the two paths we can choose from".
The statue stayed a couple of week in the selected location
, after a few days the local police came to take it away as it was placed without permission, more like a guerrilla action. Clet said he expected the police to come and he wasn't surprised at all. What really surprised him was the reaction of the San Niccolò's neightborhood.
Locals really appreciated the statue
and felt it had to be part of the Bridge, that's why they started a petition on line to bring it back in place where it was originally placed by Clet:
Ponte Alle Grazie
!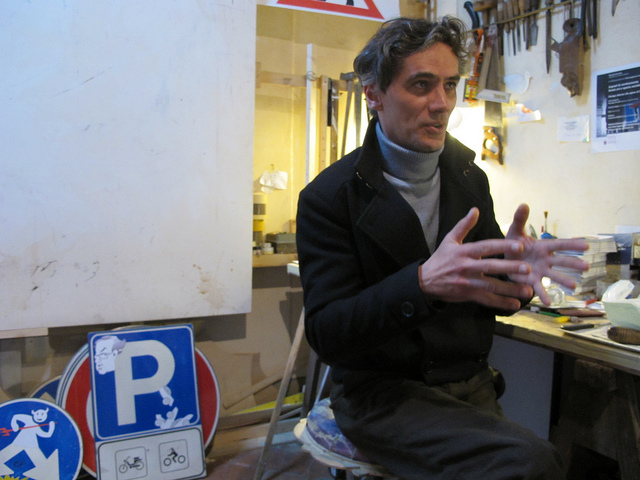 Clet explained us his philosophy,
he doesn't want to ruin
, destroy or be to invadent with his art,
he is really respectful
: all his stickers are easy to take away and the statue was carefully placed in a clever way so that the Bridge's edges didn't get damaged. He said this is fundamental in order to peacefully work and contribute to the "street art" of a cultural and historical city like Florence. It was great to meet him, and I think
it's so cool that Florence hosts such a clever, respectfull and creative artist
. Clet is really nice and welcoming, I would suggest all of you to stop by at his studio, have a chat with him and maybe get an original sticker to take back home and rembember about Florence from an artistic and creative point of view! :) To see all the photos we took during our visit check out
Tuscany Arts Flick Channel
. If you want to know more about him you can also check
TuscanyArts' article
!
You might also be interested in