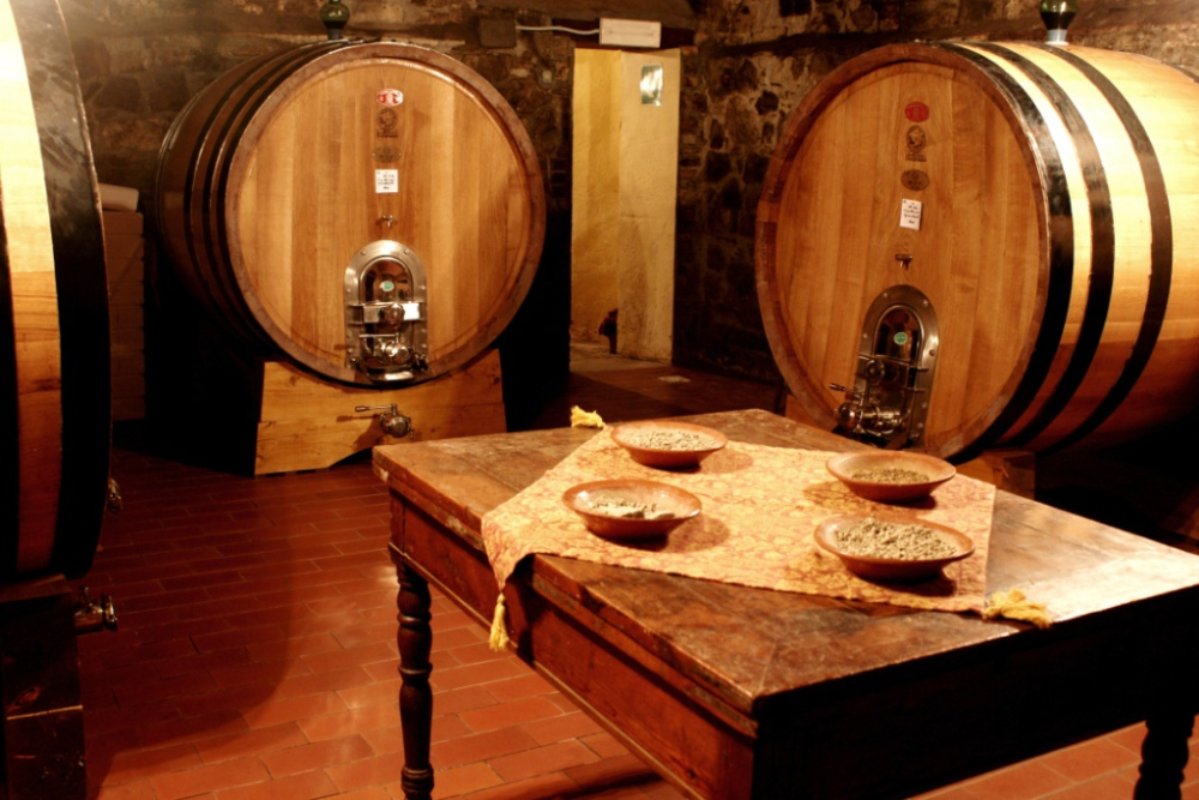 Exploring the Brunello legacy
An itinerary to taste the best wine in the world
There's no other place in Tuscany to find such world-class and internationally renowned wine than right here - in Siena. Indeed, the area stretching from thecity of the
Palio
to
Montalcino
is rich in acclaimed vineyards that make Brunello di Montalcino and much more. This itinerary starts in Siena and crosses through Castelnuovo Berardenga, Trequanda and Castelnuovo dell'Abate to reach Montalcino,home of the Brunello.
Siena
Unesco World Heritage Siet, Siena is a perfect example of the ideal medieval city. Located between the rivers of the Arbia and Elsa, on a hilltop that is surrounded by the vineyards and olive groves of the Chianti, Siena continues to host its medieval horse race twice a year in the famed Piazza del Campo. This is where the seat of government s located, Palazzo Pubblico, which was built by the Sienese from 1298 to 1310. Don't miss a visit to the Seina Duomo, the Cathedral of Santa Maria Assunta, and the Baptistry. In the National Pinacoteca, in Palazzo Buonsignori, you can view several works that were made in Siena from the 1300 to the 1800s.
Cellars to visit:
Fattoria Il Poderaccio
Strada del Castagno 1, 53100 Siena - Tel: 0577 593292 - 335 399634 Fax: 0577 593292
Web:
www.poderaccio.it
Email:
poderaccio@iol.it
Il Casato Viaggi
Via Il Casato di Sotto 12, 53100 Siena - Tel: 0577 46091 Fax: 0577 279863
Email:
info@sienaholiday.com
Castelnuovo Berardenga
Nestled in the green hills of the Chianti and the incredible Siena Crete, the view form Castelnuovo is quite remarkable. A medieval hamlet, the town and environs boasts many churches (Quercegrossa, Cagnano, Guistrigona di Cerreto, Sant'Ansano), monasteries (Certosa di Pontignano), and, surprisingly, several castles (Montalto, Aiola, Selvole, Pievasciata, Cerreto, Sesta, Cetamura, Orgiale, Valcortese).
Cellars to visit:
Agricola San Felice
Loc. San Felice 53019 - Castelnuovo Berardenga - Tel: 0577 3991 Fax: 0577 359223
Web:
www.agricolasanfelice.it
Email:
info@agricolasanfelice.it

Dievole
Loc. Dievole 53019 - Castelnuovo Berardenga - Tel: 0577 322632 Fax: 0577 321018
Web:
www.dievole.it
Email:
info@dievole.it
Fattoria dell'Aiola
Loc. Vagliagli 53010 - Castelnuovo Berardenga - Tel: 0577 322615 Fax: 0577 322509
Web:
www.aiola.net
Email:
info@aiola.net
Poggio Bonelli
Loc. Poggio Bonelli 53019 - Castelnuovo Berardenga - Tel: 0577 355382 Fax: 0577 355383
Web:
www.poggiobonelli.it
Email:
pogbon@tin.it
Trequanda
Located in the heart of the Val di Chiana, Trequanda is nestled on a hilltop. It is a medieval hamlet characterized by narrow streets and alleyways, small piazzas, and artisan workshops.
Cellars to visit:
Az. Agr. Trequanda
Loc. Pian delle Fonti 100 - 53020 Trequanda - Tel: 0577 662001 Fax: 0577 662295
Web: www.fondopensionicariplo.i/trequanda
Email:
azienda.trequanda@virgilio.it
Visits Mon to Fri, by appointment only.
Fattoria del Colle
Loc. Il Colle 53020 Trequanda - Tel: 0577 662108 Fax: 0577 662202
Web:
www.cinellicolombini.it
Email:
info@cinellicolombini.it
Visits occur every day, by appointment only.
Montalcino
Located on an enchanting hilltop a 564 metres, Montalcino has conserved its medieval and ancient atmosphere. The surrounding territory, which is part of the Artistic, Natural and Cultural Park of the Val d'Orcia, is covered with vineyards, olive groves and thick woods. Montalcino's historic centre is small and well-conserved, with narrow streets housing ancient workshops and charming food and wine shops. The town is covered with terracotta and stone coats of arms but also of special Brunello-inspired ceramic tiles. A must see is the former Sant'Agostino convent, where the civic and dioceses museum is located, which holds many masterworks. Another must is a trip to the Rocca, a bastion built by the Sienese against invasions from the troops of Emperor Karl V. Today, it houses an enoteca where you can taste almost al vintages of Brunello.
Cellars to visit:
Abbadia Ardenga Il Poggio
Via Romana, 139 - 53045 Montalcino - Tel. 0577 843150 Fax 0577 843450
Web:
www.abbadiardengapoggio.it
Email:
info@abbadiardengapoggio.it
Altesino
Loc. Altesino, 54 – 53024 Montalcino - Tel. 0577 806208 Fax 0577 806031
Web:
www.altesino.it
Email:
info@altesino.it
Az. Vitivinicola Piombaia – Rossi Cantini
Loc. Piombaia – 53024 Montalcino - Tel. 0577 847197 Fax 0577 846540
Web:
www.piombaia.com
Email:
piombaia@piombaia.com
Banfi
Castello di Poggio alle Mura – 53024 Montalcino - Tel. 0577 840111 Fax 0577 840444
Web:
www.castellobanfi.com
Email:
info@castellobanfi.com
Caparzo srl
Str. Prov. del Brunello Km 1,700 – Loca. Caparzo 53024 Montalcino - Tel. 0577 848390 Fax 0577 849377
Web:
www.caparzo.com
Email:
caparzo@caparzo.com
Casato Prime Donne
Loc. Casato – 53024 Montalcino - Tel. 0577 849421 Fax 0577 849353
Web:
www.cinellicolombini.it
Email:
info@cinellicolombini.it
Fattoria dei Barbi
Loc. Pordenovi, 170 – 53024 Montalcino - Tel. 0577 841111 Fax 0577 841112
Web:
www.fattoriadeibarbi.it
Email:
info@fattoriadeibarbi.it
La Velona Azienda Agricola
Podere Pietranera, 30 - 53024 Montalcino - Tel. 0577 835508 Fax 0577 835525
Web:
www.lavelona.com
Email:
service@lavelona.com
Tenuta Il Poggione
Loc. Sant'Angelo in Colle – 53024 Montalcino - Tel. 0577 844029 Fax 0577 844165
Web:
www.tenutailpoggione.it
Email:
info@ilpoggione.it
Tenuta Vitanza
Podere Belvedere, SP 71 di Cosona Km 2,050 – Loc. Torrenieri 53024 Montalcino - Tel. 0577 832882 Fax 0577 832962
Web:
www.tenutavitanza.it
Email:
info@tenutavitanza.it
Tenute Silvio Nardi
Loc. Casale del Bosco – 53024 Montalcino - Tel. 0577 808269 Fax 0577 808614
Web:
www.tenutenardi.com
Email:
info@tenutanardi.com
You might also be interested in