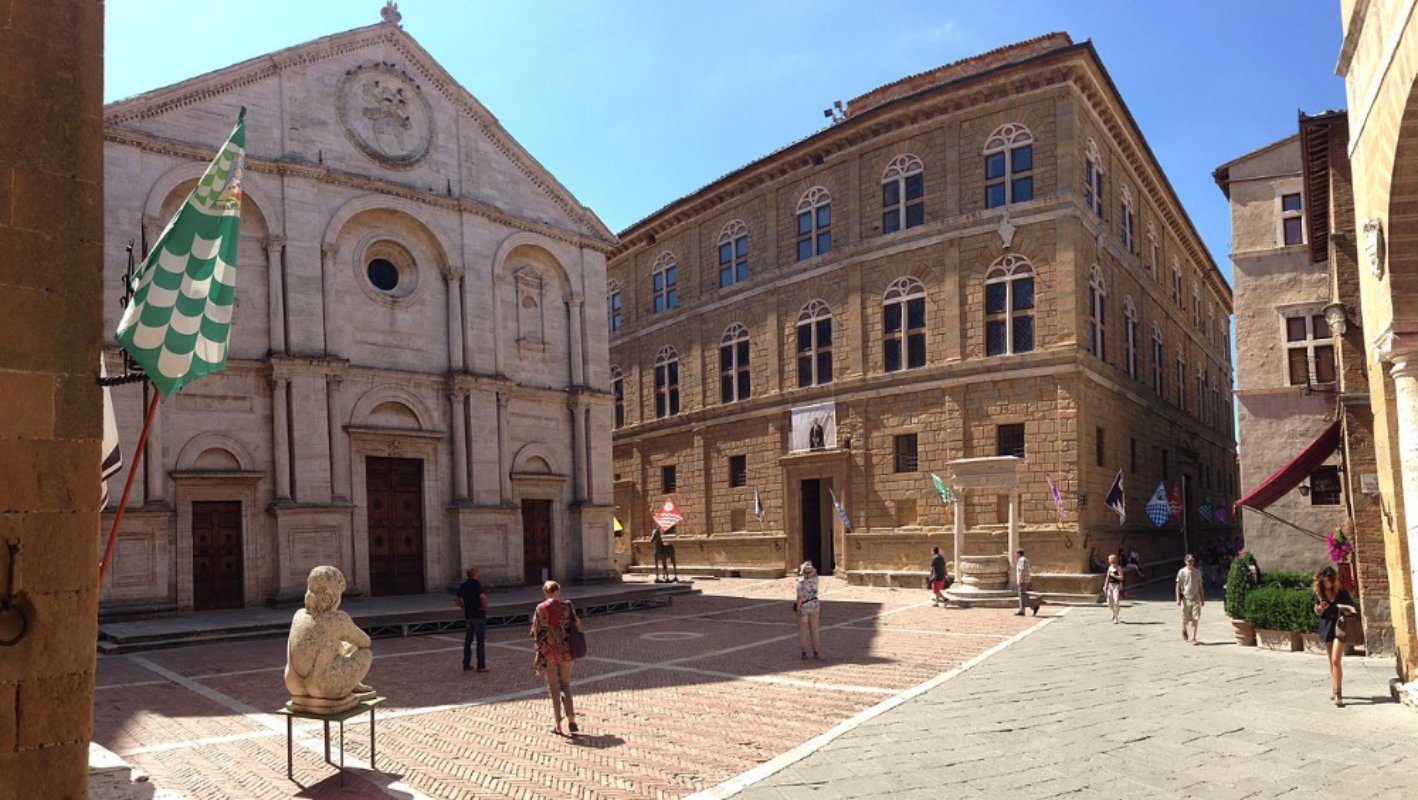 Hamlets, districts and squares
Piazza Pio II in Pienza
A noteworthy square in the heart of Pienza
The piazza is dedicated to one of the most important Renaissance figures from the city of Piena, Enea Silvio Piccolomini, who became Pope Pius II. In 1462, he commissioned architect Bernardo Rossellino to transform the medieval hamlet, the hometown of Corsignano. Thus, the piazza gained its characteristic trapezoidal shape and fish-spine brick floor. Today it's considered one of the finest examples of urban Renaissance ideals. The square's surrounding architecture was created by Bernardo Rossellino between 1459 and 1462.

The Cathedral of the Assunta was built on top of the ancient country Church of Santa Maria. Its structure recalls gothic Franciscan churches and the stained glass windows in the apse are particularly luminous. These recall 'the Hallenkirchen', which probably influenced the taste of Pope Pius II during his numerous trips to German territories. On the façade's gables, you'll find the Piccolomini coat of arms, surrounded by fruit garlands. The bell tower was restructured in 1570 following a violent earthquake in 1545. The three-nave interior is linked to the Gothic style. The church boasts interesting paintings like the 'Assumption' by Il Vecchietta.

Next to the cathedral, you'll find Palazzo Piccolomini, inspired by Florence's Palazzo Rucellai. Its first floor hosts the Artistic Museum. On the left, there's Palazzo Borgia, which Pope Pius gave to Cardinal Rodrigo Borgia, the future Pope Alexander VI. Today, it is home to the Diocese Museum. In the piazza, you'll also enjoy viewing the Municipal Palace, which currently hosts the city's administrative offices. Inside the building, characterized by its low clock-tower, you'll find its Council Room, graced with a fifteenth century fresco by the Sienese school. It depicts the Virgin Mary and the Christ Child with Pienza's Patrons: Saint Vito, Saint Modesto and Saint Matthew.
Pienza
An ideal city, founded on a uniform idea of beauty
Pienza is the most well-known center of the Val d'Orcia and is famous as being the home town of Pope Pius II, born Enea Silvio Piccolomini in 1405. Pius II, once elected Pope, transformed his home town, Corsignano, into an urban-architectural jewel, in this way contrasting it with the city that had marginalized his family: Siena. ...
Morekeyboard_backspace
You might also be interested in