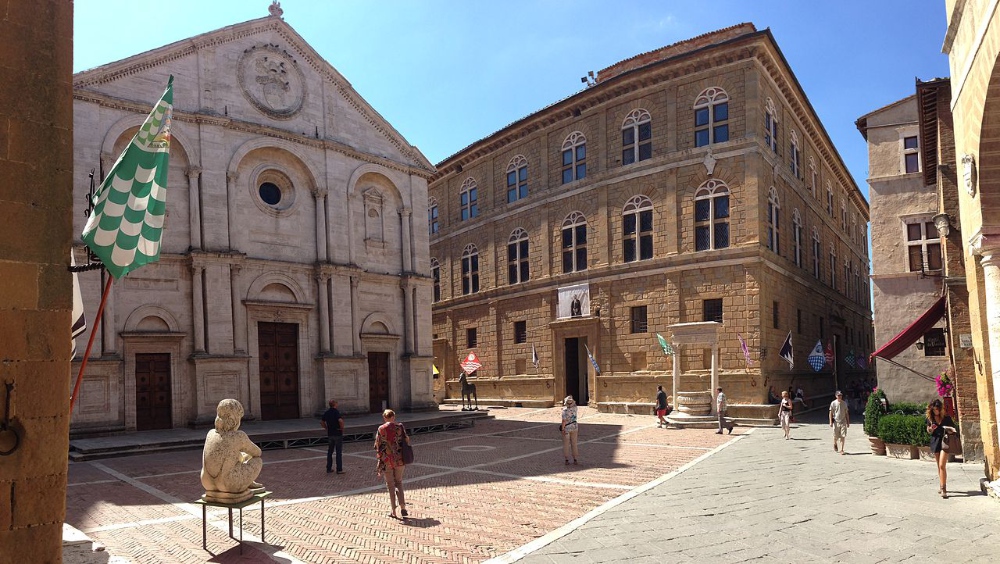 Hamlets, districts and squares
Piazza Pio II in Pienza
In the heart of the UNESCO World Heritage Site town
Pienza's Piazza Pio II is dedicated to one of most important figures to have shaped the history of this corner of Val d'Orcia: Enea Silvio Piccolomini, later Pope Pius II, who in 1462 hired the architect Bernardo Rossellino to transform his birthplace, the little medieval village of Corsignano, into a city. A new form was thus given to this piazza, which acquired a trapezoid shape, with angular brick paving: today it is considered one of the purest realisations of the urban ideal of the Renaissance.
All of the architecture that surrounds the piazza was designed by Bernardo Rossellino between 1459 and 1462, such as the Cathedral of the Assumption, which stands on the site of the old parish church of Santa Maria, with a facade in Travertine marble and a roof with two slopes that recall the Gothic Franciscan style. The cathedral is home to many precious paintings, including the Assumption by Vecchietta and the Madonna and Child Enthroned with Saints by Matteo di Giovanni. The Piccolomini crest is carved into the gable of the facade, encircled by a garland of fruit.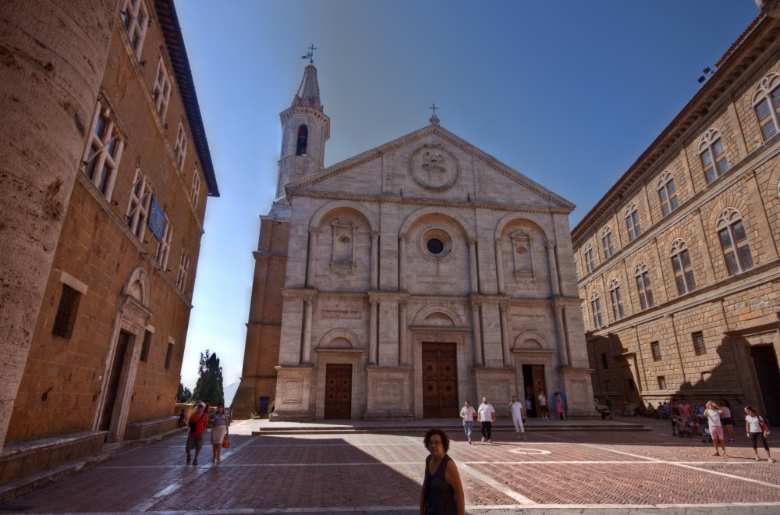 On the left we find Palazzo Borgia, which Pius donated to the Cardinal Rodrigo Borgia, future Pope Alexander VI. Today it is the Diocesan Museum.
Also looking out onto the piazza is the town hall, with its short, squat clock tower. Inside there is a precious fresco from the 15th-century Sienese school, depicting the Madonna and Child and the nobles of Pienza. Palazzo degli Ammannati, meanwhile, can be found where the piazza meets the Corso Rossellino.
Pienza
An ideal city, founded based on beauty
Pienza is a gem in the Val d'Orcia. It's known as the city of Pope Pius II, Enea Silvio Piccolomini, who was born here in 1405. Once Pius became Pope, he wanted to transform his humble birthplace, Corsignano, into an urban-architectural treasure. Therefore, he entrusted the total renovation of the village to the architect Bernardo Rossellino and to the humanist Leon Battisti Alberti. ...
Morekeyboard_backspace