Admire the town and the surrounding area from certain viewpoints
The scenic spots of Castiglion Fiorentino
Let's explore the most scenic beauty spots from which to admire the town of Castiglion Fiorentino and the surrounding area.
Castiglion Fiorentino has been shortlisted by UNESCO for its historic landscape, the inspiring result of the Leopoldine reclamation in the Valdichiana.
Piazzale and Torre del Cassero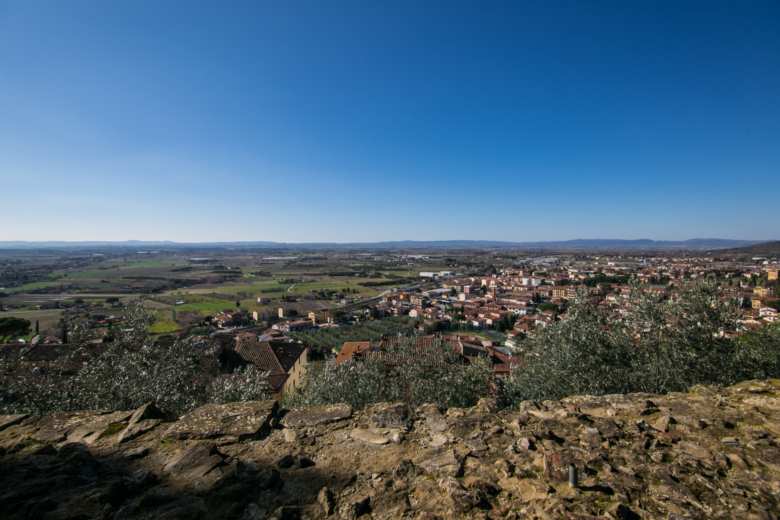 As you gaze out over the old walls of the Cassero (bridge house) area and look southwest, you can enjoy view over the Valdichiana, the ancient Clanis Valley, once a swampland. In the distance, on the left, you can glimpse Monte Cetona, Monte Amiata and various towns in the Siena and Arezzo area: Montepulciano, Foiano della Chiana, Marciano della Chiana, Monte San Savino and Civitella in Val di Chiana.
On reaching the top of the tower, you can look out over the entire Castiglion Fiorentino area thanks to the all-around views, including the northeast side: the Val di Chio. To the southeast, Montecchio Castle stands out, dominating the surrounding countryside.
Loggiato di Piazza del Comune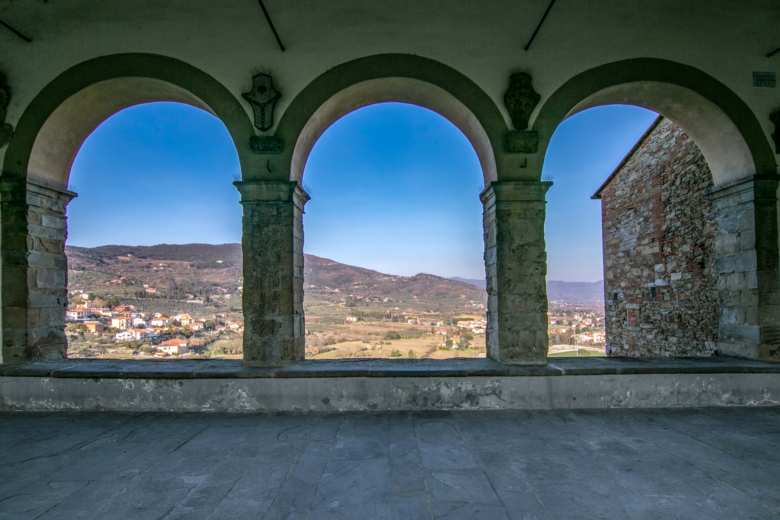 The three stone arches of the so-called Vasari loggia opposite the town hall are a window out on to the Val di Chio, a scenic green valley protected by terraced hills. The terraces are mostly south facing and planted with olive groves, especially suited to this land.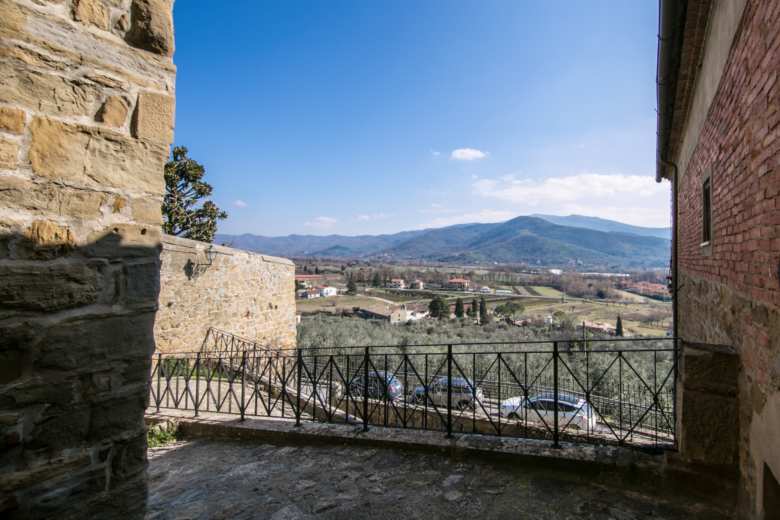 From this lookout on the walls, the views look out over the local area between the town and the countryside surrounding Montecchio Castle. On the left stands the old Badia di S. Andrea al Pozzo church, while you can make out the stone frontage of the Chiesa della Consolazione church in the middle.
Piazzetta della Chiesa del Gesù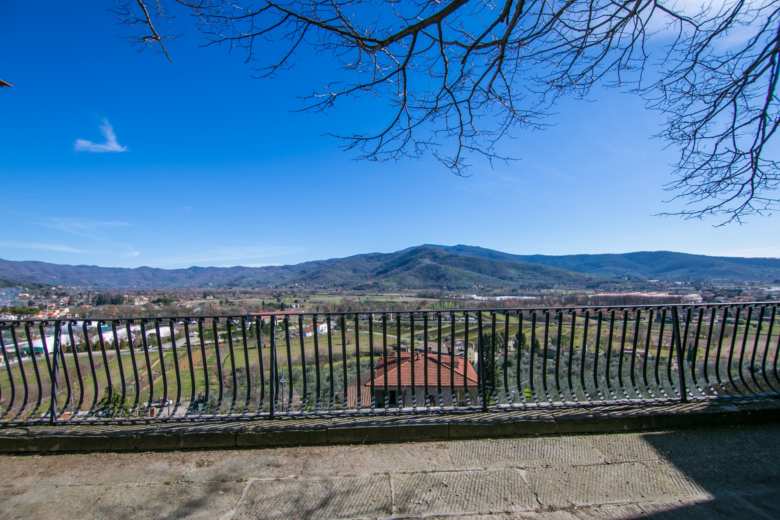 Between the Loggiato della Chiesa del Gesù and the S. Chiara complex, this small garden offers the opportunity to look out over a railing with amazing views: the sports fields on the left, Consolazione Church and Montecchio Castle on the right and the foothills of Monte S. Egidio below.
Piazza Matteotti public gardens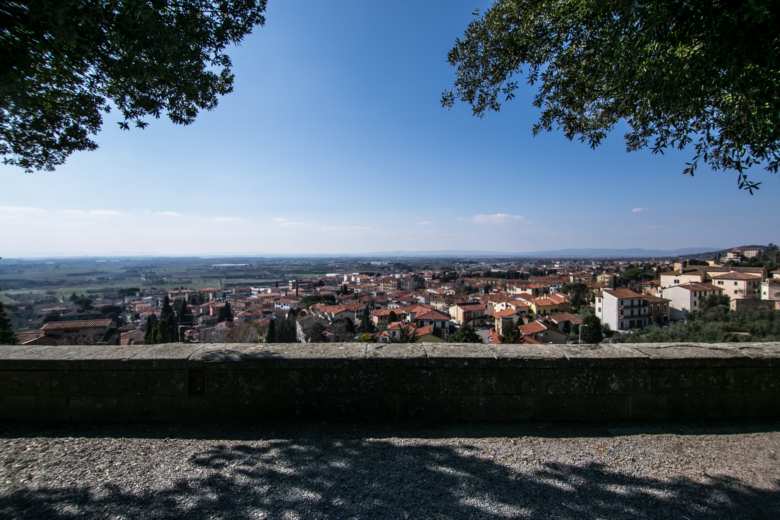 The impressive walls mark and support the large embankment built starting in the nineteenth century. The views offered to observers enable you to look out across the Valdichiana plain, formed for the most part by farmland. Recent residential and industrial projects are evident.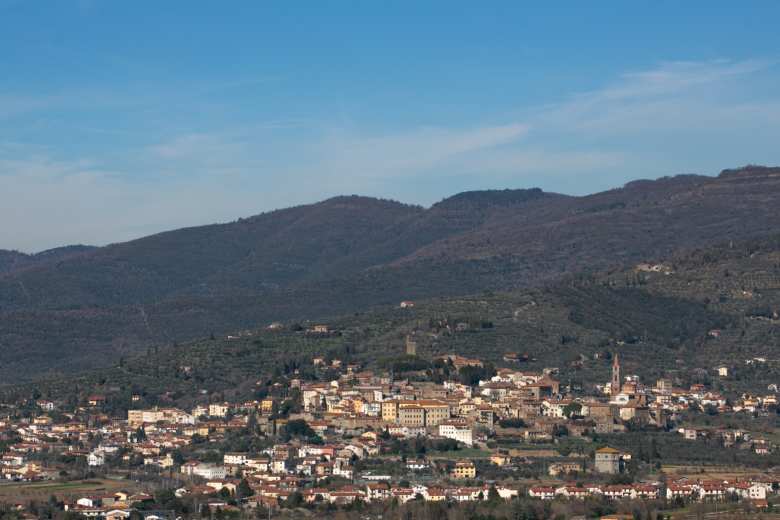 At the top of the climb up to Montecchio Castle, you'll find an area recently made into a panoramic point: a clearing with benches where you can sit and admire the views of the Valdichiana to the southwest and, to the north, over Castiglion Fiorentino with the tower of the bridge house.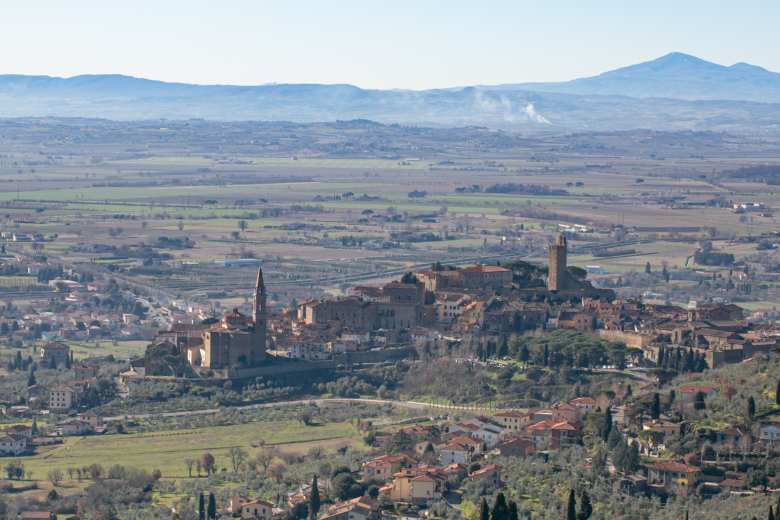 The top of Monte Castiglion Maggio stands 750 metres above sea level and it can be reached on foot or by bike, motorbike or in an off-road vehicle.
A strategic sighting point since the Middle Ages, from the top of the hill you can look out across the whole of the Valdichiana plain.
You might also be interested in